Most investors would agree that if you are going to invest in China, the best place to focus is on investments that serve domestic consumption. If you can find a company that looks poised to dominate a particular domestic consumption sector, you probably have a winner. The only problem is that the easily indentified winners that came public through IPOs already trade at ridiculous prices. Companies like Baidu (NASDAQ:BIDU), Ctrip (NASDAQ:CTRP), New Oriental Education (NYSE:EDU), and 51jobs (NASDAQ:JOBS) trade at prices between 32x – 75x 2010E earnings.
Thus it is an amazing opportunity when you find a company that (i) is the market leading player in China, (ii) is replacing costly foreign exports, (iii) will easily grow sales and EPS 40-50% per annum over the next three to four years, yet (iv) trades at 6x current year estimated earnings (and only 2x ex-cash). China-Biotics (OTC:CHBT) provides exactly such an opportunity.
China-Biotics is China's leading producer of probiotics. Probiotics are healthful bacteria which help improve digestion and boost the immune system. Probiotics are usually provided as an additive to foods like yoghurt (think Activia or Actimel) and baby formula, and also taken in powder form (think Baby-Dophilus) or pill form. The industry is growing quite fast worldwide (estimates I have heard are 17-18% in advanced economies but faster in China). China-Biotics started as a retail business, selling probiotic pills and powders as food supplements in supermarkets and its own retail outlets. Recently it has expanded and built a new gigantic 150 ton bulk production facility (the largest facility in China) in Qingpu which it will use to supply food additives in bulk form to Chinese companies in the dairy, baked goods, and animal feed industries.
As we heard from several large dairy customers at its investor day, China-Biotics is the only company in China that can produce bulk probiotics of the same quality as Danisco and Chr. Hansen, two Danish companies who have a dominant position in the industry. In fact most of China's large dairy companies have sourced probiotics exclusively from these two companies, but now China-Biotics is changing that. Growth opportunities abound for this company. It recently announced that it will expand its bulk facility to 300 tons per annum capacity next year and it will also build a probiotic animal feed facility in the Yangling province. My conservative projected income statement is below:
click to enlarge images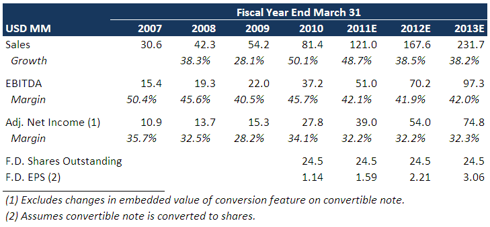 Below I show the multiples of leading Chinese domestic consumption stocks, probiotics industry stocks, and China-Biotics. If CHBT were to trade in line with its probiotics industry peers, it would trade in the $40 - $50 per share range TODAY, and CHBT is growing faster than any other company in its industry.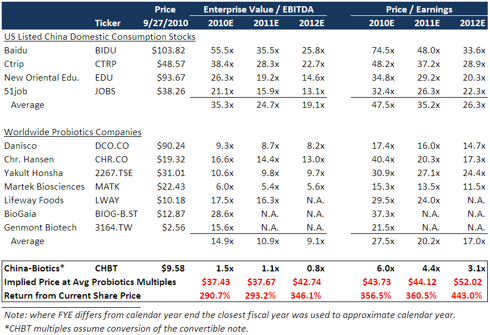 Why So Cheap?
I think everyone would agree that if China-Biotics checks out, then it is clearly massively undervalued. The reason that China-Biotics is so deeply undervalued is that it has recently been attacked by short sellers.
Even though China-Biotics is a company of such high quality that it could have easily have come public through an IPO, it rather came public through a reverse-merger. Companies that come public through IPOs typically have a strong institutional shareholder base and major investment banks publishing high quality research on them. As such they trade at higher valuations. Companies coming public through reverse mergers typically do not have the solid institutional investor base, because the large institutions were never sold the stock. Because they never gave the big banks business, they have difficulty getting the major investment banks to cover them. So they trade at lower valuations.
Short sellers have recently discovered that Chinese reverse mergers are very easy to manipulate downwards, because they have typically a rather weak shareholder base that is not well informed and easily swayed by market rumors. In a short attack, the short sellers generally make up some allegations of fraud that sound believable enough (until you scratch under the surface) and are difficult for the non-Chinese speaking to refute. They then enlist a hoard of bogeymen to dominate the message boards so that any voice of reason is crowded out of the discussion.
In the last three months, many Chinese companies have come under attack, including CHBT. It seems the only requirements are (i) the company came public through a reverse-merger or SPAC, (ii) the stock price at the time of the short attack was above about $7, and (iii) the company trades on a major US exchange. I was surprised that the shorts went after CHBT because it is such a high quality company. This attack has provided me with the best buying opportunity I have had all year.
I realize that anyone interested in the stock will want to understand the short position as well, so below I show how the short arguments do not add up.
SAIC Filings vs. Tax Filings and Bank Statements
One of the major arguments short sellers have used to discredit Chinese companies is that their SAIC filings do not match their SEC filings. For those who are not informed, the SAIC is like the chamber of commerce. All Chinese companies have to file with the SAIC each year to renew their business license and the financials filed by each company are accessible by the public.
The penalty for misfiling, if ever caught, is RMB 50,000 (about $7500). No one in China takes these filings seriously. Firms typically underreport their sales, profitability and cash for competitive reasons and also so that they don't get shaken down for favors from corrupt politicians. I have a good friend who is a managing director of a US funded China private equity fund. I asked him about the SAIC filings. He said when his fund does due diligence, they do not even look at the SAIC filings because "everyone for the most part files junk. We look at the tax filings and the bank statements and try to follow the cash." If you underreport to the tax authorities, the penalty will severe and harsh. Tax statements matter, but the SAIC filings do not.
Being no different from most other Chinese companies, CHBT also underreported to the SAIC. I am not saying that is right, but it is local convention and does not say anything about the validity of CHBT. The short attack on CHBT to no surprise started with a post on the SAIC filings. The 2007 and 2008 SAIC filings in English for Shanghai Shining, the retail subsidiary of CHBT, are shown here.
As one can see from the comparison below, the SAIC filings appear to show a company with very little cash and sales, and a negative equity position. The SEC filings show just the opposite. Every company in this industry has decent margins so it would be strange for CHBT to show anything else.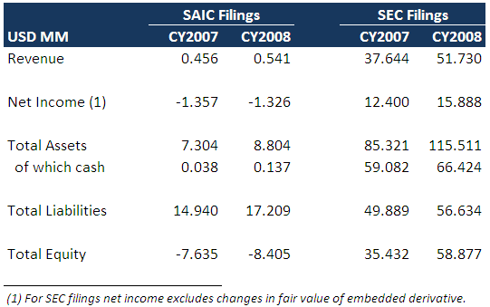 Tax filings and bank statements are the conclusive evidence. A company will not have the cash if it is not making the money it claims. Further, it would be very odd for a company to pay more taxes than it should, so tax statements further validate profitability. For this reason, CHBT showed investors the bank statements and tax payments on its investor day. We were shown the bank statements from the three main bank accounts, which accounted for $140m of the $159.7m in June. The rest, the CFO said, were in a bunch of smaller accounts in RMB, HKD, and USD. We were also shown the tax statements where we could see that Shanghai Shining had paid almost $10m in taxes in the four quarters ending March 2010. This is more than the $5.3m CHBT paid in cash income taxes in its SEC filings. The difference is probably net VAT payments. All tax statements were chopped (meaning marked with the official seal) by the tax authorities. For more information on the statements see this article here.
The short attack claimed that CHBT was a fraud because it had virtually no sales and no cash according to its SAIC filings. This could not be further from the truth. China-Biotics raised $25m from Pope Asset Management on December 12, 2007 and a further $75m from Roth Capital on September 29, 2009. The company began building the new plant in 2008. If the company had no cash in 2008 and was making losses there would have been no money to build the facility until October 2009. I visited the new plant on November 16, 2009. As you can see from the pictures below, construction could not have started in October 2009.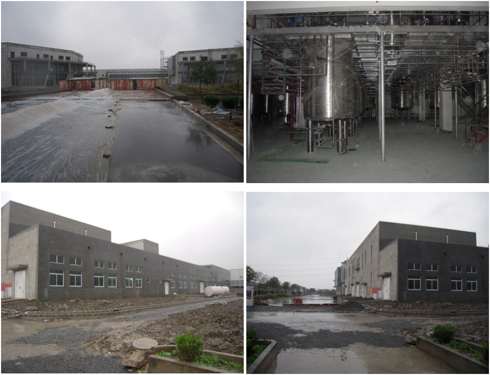 For those still not convinced, I would like to point out that the 2007 SAIC filings don't even balance, which is further evidence that they are not real financial statements. The cash balance decreased by 701k RMB while the cash flow statement showed an increase in cash of 701k RMB.
The bottom line is that the SEC filings, the tax statements, the bank statements, and the physical evidence from construction of the Qingpu facility indicate that CHBT has earned the profits it claims, generated substantial cash from operations, and possesses all the cash it claims.
Retail Outlets
The company's retail sales from its outlets were only 8% of sales in the latest quarter, so this is not a big point, but the shorts have claimed the retail stores do not exist. At the investor day, CHBT showed in a presentation the physical addresses of the 103 outlets it had at June 30, 2010. It explained that 64 of these outlets were 4-walled stores and 39 were counters in stores (shop-in-shops). In addition, the company provided a pack of all the leases for viewing at the investor day. Further the company explained that the addresses provided on its website were simply a representative list of the 4-wall stores, retail counters, and store shelves supplied by distributors, not an exhaustive list of the company's own stores.
I find the short arguments regarding retail stores about as absurd as the SAIC claims. The shorts said, for example, that only 2 4-walled retail stores existed, yet we saw 4 stores at the investor day and I saw another store in November 2009. Why should I not believe there are many more? We've also seen all the addresses in a presentation and the leases at the investor day. On top of that given that the cash balances and the tax filings all add up, it is very clear that the retail sales add up.
Conclusion
China-Biotics represents a very attractive buying opportunity to own China's leading probiotics manufacturer. The company has strong growth prospects and will increase earnings substantially in the coming years. The stock is incredibly undervalued. China-Biotics is worth 4-5x its current price today based on where comparable companies in its industry are trading, yet CHBT is the fastest growing company in its industry. Through spurious and misleading arguments, short sellers have put pressure on CHBT, but conclusive evidence exists to refute their claims. For the informed buyer, China-Biotics represents an incredible investment opportunity.
If you are interested to find out more about China-Biotics, I recommend you read articles by Jason Nevader here and by me here.
Disclosure: Author is long CHBT