There have been some superb articles on Plug Power (NASDAQ:PLUG) from bears who have conclusively demolished the Plug bull case. These include articles by Dr. Hugh Akston that have focused on the technological aspects of Plug, and John Gilluly, who has written about the previous cycles of boom and bust in Plug's fortunes. This article isn't intended to go over any of that ground, and indeed takes as its starting point that Plug's stock offers little in the way of value to the serious investor.
But just how much is Plug overvalued? There has been various fair value estimates put out by a variety of authors ranging from 50 cents by Citron to around $1-$2.50 from Kerrisdale Capital.
Now at $10 or so when I first shorted Plug Power in early March of this year, you don't particularly worry about the precise fair value target - it's enough to know that it's substantially south of the current figure. But given that the stock is now below $4.50, it becomes more critical to pin down what fair value is.
However, that's not all Plug Power's shorts have to worry about. The biggest risk of shorting Plug is the prospect of a new hype cycle starting up again and boosting the stock price well above fair value. Indeed, that's why many people passed on shorting plug at $11.50, and others closed out their positions once Plug's stock price reached $4.50. Because of this risk, it's reasonable to suppose that the current stock valuation incorporates a large premium to fair value.
In this article, I'm going to give my own estimate of fair value -- not significantly different than many other bearish authors on SA -- but also and more importantly, present an argument for why I believe that the "risk premium" I mentioned earlier should greatly diminish over the next several months. This argument is by no means a watertight one, but rather a speculative theory of mine.
First though, before working through my fair value estimate, I'd like to give a concrete example of what I mean by the risk premium component of the stock price.
The very model of a major global automaker
On March 24th, Plug's stock price surged from under $6 to around $8.50 after Marsh, Plug Power's CEO, revealed in an interview with a journalist that Plug had won a contract with a global automaker for the company's forklifts.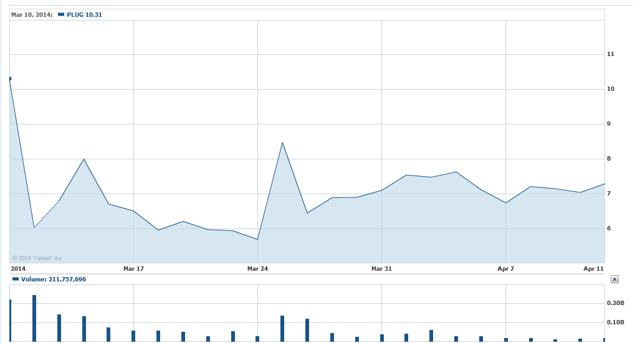 The next morning, a PR spokeswoman was forced to clarify that the contract wasn't in addition to any of those discussed in the previous earnings conference. The company also stated that more would be revealed in two or three weeks time, and that Plug didn't want to give out any more information on the contract because it was waiting on the other company to put out its own PR.
The stock price did fall back on that statement, but for the next month the stock price would trade around $7, whereas in the week before news of the announcement the stock price had settled around $6. This $1 hike in the stock price reflected the heightened risk that Plug would pull out of its hat another Wal-Mart sized contract.
As it turned out, the new contract was a complete damp squib. In a conference call on April 21st, Marsh barely mentioned the new automaker contract. In fact, the topic was only brought up during the Q&A session, where it was revealed the contract size was no larger than the typical one Plug has with its customers -- in the several million dollar range. Furthermore, the automaker in question, VW, didn't feel the need to send out any PR on their deal with Plug Power before Marsh's conference call, and as far as I'm aware, still hasn't. Unsurprisingly, since -- as revealed in a later earnings call -- the order was only for 45 forklifts!
Fair value
Several authors have given their estimates of what Plug Power's fair value is. One good example is here, where the author arrives at a fair value calculation for Plug Power of $1.76. That analysis involved choosing assumptions most favorable to Plug Power and giving the company the benefit of the doubt whenever possible. For my fair value calculation, I'm going to use realistic assumptions throughout and then add a mark-up to the stock price to provide a margin of safety for my short covering target.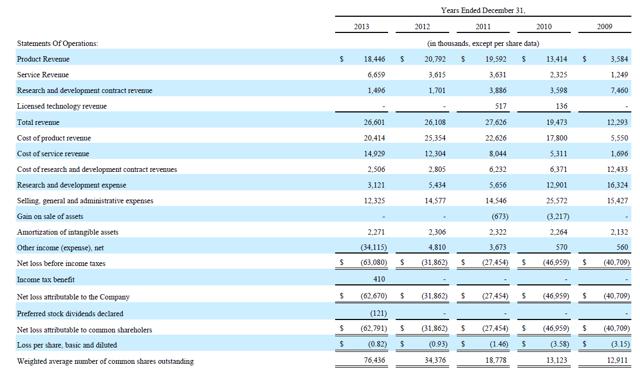 As you can see here, Plug not only loses money, but has a negative gross margin. For FY2013, Product and Service revenue was $25 million, but the cost of such revenue was $35 million. Looking at previous years confirms that Plug has never had positive gross margins. Nor is there any real sign of improvement: back in 2009 gross margins were (-33%), while last year they were (-29%).
I can't think of anything Plug has done or can do that will change this basic fact. Plug did recently buy Relion, a small fuel cell company, but this company specializes in fuel cells for backup power, not mobile applications. Besides, it's not plausible that this $4 million company has products that can compete with Ballard Power (NASDAQ:BLDP), which is worth half a billion dollars.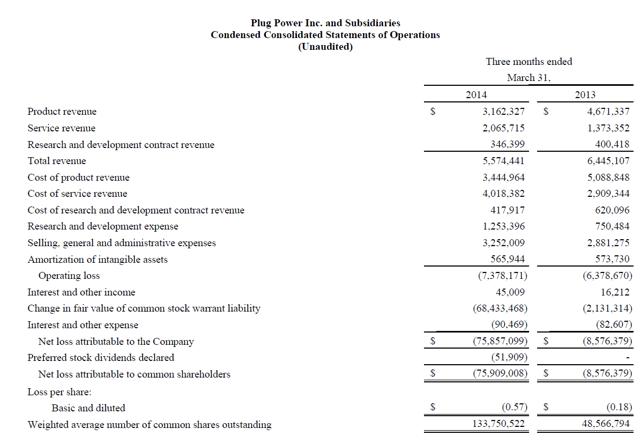 Therefore, I'm going to assume Plug will keep losing money. Plug's operating loss last quarter was $7 million, similar to the loss in the same quarter last year. Notwithstanding management's guidance of reaching breakeven by Q3, I going to assume Plug will lose $20 million-$30 million this year. Now if this company had steady profits of $20 million-$30 million per year, one could slap a multiple of ten on those profits, which would give an enterprise value of $200 million to $300 million. One can't, however, reverse the situation and give a similar multiple to Plug's annual losses, because the company would end up with a negative market cap.
To come up with fair value then, you need to calculate what Plug's liquidation value is. This is Plug's cash minus whatever it costs to close down Plug and fulfill its existing forklift contracts. Plug has about $170 million in cash after its most recent offering and roughly 177 million shares, including warrants. Call it $1 in cash per share. The cost to shut down Plug and fulfill its contracts is harder to estimate, but Plug loses about $8 million per year on servicing its customers' forklifts. Assuming average contract length remaining is around four years, that gives $32 million in run-off costs. Add another $8 million in severance payments for Plug's employees, and you get $40 million in total, or 25c per share. Thus, fair value is 75c.
Now obviously, I don't think Plug will be liquidated -- not while there are people willing to pony up for its seemingly endless secondary offerings. Nor would I want to ride my short down to 75c. I'd want a buffer above fair value to provide a margin of safety; therefore, my target price is $1.50. However, given Plug's history of massive stock run ups and the aggressive promotion surrounding the company, is a 100% buffer enough? As I detail below, I have reason to believe that both shorts and company management want the stock price lower -- at least for the next several months.
Incentives of company management are temporarily aligned with shorts
When Plug Power raised its latest secondary in April, the company also took the opportunity to boost its employee stock option incentive program from 6.5 million shares to 17 million shares.
Based on Plug Power's 14A statement of the 23rd May, which can be found on this list of SEC filings (pp. 38, 40):
The maximum number of shares to be issued under the Amended and Restated 2011 Plan is the sum of (NYSE:I) 17,000,000 shares of

Common Stock, plus (ii) the number of shares of Common Stock underlying any grants pursuant to the 2011 Stock Option and

Incentive Plan (the 2011 Plan) or the 1999 Stock Option and Incentive Plan (the 1999 Plan) that are forfeited, canceled, repurchased or

are terminated (other than by exercise)
And
To ensure that certain awards granted under the Amended and Restated 2011 Plan to a "Covered Employee" (as defined in the Internal

Revenue Code of 1986 (the "Code")) qualify as "performance-based compensation" under Section 162(m) of the Code, the Amended and

Restated 2011 Plan provides that the Compensation Committee may require that the vesting of such awards be conditioned on the satisfaction

of performance criteria that may include any or all of the following: (1) earnings before interest, taxes, depreciation and amortization; (2) net

income (loss) (either before or after interest, taxes, depreciation and/or amortization); (3) changes in the market price of the stock; (4) economic

value-added; (5) achievement of sales or revenue; (6) acquisitions or strategic transactions; (7) product development or quality; (8) operating

income (loss); (9) cash flow (including, but not limited to, operating cash flow and free cash flow); (10) return on capital, assets, equity, or

investment; (11) total stockholder returns; (12) return on sales; (13) gross or net profit levels; (14) productivity; (15) expenses; (16) margins;

(17) operating efficiency; (18) capital raising transactions; (19) debt transactions; (20) working capital; (21) earnings (loss) per share of

common stock; (22) sales or market shares; and (23) number of customers, any of which may be measured either in absolute terms or as

compared to any incremental increase or as compared to results of a peer group. The Compensation Committee will select the particular

performance criteria within 90 days following the commencement of a performance cycle.
The last line is my bold. A performance cycle is a calendar year, so presumably starts in 2015.
That means the company's management will want the stock price to be as low as possible when the various stock options and other awards are granted. Now, some of these performance metrics don't depend on the stock price, but instead are based on sales, earnings, etc. I suspect only a few executives will have their stock awards dependent on those sort of targets, whereas most employees will get conventional stock options whose value is solely a function of stock price appreciation.
Thus, even if most of the stock options awarded to Plug's management depend on business performance rather than price appreciation, Marsh will still want to keep his employees happy and motivated for Plug's next great stock run -- coming no doubt in a few years' time. It's also the case that if Marsh and his fellow executives are to be rewarded primarily through stock awards based on business performance objectives; their incentive is to set the performance bar as low as possible. In the run-up to their awards being given, they need to play up to Plug's board how difficult it will be to increase sales, margins, orders, etc.
Downplaying Plug's prospects isn't, of course, compatible with going out and massively promoting Plug's promising future, so my prediction is that Marsh will take a holiday from any kind of promotional efforts until early next year. Indeed, my "back channel sources" (all right, Yahoo Finance message boards) have expressed to me their surprise and puzzlement at how quiet Marsh has been recently. One commenter noted that this had been the longest period between company RNSs -- at 35 days -- for 3 years. Many on Yahoo Finance are putting Marsh's absence down to the fact Plug Power no longer needs to sell any more stock, and thus, he doesn't need to go out and promote the company. That explanation overlaps with the thesis presented in this article, though my thesis implies Marsh would actually prefer the stock to fall, rather than just stagnate.
Risks to thesis
I could simply be wrong about the stock option incentives changing Plug management's incentives. In that case, the company will still continue to strongly promote itself.
Though the company will refrain from boosting its stock, Plug could still get caught up in a wider hype cycle that encompasses the entire hydrogen sector. This could be related to fuel cell car initiatives, or tax and other regulatory changes affecting the industry.
Another way my thesis could be wrong is that it might be redundant in that Plug's stock price may go down sharply anyway regardless of what its management may do to try and boost the stock price. Certainly, the stock price has fallen quickly since its early March peak of $11.50.
Conclusion
Lots of people have been wary of shorting Plug over the last year. And with good reason! The stock has confounded bear expectations every step of the way from 15c to over $11. What I hope I've shown in this article is that there is still plenty of downside left -- approximately 60% -- and that the risks of the trade going against you as part of some new Plug mania starting up again, are perhaps less likely than you had previously considered.
Postscript: while I was writing this, Plug Power's stock has jumped by nearly 20%, along with Ballard Power and Hydrogenics (NASDAQ:HYGS). Ironically, this is the biggest intraday increase since that day in March that I wrote about above, when the stock shot up by over 50%. The difference is that on the previous occasion, the stock rose on company specific news, while today the price rise seems to be sector wide. There have been a few positive developments recently. Firstly, both Hydrogenics and Ballard were boosted after Jennings Capital initiated coverage with a buy note. Secondly, hydrogen stocks seem to have benefited from the recent performance of solar stocks and rising oil prices. Finally, Plug Power was recently added to the Russell 2000 index.
Disclosure: The author is short PLUG. The author wrote this article themselves, and it expresses their own opinions. The author is not receiving compensation for it (other than from Seeking Alpha). The author has no business relationship with any company whose stock is mentioned in this article.