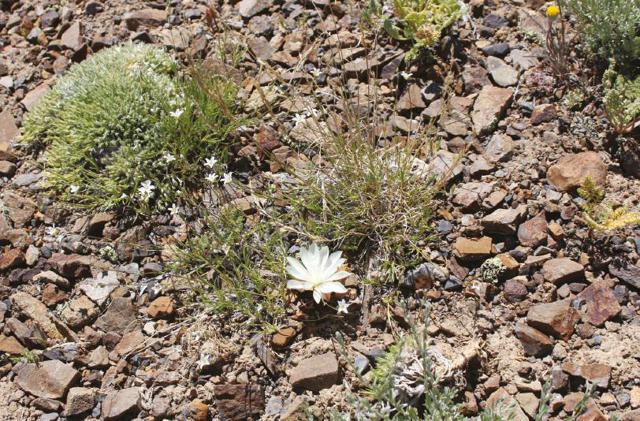 After our initiating coverage on May 26, 2014, we traveled to the gold-rich Carlin Trend in Nevada - home of the world's most significant gold deposits that made Newmont (NYSE:NEM) and Barrick (NYSE:ABX) what they are today: The largest gold mining companies of the world.
The full site visit report is available as a 16-page PDF here.
We met with former Newmont geologists John Norby, Mac Jackson and Steven Koehler. On May 30, it was made public that these 3 high-carat personalities are taking over the geological department of Gold Standard Ventures Corp. (NYSEMKT:GSV). The one responsible for that division before was David C. Mathewson - probably Nevada's true sole "elephant hunter" - who discovered the Emigrant and Rain Deposits for Newmont, and the North Bullion Deposit for GSV, amongst other deposits. Mathewson will remain an advisor to the company for at least 1 year.
John Norby worked on the Carlin Trend for more than 20 years, and was key in discovering and developing the Mike (~25 million oz Au) and Gold Quarry (~30 million oz Au) Deposits for Newmont. For Barrick, he identified new gold oxide mineralization in the Pipeline (~12 million oz Au) and Getchell (>10 million oz Au) Deposits. Since May 2014, he works exclusively for GSV as Chief Geologist.
Mac Jackson worked 8 years for Newmont and was instrumental in discovering and developing the West Leeville (~5 million oz Au) and Turf Deposits (>1 million oz Au). Since May 2014, he works exclusively for GSV as VP Exploration.
Steven Koehler was an integral member of the team that discovered Leeville, Four Corners, Hardie, Pete and Cortez Hills (>20 million oz Au) on the Carlin Trend for Newmont, Placer Dome and Miranda (OTCPK:MRDDF). Today, he works exclusively for GSV as Senior Project Manager.
We value it as a brilliant coup that GSV management succeeded in acquiring distinguished John Norby as Chief Geologist. Together with Mac Jackson and Steven Koehler, the cornerstones have been laid to develop the newly acquired Pinion Gold Oxide Deposit towards a mine, and to expand the resource of the North Bullion Sulfide Deposit that was discovered by Mathewson during the last years. The Central Bullion Polymetallic Deposit will also see some important drilling in 2014 as previous drilling encountered oxide mineralization at surface.
David Mathewson presented us the Railroad Property in his jeep and in the field, where it became clear quickly that he is a true explorer whose passion and skill is the maiden discovery of deposits, whereafter others develop these towards production. Hence, we contemplate the change in technical management as a timely, appropriate and clever maneuver because Mathewson is now in control of exploring GSV's non-core properties that are considered grass-root exploration plays (Crescent Valley North, Safford and East Camp Douglas) in Nevada, which have been sold to publicly listed Tanqueray Exploration Ltd. (OTC:TQURF). Mathewson can now focus on what he is known for: Discovering elephant-sized gold deposits. With this transaction, GSV will control Tanqueray by owning ~90% of its equity.
On June 5, it was announced that GSV has already completed 5 of the 13 phase-1 drill holes on Pinion. At GSV's premises in Elko, we went through these core holes with a fine-tooth comb and can confirm that it looks as if GSV cut through significant mineralization over remarkable lengths.
We expect the release of drill results any time now, whereas we anticipate a regular news flow that is set to supply the market with new lab results in a weekly fashion.
After having inspected the first 5 core holes ourselves and having seen the drilling of 2 holes in the northern limits of the historic Pinion Deposit, we came to the conclusion that chances are extraordinarily high that the historic resource estimate (~840,000 oz @ ~0.9 g/t Au) will not only be confirmed until next month, but may be expanded significantly.
Before presenting videos and pictures of our site visit on June 6, we would like first to briefly elaborate on the significance of Pinion - a gold oxide deposit that has been known for more than 30 years, but could not see proper exploration and development due to finely dispersed ownership holdings by private hands and public companies.
Recently, GSV succeeded in becoming the very first to have completely consolidated the Pinion District under one roof. GSV's 100% ownership of Pinion probably was the main reason why John Norby said yes to the engagement proposal from GSV, because he and his team can now develop this highly prospective deposit towards production.
Pinion in comparison to other world-class gold oxide deposits
Historic Pinion Resource (non-NI43-101-compliant):
~840,000 ounces @ ~0.9 g/t gold
As already laid out in our initiating coverage, we anticipate GSV to succeed in disclosing a maiden NI43-101-compliant resource estimate of around 1 million oz Au until next month (July 2014).
Thereafter, the phase-2 drilling program may expand the resource towards 2 million oz Au. As soon as the "magic size" of around 1 million oz is proven officially (according to modern NI43-101 standards), we expect a private and institutional run on GSV's stock, because then the market may take it for granted that Pinion is likely to be developed cost-efficiently towards a highly profitable ROM (run of mine) operation, which has become a rather scarce undertaking these days as most economic gold oxide deposits worldwide typically occur near surface and thus have been found and developed already.
Some 15 km north of Pinion lies the Emigrant Mine (Newmont), which is geologically very similar: Strongly oxidized ore right at surface with a 1 million oz gold resource when mining started in 2012 with a yearly output of around 90,000 oz (life of mine >15 years since the resource was expanded to currently around 2.5 million oz @ ~0.9 g/t Au).
We anticipate that the current metallurgical tests of the new core holes will soon confirm officially as per NI43-101 standards that Pinion's rock can be processed cost-efficiently with the heap leaching method - just like it is being done at the Emigrant Mine (at production costs of ~$600/oz only).
Such an event should instantly alarm GSV's large neighbors, Newmont and Barrick, also because these majors have neglected gravely to discover new ore for the future of their capital intensive processing facilities in Nevada. GSV could become a strongly sought after take-over candidate any time now already, first and foremost for Newmont, Barrick and Agnico-Eagle, whereas the latter already owns a 5% stake in GSV.
RBC Capital Markets published a research report on April 23, 2014, in which the most promising heap leaching development projects, respectively gold oxide deposits, were compared to each other on a worldwide scale.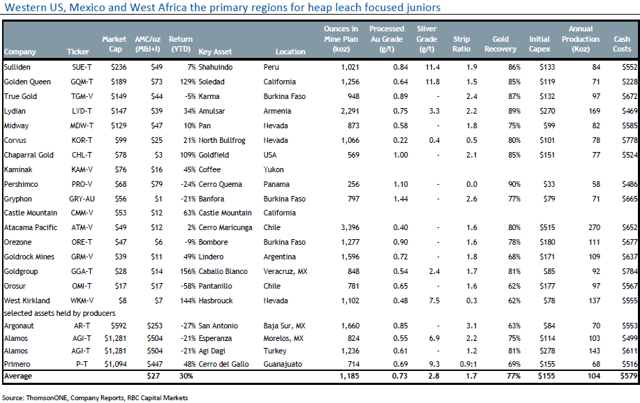 Below we quote the core findings of RBC's research to show quite plainly that Pinion, with its initial 1 million oz gold @ 0.9 g/t, is about to ascend to one of the world's most attractive development projects, because arguably not only is the size and grade of the deposit generally classified as economic but, likewise importantly and inarguably, it is situated in the heart of the world's best mining infrastructure and jurisdiction.
Nowhere else in the world is so much gold being mined and processed on such a small area as in Nevada. That is to say, many of the remaining world-class gold oxide deposits occur in regions with distant infrastructure and oftentimes bounded to legal systems that are considered difficult, to say the least. On these grounds, we are optimistic that Pinion has the potential to advance quickly to even the most attractive gold oxide development project around these days, especially when the oxide resource can be expanded above 2 million oz.
"Heap leach projects offer a low capital path to production:

• Low capital intensity: Proposed heap leach projects would cost $155/oz to build vs. non heap leach projects at $182/oz.

• Lower cash costs: All-in sustaining cash costs for operating heap leach companies are ~$300/oz lower than non-heap leach mines.

• Potential for Selective M&A: We see potential for selective takeover activity given the low capital requirements for heap leach projects and potential for low all-in sustaining costs; however, we acknowledge the scarcity of high quality projects. Proposed heap leach projects have grades of 0.7g/t on average vs. producing heap leach mines at 0.9g/t.

• Trading Inline with Emerging Peers: The 17 heap leach focused juniors that we looked at in this report currently trade at $27 AMC/oz, in line with the global average of $27 AMC/oz."
(RBC Capital Markets in "Tracking the Junior Golds - A detailed look at heap leach focused companies" on April 23, 2014)
Fortunately, the market is (still) ignoring the significance of Pinion because GSV's share price has moved upwards only marginally since announcing the complete acquisition of Pinion.
Thus, GSV's current market valuation of $75 million is (still) only based on the North Bullion Deposit in the north of its 100% owned Railroad Property (partly also on the Central Bullion Polymetallic Deposit on Bald Mountain), which was discovered during the last 4 years as a high-grade gold sulfide deposit beginning at a depth of around 300 m below surface (e.g. numerous drill holes proving >3 g/t Au over hundreds of meters).
Yet when comparing Pinion with the best heap leach projects worldwide, we come to the conclusion that GSV is vastly undervalued and that we reiterate our price target ($2.58 within 6 months), whereas we may increase it given appropriate drill success during the next weeks.
The phase-1 drill program that started on May 22 is aimed at confirming the historic Pinion resource with 13 holes (approx. 1-2 days for 1 hole). We were on site when core hole PIN14-06 was drilled in the northern limits of the historic Pinion Deposit: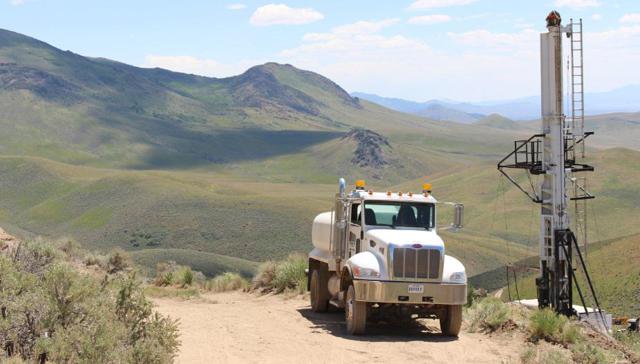 We have inspected the freshly cut core from hole PIN14-06 and could easily identify the breccia zones, which are commonly known to host the gold enrichment, starting at a depth of less than 13 m (42 feet) only, thus practically right at surface: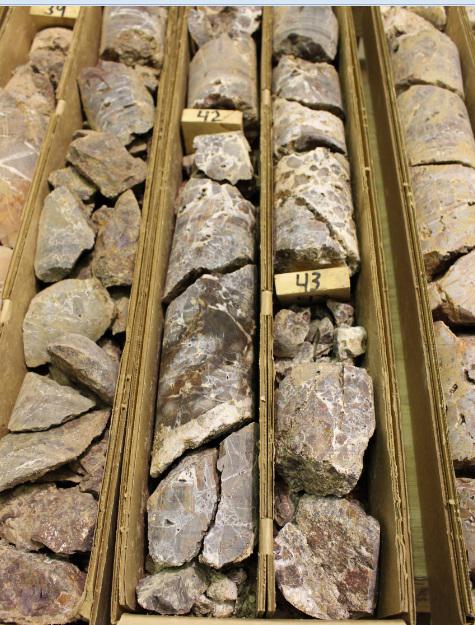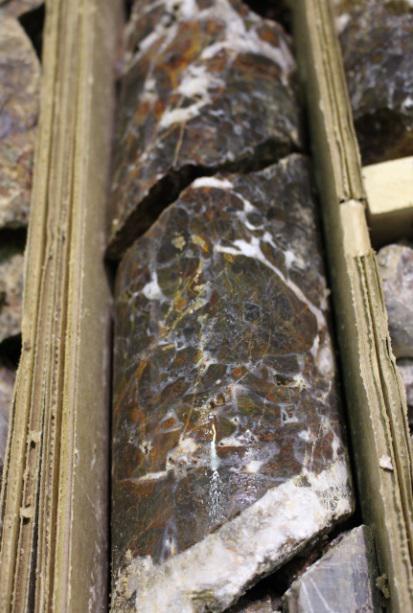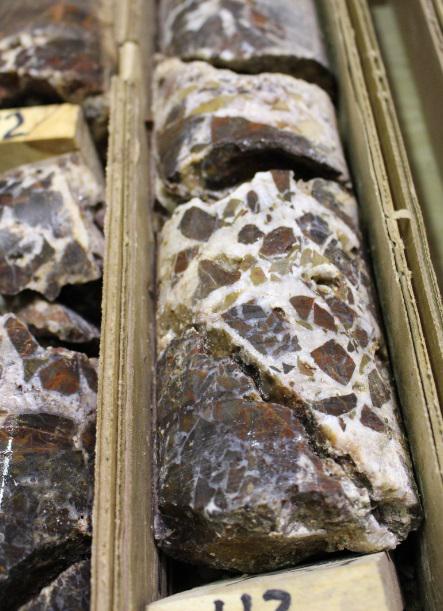 When we watched the rig in action drilling hole PIN14-06, the diamondiferous drill bit was cutting through the strongly oxidized breccia zone at 55 m depth (179 feet) being covered with clay-like mud: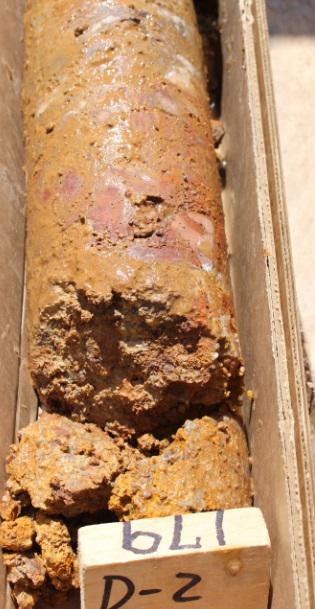 The advantage of core drilling against (wet) RC drills: The clay-like mud is typically enriched with gold as well and thus can be preserved with core drilling (wet RC drills would almost completely wash out such material thus only supplying breccias to the assay labs).
In depths of around 55 m, this loose breccia was collected from the core, and may yield around 1 g/t gold thanks to its characteristic alteration (silicification) and large secondary crystals:
Picture of a different breccia interval from hole PIN14-06 in depths of 52 m (172 feet):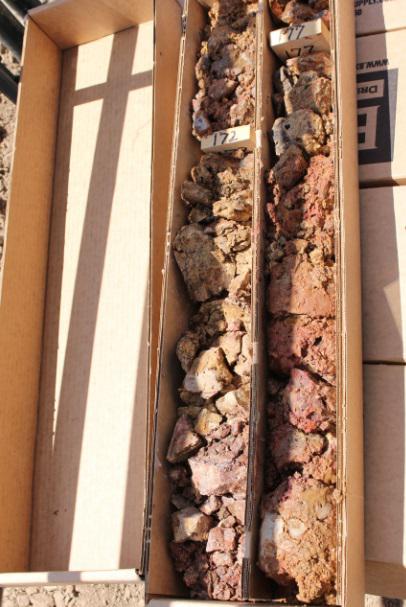 Some 150 m north of the core rig was also a RC rig in action drilling hole PIN14-05 on the same day: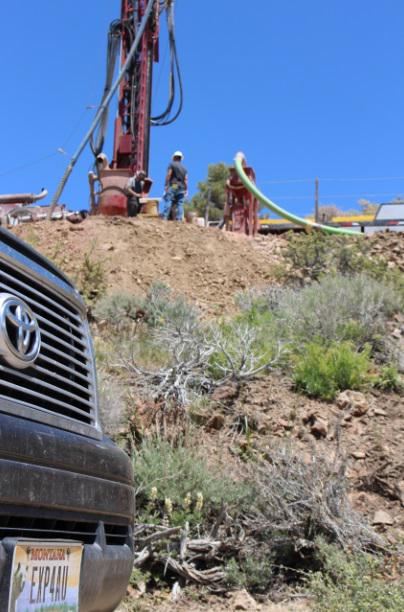 RC hole PIN14-05 surprised us enormously because it was cutting through brecciated rock at depths of around 285 m (935 feet) and making the impression of still being strongly oxidized: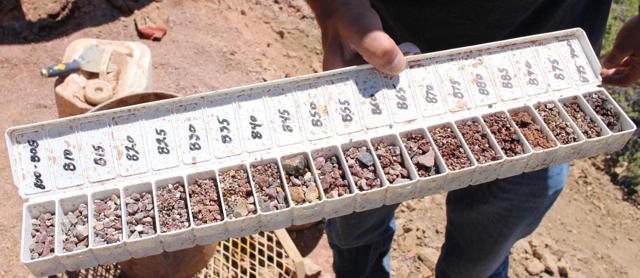 Hole PIN14-05 may positively surprise the market soon as well because no historic drilling identified such a long interval of oxidized breccia zones. This hole may substantially expand the historic resource estimate because historic records show drilled depths mostly as much as 100 m only: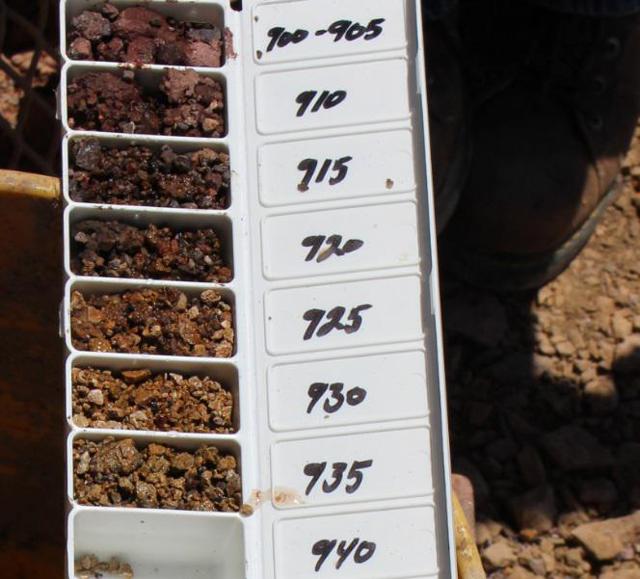 Pouring diluted hydrochloric acid (5% HCl) on the freshly cut rock from RC hole PIN14-05 showed a strong fizzing: typically the release of carbon dioxide gas from carbonate minerals. Breccias typically contain clasts of carbonate rock. The acid test is a commonly used method to find out quickly during drilling, if the drills are still in the right formation and it appears that the breccia zone is still strongly oxidized which would be a remarkable finding as 300 m of oxidized material would be quite fascinating: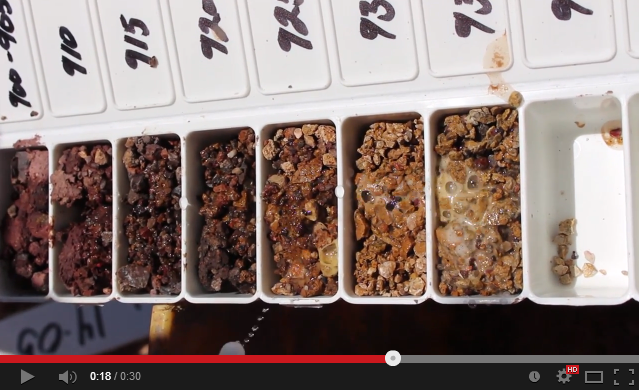 Link to the video: https://www.youtube.com/watch?v=aGUipqAOafc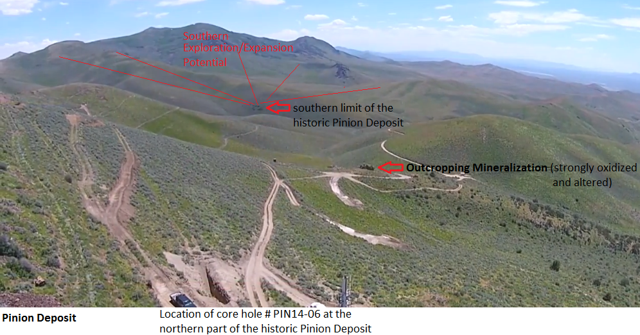 Some 250 m south of the RC and core rigs is a highly interesting rock outcrop which reveals how the Pinion Deposit may look like from the inside: strongly oxidized and silicified breccia-style mineralization with grades of around 1 g/t gold as historic sampling already indicated and likely to be officially confirmed shortly: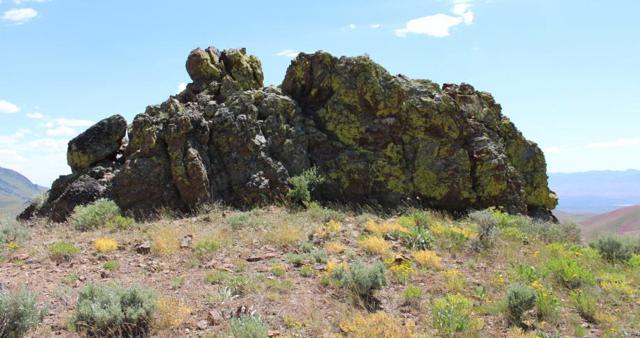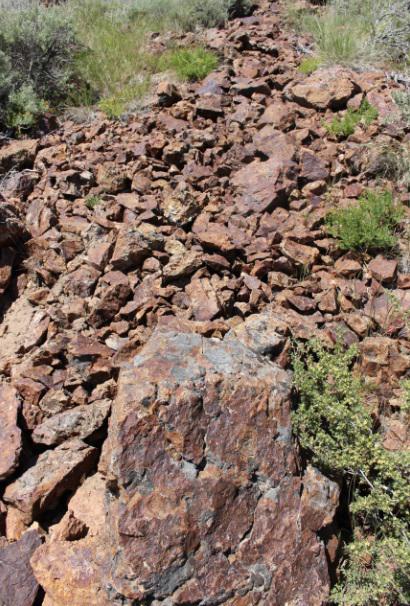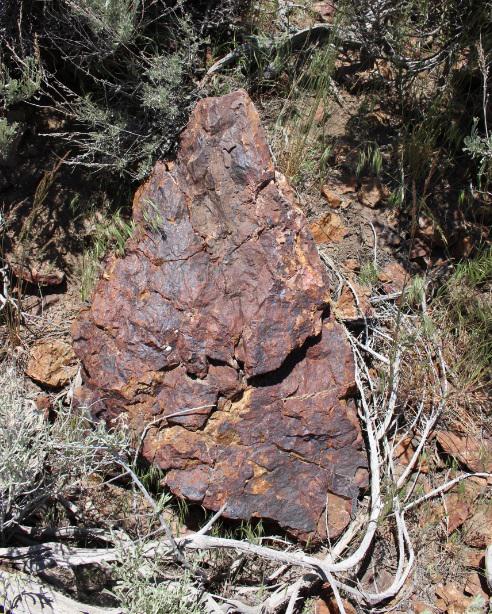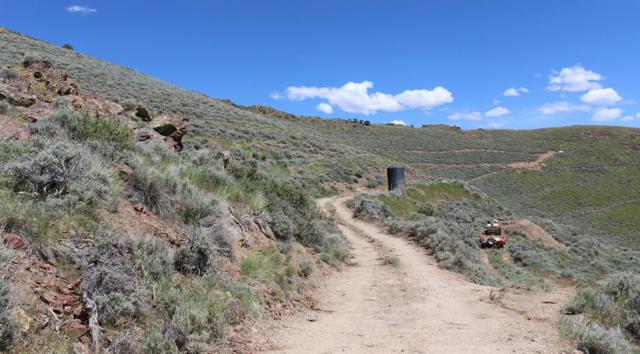 CONCLUSION
Eagerly, we await the release of the drill results from the ongoing phase-1 drill program at Pinion which should be made public successively any day now. These 13 holes were drilled with the goal to confirm Pinion's historic resource estimate (~840,000 oz @ ~0.9 g/t Au).
After having inspected the already completed core and watching 2 ongoing drills on site, we act on the assumption that Pinion's first-ever NI43-101-compliant resource will stand at around 1 million oz @ 0.9 g/t Au at surface and still open to all directions (especially depth, north and sound) next month.
While the goal of the phase-1 drill program is to confirm the historic Pinion resource, the phase-2 campaign (starting in July/August) will aim at testing several historic holes outside the limits of the historic Pinion Deposit - that is to say also along a WNW trending fault structure (typically providing the setting for highly gold enriched feeder zones), which has recently been identified and interpreted by GSV; and obviously not taken into consideration during historic exploration.
An appropriate feeder zone would yield similar grades as the North Bullion Sulfide Deposit (>3 g/t sulfidic gold at depths of >300 m) and may lift the resource above 2 million oz rather easily - similar to what was the case with the nearby Emigrant Deposit from Newmont, which Mathewson discovered.
A truly beautiful feature of Pinion is that it is open in all directions, incl. depth, and thus provides enormous growth potential for a gold oxide deposit right at surface (nowadays very scarce). We are talking all-in production costs between $500-700/oz Au. Especially during low gold prices, such highly profitable (heap-leachable) deposits represent the prime take-over candidates for the majors of the mining industry. For operators, such deposits are worth hundreds of millions of dollars, maybe even billions.
GSV is consulted by renowned JDS Engineering, which was the firm leading the permitting process for the Emigrant Mine. Estimates for Pinion's initial CAPEX (funds required to start producing cash-flow) are in the range of $40-60 million only. In case a take-over can be avoided thanks to GSV's strong shareholder base (25% free-flow), the path to own mining operation opens up (production could start within 2-3 years after the release of a positive PEA).
GSV has decided to only drill large diameter PQ holes, which enables them to use the core also for metallurgical tests in order for JDS to complete a PEA as fast as possible. We expect the completion of a PEA in 6-9 months, respectively in the first quarter of 2015, at which time we anticipate GSV's market capitalization to exceed $275 million ($2.58/share).
Bottom-line: The Pinion Deposit can grow big and may be developed quickly towards production thanks to the use of heap-leaching on site. This would enable the company, and its shareholders, to be in the seats of a vehicle that can even perform generously against a negative gold price trend and create unparalleled shareholder value.
In comparison with the North Bullfrog Gold Oxide Deposit from Corvus Gold Inc. ($83 million market cap), Pinion is set to prove grades that are 4 times higher, thus Pinion alone should be valued by the market with at least $83 million, which would represent a more than doubling of GSV's current share price.
The Pan Deposit from Midway Gold Corp. ($138 million market cap) has half of the estimated Pinion grade and is currently valued with $138 million - thus almost twice as much as GSV, whereas its market cap appears to be solely based on the North Bullion and Central Bullion Deposits at this point in time.
Obviously, the market still completely ignores Pinion's potential. The question remains when this will change. We speculate on anytime now.
Quintessence: Gold Oxide on the Carlin Trend - practically priceless for GSV's shareholders. A truly rare circumstance that may be uncovered quickly as we speak.
Click here to see short video about the site visit.
INTERVIEW
On June 10, Peter Epstein published an interview with GSV's CEO, Jonathan Awde. Jon's core statements are quoted below:
"We have a large, recently consolidated, contiguous land package in the Carlin, the most prolific gold trend in the western hemisphere. For the first time ever, the last unexplored window in the Carlin trend is being explored using modern technologies, led by a world-class exploration team. We have near-term catalysts in the form of drill results and maiden NI 43-101 compliant resource reports from Pinion by the end of July and North Bullion later this year. Barrick has made it clear again and again how important Nevada is to its future. We strongly believe that Nevada is the best place to explore for and develop gold deposits."
"Acquiring the balance of Pinion provides GSV with 100% ownership/control of an entire district (the last remaining underexplored district) within the southern end of the world renowned Carlin Trend in Nevada. From about 13 sq. miles in 2009, our total holdings now cover roughly 46 sq. miles. This is a game changer as it's the first time the entire district has been under one roof. This district had been fraught with multiple ownership interests, mineral and water rights issues. Pinion has a historical (non NI 43-101 compliant), near-surface oxide resource with what appears to be room to expand. The consolidation of the greater Railroad district took 4 years and was an exhausting exercise at times."
"All of them are oxide and Bullfrog, Pan and Emigrant have excellent economics. Historical results indicate that Pinion has the highest indicated grade of the 4 deposits; however, I must caution that we do not yet have a NI 43-101 compliant resource at Pinion and have not carried out a preliminary economic assessment or other study thereon. We've just started drilling at Pinion for our Phase 1 program but we feel very strongly about the potential."
"Given the challenging capital market environment and uncertainty with the price of gold, drilling shallow RC holes into a near-surface oxide resource vs drilling more costly, deeper core holes into North Bullion was an easy decision. We strongly feel that making the Pinion deposit NI 43-101 compliant could be a key valuation driver. The NBFZ remains a highly significant target that's open in several directions. Our last hole that we announced at NBFZ in January was technically a very important hole that extends the mineral system in a west-northwest direction. Our technical team was very encouraged with the results of this hole."
"We're very excited about Bald Mountain. We made an oxide discovery that was announced in October of 2013. We hit 56m of 1.47 g/t oxide, including 7.3m of 5.66g/t in hole RRB 13-1. The geological setting that exists at Bald Mountain suggests something important could be going on. We weren't able to do any follow on drilling at Bald Mountain in the fall as there were some land issues that got resolved when we closed on the Pinion acquisition. We will do a follow on program later in the summer into the fall."
"We have a solid investor base. Yes, Agnico took a 5% stake last summer after several site visits. It was a great endorsement of the project and our team to receive an investment in a very challenging environment for junior companies. FCMI, American Century, US Global, Royce, Phoenix and Oppenheimer have been very supportive. Management owns in the low teens percentage-wise of our outstanding shares, so a meaningful stake for sure."
"We thank David for all he's contributed and the exploration team he helped build and leaves behind. However, please remember that David will remain with us as a technical advisor for at least the next year. In my mind, we get the best of both worlds, he remains a technical advisor to our company AND we benefit from the 60m shares of Tanqueray Exploration stock that we will receive in conjunction with David leaving us. Based on current market prices, our stake in Tanqueray would be worth approximately C$3 million. David always made it clear to us that he greatly prefers doing grass roots exploration-- making discoveries. That's where he excels."
Risks:
Investors should be aware that there are material risks associated with Gold Standard Ventures Corp.
Share structure: On the one hand, a "strong" and overweighted institutional share structure (as being the case with GSV) may also be considered negative, as institutional investor behavior can be even more unpredictable when compared with private investors. Institutionals may be forced to sell relatively large positions within relatively short time.
Resources: The Pinion Deposit does not have a gold resource compliant to modern/today's standards of NI43-101 and therefore, cannot be relied upon, that is to say, the historic resource is not indicative of a resource that is to be drilled off. There are no known resources or reserves on the Pinion deposit, the North Bullion deposit or any other targets on Railroad-Pinion project, and Gold Standard's exploration programs are exploratory searches for commercial bodies of ore. In addition, the close proximity of and presence of gold resources on adjacent or nearby properties within the Carlin Trend, including Newmont's Emigrant mine, is not necessarily indicative of the gold mineralization in the Pinion deposit, the North Bullion deposit or the Railroad-Pinion project. No preliminary economic assessment or other study has been carried out by Gold Standard on the Pinion deposit, the North Bullion deposit or any other target on the Railroad-Pinion project, and it is uncertain if further exploration will result in such deposits or targets being delineated as an economically viable mineral resource.
Drill Speculation: If the current drill program is not able to confirm the historic drill assays, the share price may lose heavily. Speculating on a drill success within the next weeks and months is to be considered as a high-risk speculation.
Disclaimer: The author holds shares Gold Standard Ventures Corp. and may sell those any time without notice, whereas neither Rockstone Research Ltd. nor the author was remunerated by any of the companies mentioned herein to produce or publish this content. Please read the full disclaimer at rockstone-research.com and within the full research report as none of this content is to be construed as an "investment advice." All statements in this report, other than statements of historical fact should be considered forward-looking statements. Much of this report is comprised of statements of projection. Statements in this report that are forward looking include that gold prices are expected to rebound; that Gold Standard Ventures Corp. can and will start developing its projects into a mine; that exploration has or will discover a mineable deposit. These statements involve known and unknown risks, uncertainties and other factors that may cause actual results or events to differ materially from those anticipated in these forward-looking statements. Risks and uncertainties respecting mineral exploration companies are generally disclosed in the annual financial or other filing documents of Gold Standard Ventures Corp. and similar companies as filed with the relevant securities commissions, and should be reviewed by any reader of this report.
Disclosure: The author is long GSV. The author wrote this article themselves, and it expresses their own opinions. The author is not receiving compensation for it. The author has no business relationship with any company whose stock is mentioned in this article.
Editor's Note: This article covers one or more stocks trading at less than $1 per share and/or with less than a $100 million market cap. Please be aware of the risks associated with these stocks.