The first company to use Google's (NASDAQ:GOOG), (NASDAQ:GOOGL) Android Wear Operating system will be the LG (OTC:LGEIY) G watch. Admittedly the current size of the smart watch market is small, but there's a lot of growth potential.
Specs of the LG G Watch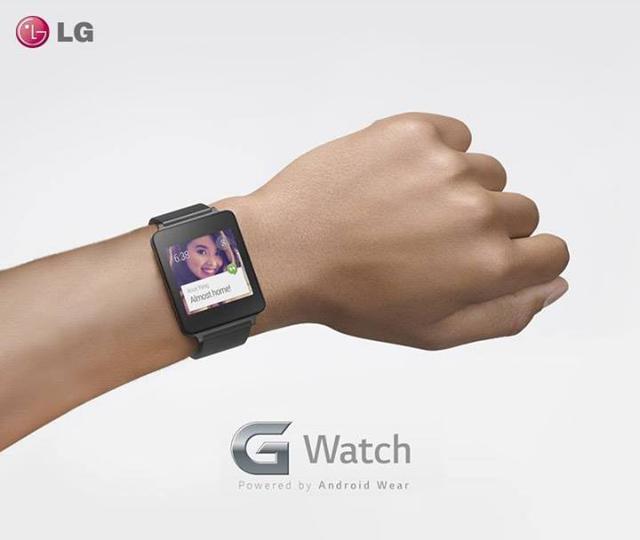 Source: Android Central
The G Watch is expected to be released in the next couple weeks, at the Google I/O conference, which is on June 25th. Also, the Motorola (NYSE:MSI) 360 is also expected to be featured at the event (also uses Android Wear OS).
The leaked G Watch specs are:
400 mAh battery
1.65 inch screen 280x280 resolution
512 MB RAM
Snapdragon 400 (mid-end system-on-chip)
Bluetooth 4.0 LE
The specs aren't really extraordinary, and information on sensors is rather limited. So understanding whether or not the device can measure blood pressure, heart rate, and etc. won't be known until the device is actually announced.
However, high-end components really aren't necessary to run applications in this specific form factor. After all, the screen doesn't run as high of a resolution, and users are unlikely to game or watch videos on a smart watch. However, applications like Skype, Instagram, Google Search, Twitter (NYSE:TWTR), Facebook (NASDAQ:FB) should do exceptionally well on this new form factor.
Android Wear a homerun for Google?
The operating system itself will most likely be notification driven, and it will also connect with other devices. The smart watch is expected to become the first product category to fully contextualize the web.
Contextualization is the process of providing information to a user based on the environment. This may mean a 911 call for an ambulance due to abnormalities in the heart rate, which may lead to a quicker treatment in cases of heart attack, or an alert that criminal activity has recently occurred within the neighborhood, which may alert you to lock your doors.
In the case of advertising, you may see Groupon (NASDAQ:GRPN) notifications pop up while you're passing the hair salon. Also, Facebook may alert you that a friend of yours is nearby in that Starbucks (NASDAQ:SBUX). Since we're on the topic of Starbucks, you may be eligible for a free drink, because it's your birthday; Starbucks knew this, because you allowed it to synchronize with your Google calendar. Now, that we're on the topic of Google calendar, you're quickly notified that you have a 3PM meeting with your boss on Skype. Best to get that taken care of right away, so you set up a video conference immediately by accessing the application on your smart watch.
The smart watch has serious potential. However, the market is extremely fragmented currently, making the segment ripe for disruption.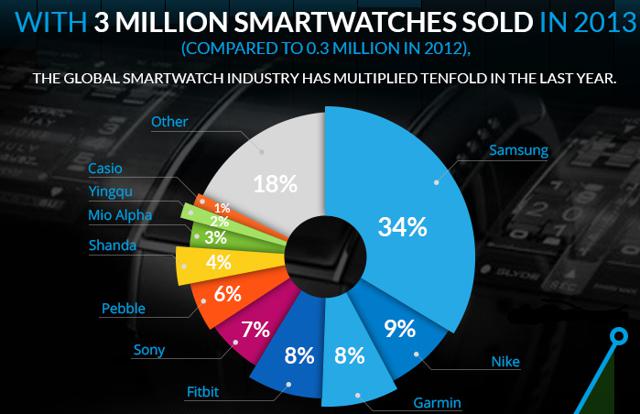 Source: Smartwatch Group
I think that the smaller players like Casio (OTC:CSIOF), Fitbit, Garmin (NASDAQ:GRMN), and Nike (NYSE:NKE) will implement Android Wear, or exit the market completely as more well-established consumer electronics companies enter the space [Apple (NASDAQ:AAPL), LG, Motorola, and Nokia (NYSE:NOK)].
Currently, Samsung (OTC:SSNLF) has the greatest market share, using Tizen as its operating system. It's unlikely that this operating system will scale very effectively as the application library is rather limited when compared to Android.
Furthermore, it's likely that Google will attract more application developers to its platform. By the end of 2013, there were 25,000 smartwatch software developers; however by 2014, there will be 100,000 smartwatch software developers, according to Smartwatch Group. The software ecosystem for wearable devices will grow significantly, and it's also likely that Google and Apple will attract the lion's share of software developers.
Assuming a unique ecosystem of software applications can emerge for this new product category, the smart watch market may exhibit relatively high growth rates.
Conclusion
The LG G Watch and Motorola 360 will demonstrate the capabilities of the Android Wear operating system. Hopefully, the device offers a lot of game changing features.
Google will have to impress software developers at the I/O conference, as Google will need to generate critical mass for further software application developers to jump onboard. Assuming OEMs and software developers favor Google's ecosystem, the future of Android will remain soundly intact. This will also give Google investors greater conviction in Google's growth prospects going forward.
Disclosure: The author has no positions in any stocks mentioned, and no plans to initiate any positions within the next 72 hours. The author wrote this article themselves, and it expresses their own opinions. The author is not receiving compensation for it (other than from Seeking Alpha). The author has no business relationship with any company whose stock is mentioned in this article.