If you want exposure to potential upside in the gold (NYSEARCA:GLD) and silver (NYSEARCA:SLV) markets, buying physical gold and silver can be the obvious answer. Unfortunately for those seeking income from their investments, gold and silver pay no dividends, not to mention the cost and inconvenience of actually storing the metal in a safe place, and the cost of actually selling the metal for a profit (or loss).
I believe that investors looking for upside in gold and silver plus yield should look towards a select few gold miners and royalty companies. The following companies are profitable - even at current gold prices - continuing to pay a dividend at $1,250 gold. As gold increases in price over the next few years, as I believe it will, there is big potential for these companies to increase dividends.
When I search for gold and silver stocks for yield, I consider the following:
1. The stock's current and past dividend payouts.
2. Ability to sustain the dividend in the future and the potential for dividend increases.
3. Profitability and future prospects for the company.
Here are my top 3 gold stocks that pay a dividend:
| | | | | | |
| --- | --- | --- | --- | --- | --- |
| Company | Market Cap (billion) | EPS (2014 estimate) | Dividends per share | Yield | Payout Ratio |
| Goldcorp | $20.37 | $.76 | $.60 | 2.4% | 75% |
| Silver Wheaton | $8.23 | $.95 | $.45 | 1.96% | 49.5% |
| Franco Nevada Corp. | $7.45 | $.95 | $.80 | 1.6% | 80.8% |
#3 Silver Wheaton (NYSE:SLW)
Silver Wheaton is the largest precious metals streaming company in the world. For an upfront deposit, the company gets the right to purchase all or a portion of the silver and/or gold production from a mine, at a low fixed cost.
Silver Wheaton's business model has a number of advantages over traditional miners:
Exposure to upside in price of precious metals, but with fixed operating and capital costs.
Zero exploration costs, but exploration upside.
Diverse asset base with 19 operating mines and 5 development projects.
Sustainable dividend, even with gold and silver depressed.
You will see the benefits of the business model from the chart below, taken from the company's corporate presentation.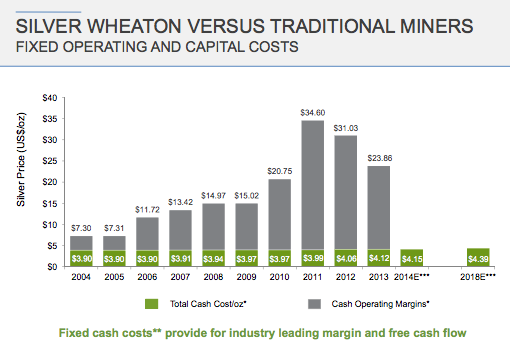 The bottom line is that Silver Wheaton's high-margin business model works: in the first quarter of 2014, the company reported operating cash flow of $114.80 million and earnings of $79.8 million, even with the price of silver below $23 an ounce.
Based on its current deals, Silver Wheaton forecasts 2014 production of approximately 36 million silver equivalent ounces, including 155,000 ounces of gold, increasing to 48 million silver ounces including 250,000 ounces of gold by 2018. This represents 5-year production growth of 35%, and doesn't include the company's stream on the Pascua Lama project, which would add an addition 9 million ounces starting in 2018.
Silver Wheaton has a unique dividend policy: the company pays a quarterly cash dividend which equals 20% of the company's average cash generated from operating activities in the previous four quarters. So the more money Silver Wheaton makes, the more it will pay in dividends. On April 4 and May 20 of 2014, the company paid a dividend of $.07 per share.
The one reason why Silver Wheaton isn't higher on this list? The company does have a large amount of debt, with a $1 billion non-revolving term loan, $365 million in capital commitments and just $80 million in cash. However, the company's forecasted operating cash flow is expected to more than offset the company's capital commitments.
I believe Silver Wheaton will one day pay a very large dividend, and patient shareholders will be rewarded.
#2 Franco Nevada Corp (NYSE:FNV)
Franco Nevada is not a gold miner; the company is a gold-focused royalty and streaming company, with interests in platinum, palladium, oil and other resource assets as well. The company is a very attractive alternative to physical gold or mining companies, because it pays a yield, has robust cash flow even at low gold prices and comes with lower overall operational risk than mine operators.
Many of Franco Nevada's assets are located in politically favorable jurisdictions, with assets in the U.S., Canada and Australia. The company has over 370 assets, with 47 assets producing (gold, platinum group metals), 36 advanced stage assets, and 153 exploration stage assets. In addition, the company has 137 oil and gas assets, not including 160 undeveloped oil and gas interests. Approximately 67% of the company's revenue from gold, with 18% in oil and gas, 12% in platinum group metals and 3% in other minerals (as of Q1 2014).
Franco Nevada's high-margin royalty and gold stream business model allows the company to maintain profitability, even at $1,250. For the first quarter of 2014, the company reported net income of $35.4 million, or $.24 per share - even though the company's average gold price sold per ounce decreased by 20.6%.
Like Goldcorp, the company has a very solid balance sheet - as of March 31, 2014, Franco has $770 million in working capital with zero debt, with $1.3 billion of available capital to complete deals.
You will see in the below chart that Franco's dividend has steadily increased since 2008, climbing from $.21 per share to over $.70 in 2013 and $.80 on an annual basis, as of May 7, 2014. Total dividends paid in 2014 is estimated at $115 million, compared to just over $100 million last year - the 7th consecutive year of dividend increases.
In the Q1 2014 earnings results, the board of directors announced an increased quarterly dividend of $.20 per share, which is a 11.1% increase from the previous $.06 per month dividend.
In addition to paying a steady, increasing dividend, I believe shares of Franco Nevada also hold considerable appreciation potential. You will see in the below chart that Franco has outperformed both physical gold and the miners (NYSEARCA:GDX) by a large margin since 2009.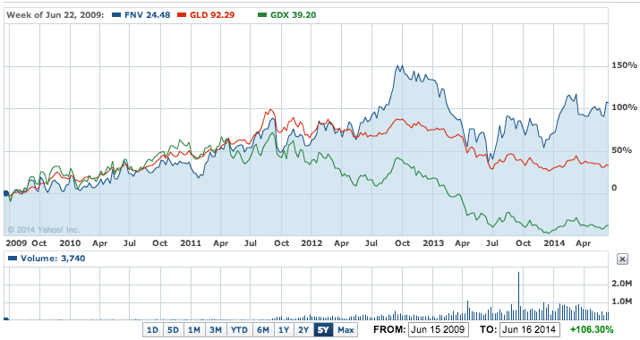 #1 Goldcorp (NYSE:GG)
Goldcorp is on the list because the company is one of the lowest-cost senior gold producers in the world, with all-in sustaining costs [AISC] in 2013 close to $1,000 an ounce and adjusted cash flow of $1.6 billion. In 2013, the company paid out $468 million in dividends, compared to $438 million in 2012, and Goldcorp pays out its dividend every month, which is very convenient for shareholders.
Goldcorp produced 2.7 million ounces of gold in 2013 and projects full-year 2014 production of 2.95 to 3.1 million ounces, increasing to 3.6 to 3.8 million ounces by 2015. Most of Goldcorp's production comes from politically-safe mining jurisdictions, with 35% of production in Canada and 33% in Mexico.
As mentioned, Goldcorp is a very low-cost producer, meaning it is profitable at current gold prices and even lower prices. For the first quarter of 2014, the company lowered AISC to $840 per ounce, below forecasts of $950 to $1,000.
I think there is a great chance that Goldcorp not only maintains but grows its current dividend. Besides producing gold at low cost, the company has a rock solid balance sheet, with $1 billion in cash and a $1.4 billion undrawn revolving credit facility. You will see from the below chart that Goldcorp has the lowest net debt in billions as a percentage of its market cap compared to peers.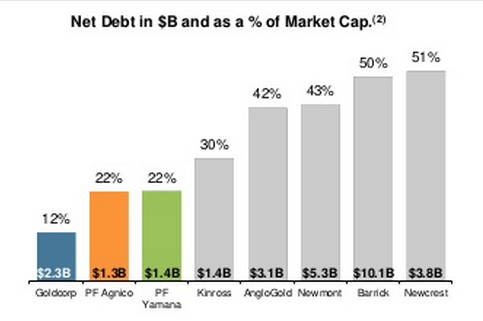 Low costs and a solid balance sheet has allowed the company to maintain a stronger dividend track record than its peers, with an estimated 32% of operating cash flow paid in dividends for 2014, compared to an estimated 16% for Yamana Gold (NYSE:AUY), 11% for Agnico Eagle (NYSE:AEM), and 8% for Barrick Gold (NYSE:ABX).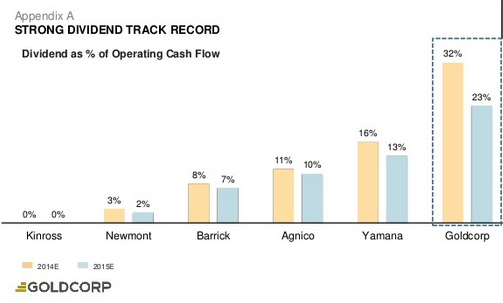 Because of its high quality, low cost mines, consistent dividend track record and solid balance sheet, Goldcorp is currently my favorite dividend paying gold stock.
Disclosure: The author is long SLW. The author wrote this article themselves, and it expresses their own opinions. The author is not receiving compensation for it (other than from Seeking Alpha). The author has no business relationship with any company whose stock is mentioned in this article.