As one of the world's largest energy companies, Chevron (NYSE:CVX) has been rewarding shareholders with dividend increases for 27 years. This track records places Chevron on the rare list of dividend aristocrats, which have raised their dividend for 25 consecutive years or more. I believe Chevron will continue to deliver for dividend growth investors, making it a good option for long-term investors.
Historical Dividend
Chevron has a long track record of not only paying a dividend, but providing solid increases to that dividend each year. Prior to the Great Recession, Chevron was rewarding shareholders with double-digit increases straight up until 2008. In 2009 and 2010, the company increased the dividend 5% and 7%, respectively, no small feat given the stress that most companies where under.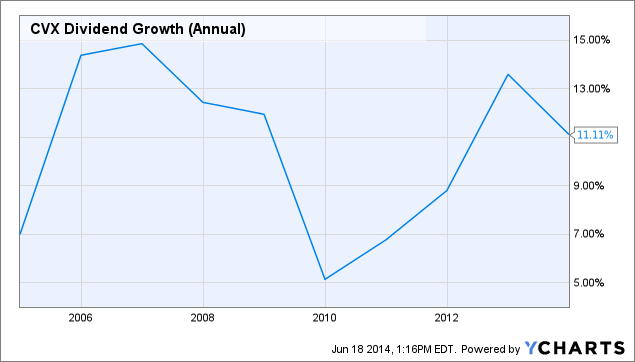 CVX Dividend Growth (Annual) data by YCharts
And since 2009, the rate of dividend increase has accelerated, returning to its previous double-digit pace. Over the past 10 years, Chevron has delivered an 11% compounded growth rate in its dividend, and maintained this pace over the past 3-year (12%) and 5-year (10%) periods.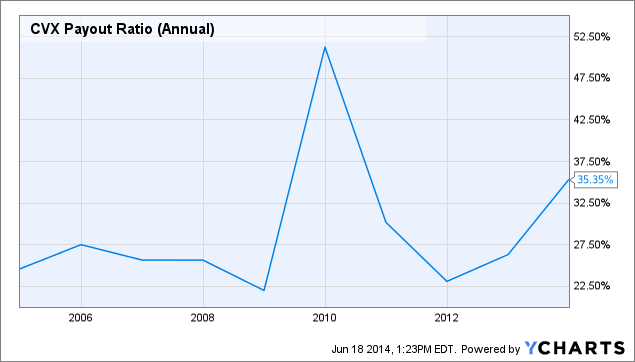 CVX Payout Ratio (Annual) data by YCharts
Importantly, Chevron was able to provide this pace of growth without stretching the dividend payout ratio, using an excessive amount of additional leverage, or limiting growth. The payout ratio did spike during the recession, but then dropped back down, suggesting that earnings were able to support the dividend increases. It has crept up in recent years, but is still relatively low, providing another lever for management to pull in order to smooth out the increases during periods of earnings volatility or low growth.
Current Dividend
In April, Chevron announced an increase in its quarterly dividend to $1.07 from $1 per share. Based on Chevron's fiscal year (December), this would make fiscal year 2014's dividend $4.21, if the dividend and payment schedule remains consistent, representing an 8% increase from FY 2013 ($3.90).
Based on the current quarterly dividend, Chevron provides investors with a 3.4% forward dividend yield, with a 39% payout ratio over the past 12 months (35% FY 2013).
ROE and Future Growth
In addition to looking at historical growth and payout ratios for the dividend, analyzing Chevron's return on equity performance may also provide some clues as to what future dividend growth may look like.
On average, Chevron has provided an average ROE of 18% over the past five years (2009-2013).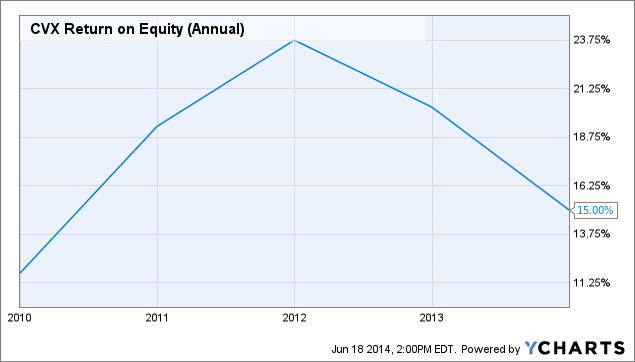 CVX Return on Equity (Annual) data by YCharts
Using the historical ROE and payout ratio trends, we can estimate a sustainable future earnings growth rate for Chevron. In other words, if Chevron's payout ratio stays at 35.2% and it is earning 18% on its equity, we can project a long-term sustainable growth rate of 12% going into the future.
This is just one data point, and a very rough estimation at best. However, it does align with the average compound growth we've seen from Chevron in the past 5-10 years. Using this as a guide, we can project future dividend growth and the company's valuation.
DDM Valuation
Using the dividend discount model, I determined the value of the company based on its future dividend payments. In performing this valuation, I made several assumptions:
First, I used 8% as my discount rate, based on the long-term average return of the stock market.
Next, I used Chevron's estimated FY 2014 dividend as the first-year dividend and applied future estimated dividend increases to this base.
Then, I applied a 10% growth rate for the following 3 years (FY 2015-2017), an 8% growth rate for FY 2018-20 and 6% for FY 2021-2023.
Finally, I assumed a 3% perpetuity rate after FY 2023.
Based on these assumptions, I estimate that Chevron's intrinsic value is $130 per share. At its current price of $129 per share, the stock does not appear to be overvalued. Given the moderate growth assumptions and Chevron's history of returning capital to shareholders, the current price offers investors a fair entry point, although not a discount.
One issue is that capex has recently jumped up to a higher level, causing FCF to become negative (but operating CF is still strong). Investors should definitely investigate whether or not this poses a threat to their assumptions for future growth, or if this is a temporary situation while the company invests in future growth.
Conclusion
Chevron is a dividend aristocrat with a long history of rewarding shareholders with dividend growth. It currently provides an attractive dividend yield, with a conservative dividend payout ratio. Therefore, it seems like a stock that investors should consider for their retirement and income-oriented portfolios.
Disclosure: The author has no positions in any stocks mentioned, and no plans to initiate any positions within the next 72 hours. The author wrote this article themselves, and it expresses their own opinions. The author is not receiving compensation for it (other than from Seeking Alpha). The author has no business relationship with any company whose stock is mentioned in this article.
Additional disclosure: As always, do your homework. Each investor conduct his or her own due diligence before investing.