This June's weather across the corn belt has been extreme. Southern Iowa, parts of Illinois and Indiana are drier than normal, while northwest Iowa, southern Minnesota and southeast South Dakota are experiencing flooding.
Rainfall June 4 to June 18 was more than 300% of normal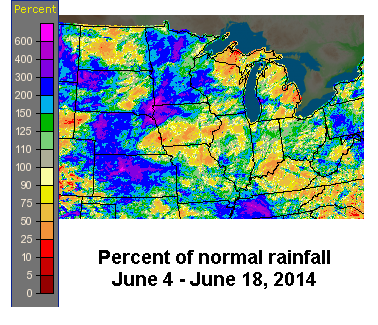 across southern Minnesota, southeast South Dakota and northwest Iowa. Central Nebraska and much of Kansas have been very wet, too.
However, through June 18, the two week rainfall was about half of normal from southeast Nebraska to northern Illinois. Southern Indiana and eastern Kentucky have also been dry.
Rainfall Forecast
There's going to be some relief for the dry areas with 1.5 to 2.5 inches of rain forecast June 19 to June 26.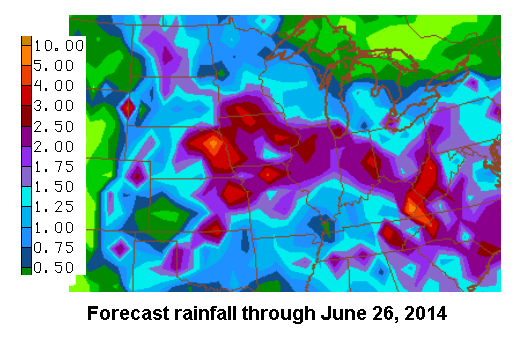 Meanwhile, rainfall across southern Illinois, southern Indiana, southern Missouri and western Kentucky will be drier than normal.
But southern Minnesota, northwest Iowa and eastern Nebraska will get soaked with a lot more rain - up to 5 inches more. Rivers and creeks are already flooding and the heavy rain will exacerbate the situation. And, to make matters worst, another 2 to 3 inches will fall on the same area from June 27 to July 5.
In addition to the heavy rainfall and flooding, severe thunderstorms will beat up the fields with hail.
On the plus side, afternoon temperatures of 85 to 95 will be the rule June 26 to July 5 and that will help evaporate some of the excess moisture.
Vegetation Health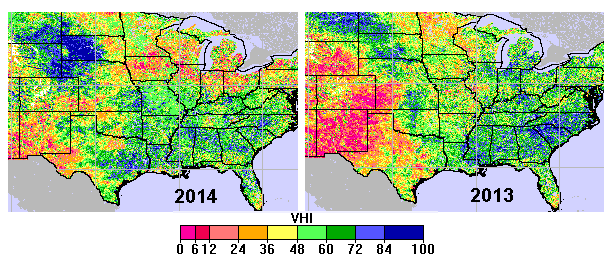 The vegetation health index (where <40 indicates stress and >60 indicates non-stress) was still low on June 17 across eastern Nebraska, eastern South Dakota, southeast Minnesota, much of Iowa, northern Illinois, Indiana and Ohio.
The 1.5 to 2.5 inches of rain forecast for northern Illinois, Indiana and Ohio through June 26 will help crops there. Southern Missouri, southern Illinois and southwest Indiana will survive the drier than normal conditions through July 5.
However, the region from eastern South Dakota and eastern Nebraska to southern Minnesota and north central Iowa will experience even more stress with the copious rain, mud and flooding.
I don't expect any significant or permanent change to the overall weather pattern through the end of July. Will the price of corn (NYSEARCA:CORN) and soybeans (NYSEARCA:SOYB) move up? It all depends on whether USDA reports continue to be favorable for the areas of the corn belt that are not soaked or flooded.
Disclosure: The author has no positions in any stocks mentioned, and no plans to initiate any positions within the next 72 hours. The author wrote this article themselves, and it expresses their own opinions. The author is not receiving compensation for it (other than from Seeking Alpha). The author has no business relationship with any company whose stock is mentioned in this article.
Additional disclosure: No recommendation on a stock or commodity is made or implied.