On June 16, 2014 Level 3 Communications (NASDAQ:LVLT) and tw telecom (NASDAQ:TWTC) announced Level 3 will acquire tw telecom in a stock-and-cash transaction valued at $41.92 per share at the time of this writing. Under the terms of the agreement tw telecom stockholders will receive $10 cash and 0.7 shares of Level 3 common stock for each share of tw telecom common stock at closing. The deal is expected to close in the fourth quarter.
Is this a good deal for the Level 3 shareholder? The deal must be accretive to FCF (free cash flow). The announcement noted the transaction is expected to be accretive to Free Cash Flow per share after the first year following transaction close but the magnitude of the gains are not defined. This article attempts to define these gains. We'll also highlight EPS and EBITDA effects but the focus is FCF.
WHY A COMBINATION MAKES SENSE:
We've discussed in past articles that when Level 3 made a leadership change they also shifted their focus on Enterprise customers. Level 3's growth driver is Enterprise and has been gaining traction over the last year as shown below: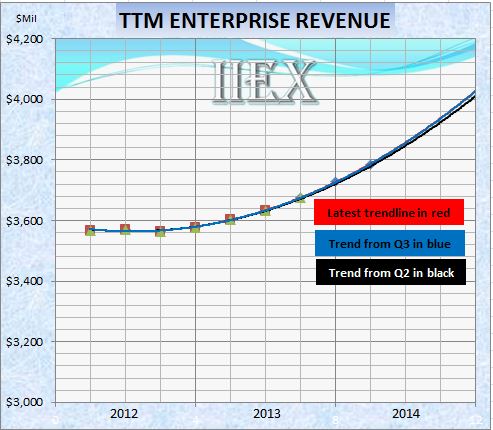 Level 3 Enterprise revenue accounts for 66% of total revenue on a stand-alone basis; increasing each quarter.
The pro-forma revenue mix as of 1Q14 is (source):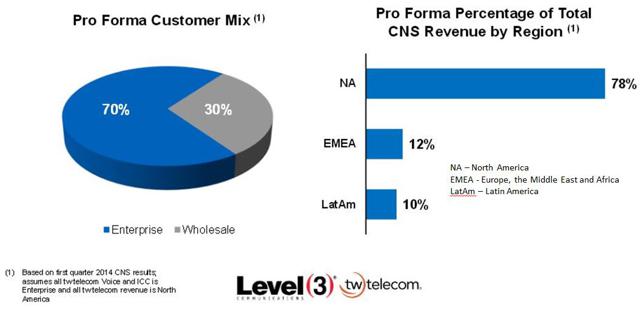 Tw telecom is a provider of managed network services, specializing in business Ethernet, data networking, converged, IP VPN, Internet access, voice, including VoIP, and network security services to enterprise organizations mainly in North America. Tw Telecom serves 76 metropolitan markets with local fiber networks. The fiber network spanned nearly 33,000 route miles (the majority of which were metropolitan route miles) connecting to 20,778 buildings as of 1Q14. Revenue from enterprise customers has increased sequentially for the past 47 consecutive quarters through 1Q14 and increased 9.2% for the three months ended 1Q14 as compared to 8.4% for the same period in 2013.
There is very little overlap between the two networks estimated at approximately 10%. Level 3's global customers will benefit from tw telecom's metropolitan footprint and buildings connected to the network and tw telecom's customers will benefit from Level 3's extensive local-to-global footprint, with owned network and data centers in more than 60 countries and significant global subsea networks.
THE NUMBERS:
Our last article projected metrics before the deal (Level 3 on a stand-alone basis). This will be the base to measure any accretive effects of the deal. Below is the before snapshot: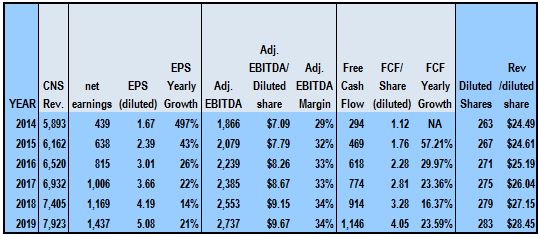 First a few facts defining the deal (source):
The transaction is expected to create substantial total annualized synergies of approximately $240 million, with $40 million from annualized capital expenditure savings and approximately $200 million of annualized Adjusted EBITDA savings. Of the total expected annualized Adjusted EBITDA savings, approximately 55 percent are from network expense savings and approximately 45 percent are from operating expense savings.

The company estimates that the net present value of the potential synergies will be approximately $2 billion. The company expects to realize approximately 70 percent of expected Adjusted EBITDA savings within 18 months after closing the transaction.

The company expects to incur approximately $170 million of integration costs associated with this transaction, with approximately 60 percent of those costs from operating expenses, and 40 percent from capital expenditures to support integration activities.
Another important piece to the puzzle is what top line growth is reasonable for tw telecom. Tw telecom's CEO, Larissa Herda said expect revenue to grow at a higher growth rate in 2014 than 2013 in their Q1 conference call.
They have been investing heavily to improve growth and it appears to be showing up in the top line. Q1 results equates to 7.1% year-over-year growth and 2.1% sequentially. (A 2.1%sequential rate equates to an annualized rate of 8.7%) Specific guidance was not given other than 2014 will be better than 2013 which was 6.4%. The tw telecom growth rate used in this analysis is 7% which seems reasonable if not conservative. Level 3's stand-alone CNS growth is given below. Margins and capex rates apply to the combined revenue.
Below summarizes the results. For those interested in the numbers a more detailed historical and projected financials reflected in this article can be downloaded (in pdf format) here.
Overall inputs and fair value:

Pro-forma results

FCF focus before and after:

Although total FCF through 2019 is substantially more for the combined entity FCF per share becomes accretive in 2016 which is in line with one of the stockholder benefits outlined in the press release, "The transaction is expected to be accretive to Free Cash Flow per share after the first year following transaction close".
The reader can enter their own assumptions in an interactive model and generate a detailed financial summary and income statement (based on your input) broken down by quarter and summarized by year here.
UNRESOLVED TAX ISSUES:
The tax issues are still unresolved. There are short-term threats to cash assuming they are incurred but will not affect long term FCF. LVLT has accrued $275 million for various legal proceedings and other liabilities on the balance sheet. This does not mean cash has been set aside so the amount accrued may have no effect on the balance sheet but will affect cash flows. Accruing these charges tell us there is a reasonable expectation LVLT will incur these costs in the future. The issues are:
Rights-of-Way Litigation
Peruvian Tax Litigation
Employee Severance and Contractor Termination Disputes
Brazilian Tax Claims
LVLT believes that it is reasonably possible that the Brazilian issue could result in a loss of up to $61 million in excess of the accruals established, which if accrued would raise the total to $336m from $275m. These issues are one-time occurrences and will have no effect on longer-term free cash flow if enterprise revenue remains on track.
CONCLUSION:
Even though FCF will not be accretive per share until 2016 this is a good deal for both Level 3 and tw telecom shareholders. What is clear is Level 3 has upside from here, more if they can achieve modest improvements above projected rates in this article and one catalyst would be the increase in services that would be available to existing tw telecom customers.
Level 3's NOL's will not be affected by the deal and will make them more valuable since the combined entity's income will grow substantially over the next few years. That profitability will be sheltered from taxes for some time since their U.S. net operating loss balance was approximately $9 billion at the end of 2013 (source 10-K):
U.S. federal tax loss carry forwards expire as follows (dollars in millions):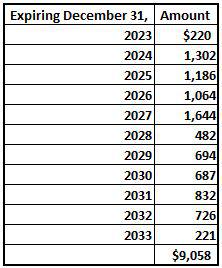 The bottom line is shareholders should be pleased about the potential increases in cash this combination offers.
Disclosure: The author is long LVLT. The author wrote this article themselves, and it expresses their own opinions. The author is not receiving compensation for it (other than from Seeking Alpha). The author has no business relationship with any company whose stock is mentioned in this article.