Saratoga Investment Corp (NYSE:SAR) is a BDC making loans to U.S. middle-market businesses. As of February 28, its portfolio consisted of $205.8 million in investments, spread among regular BDC loans, syndicated middle market loans and a subordinated investment in the Saratoga CLO, from which SAR also gets management income.
Valuation
As of the last reported quarter, SAR had a NAV of $21.36. With the share trading at $15.60, this means SAR is trading at 0.73 times NAV. As a measure of comparison, I can quote BDC Buzz's recent articles, "BDC Rankings: May 2014" and "BDC Pricing And The Russell Indices: Part 3". In these articles BDC Buzz covers a high number of BDCs, with 2 metrics being particularly important:
(also important, is the NAV and EPS growth, covered in the first of the two articles)
In what regards Price-to-NAV, the universe covered by BDC Buzz trades at an average of 1.03 times. The lowest Price-to-NAV in that universe, found among one of the riskier BDCs covered, is 0.76.
In what regards NAV growth, SAR has shown constant growth even though NAV dipped in 2013 - which only happened because SAR distributed a significant dividend during December 2013. As for EPS, SAR had net investment income per share of $1.85 in 2013 (year ended in February 28, 2014), up from $1.71 per share in 2012 and $1.66 per share in 2012.
Given its NAV and EPS growth, one could say that SAR seems worthy of trading at least in line with the average of the BDCs covered by BDC Buzz, so it ought to trade around 1.03 times NAV, up from 0.73 times NAV. This implies an upside of 41%.
Finally, the one thing missing from SAR, and which I believe is the reason why it presently trades at a discount, is the lack of yield. SAR doesn't presently pay a regular dividend.
The Catalyst
As we've seen, SAR's valuation is at a discount to the BDC peer group it belongs to. But since it doesn't pay a dividend, SAR presently languishes.
That, however, is about to change. SAR's management has more than once said it's working towards paying a dividend. For instance, in a recent presentation (red highlight is mine):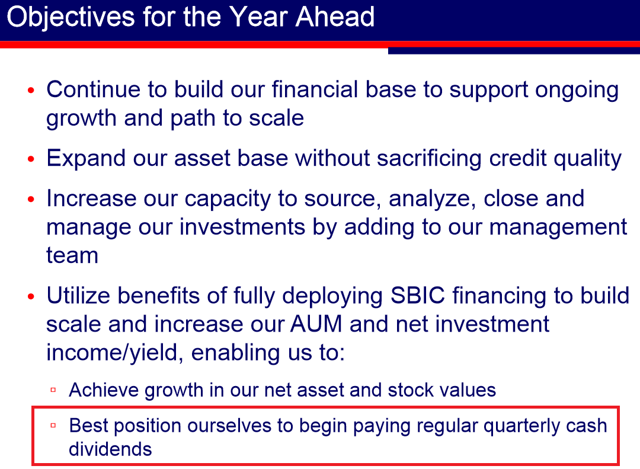 And in the earnings conference call for the previous quarter, which references an interview the CEO gave (bold highlight is mine):
Casey Alexander - Gilford Securities

Alright, okay. That's fair. In the -- there was an interview that was published about a month ago or so where you stated that the company's objective in the future is to payout a 100% cash dividends and we sort of understand why you've been where you're at thus far. But how do you see the evolution from how you distribute income today to getting to that point where you distribute a 100% cash dividends? And are there intermediate steps where you could take say just the BDC portion of the portfolio, the non-CLO portion of the portfolio and start paying quarterly dividends off of that?

Christian Oberbeck - Chief Executive Officer

Sure. Well first of all, I mean as we said in that article and as we said in our calls, it is our intention and desire to pay a full cash dividend on our shares, so that's clear. In terms of the key metrics for the health and the progress of the BDC in getting towards that goal such as growth in assets under management, growth in net investment income and net investment income as a percentage of assets under management, I think if you lay out all the quarters since we were involved -- we took over the management in July of 2010, we've made a steady progress in that direction. In terms of those metrics and in terms of important milestones, getting the SBIC license, the baby bond offering and most recently refinancing the CLO which adds a level of stability although at a lower level than it had been in earnings. So, we are on the path to lay the foundation for paying a full cash dividend.

In terms of the metrics as we see them and we talked about this specifically in a call last year, it looks to us that if we can reach assets under management in the high $200 million range and provided that we earn sufficient net investment income on that assets -- on those assets under management and we're on the track to do that, we believe that would be a time when we could get to our goal.
Investment assets are already at $205.8 million, and SAR already has available SBA liquidity amounting to a further $100 million (and total available liquidity, as per its presentation slide below, of $151.6 million).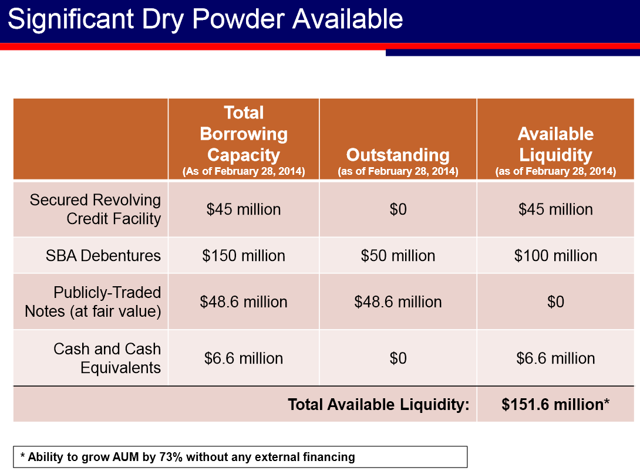 It thus seems that SAR is within striking distance of being able to reach its own threshold to start paying dividends (assets under management in the high $200 million range). This looks achievable within the next 2-3 quarters.
Once SAR starts paying a regular quarterly dividend, there will be no reason for it not to trade in line with the rest of the BDC sector as seen above. Thus, I expect that when SAR begins paying a dividend, its stock will be revalued upwards by up to 41%.
Risk
The main risk for Saratoga is a risk common to all BDCs: these are economically-sensitive stocks. If the economy worsens, defaults on these loans increase.
Moreover, since Saratoga employs some leverage, the effect of these defaults would be magnified. At present, Saratoga is 1.8 times levered, and if we project up to $300 million in assets under management, it would hit 2.6 times leverage at that point. The economic recovery is somewhat long in the tooth, at 6 years since the last recession, so some care is warranted.
Saratoga mitigates this risk in two ways:
By increasing the quality of the underlying loans;
By diversifying geographically and industry-wise.
The following two slides illustrate this: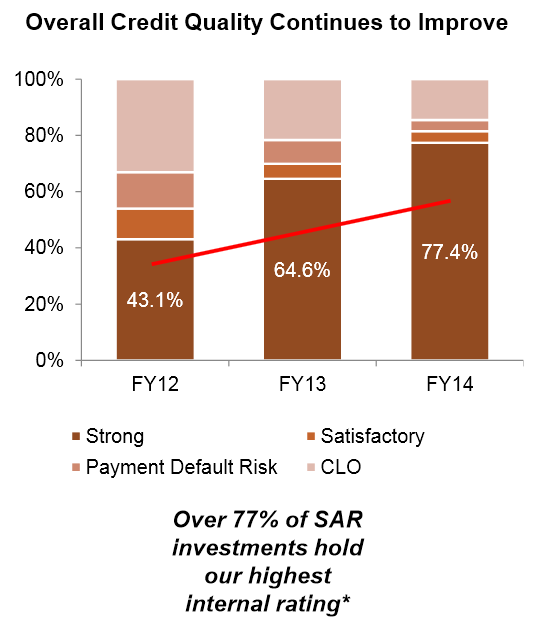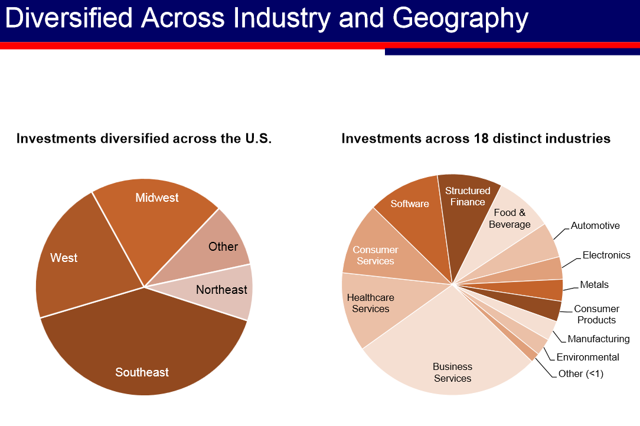 In overall terms, there's no reason to believe the risk in SAR exceeds the average risk being taken by other BDCs, so it's no reason to believe SAR deserves the lower valuation in trades at. Furthermore, SAR trading at a deeper discount gives it somewhat of a margin of safety when compared to the other BDCs.
Conclusion
SAR is a BDC trading at a significant price-to-NAV discount to the sector. This discount does not seem a function of the quality of SAR, it seems just a function of the fact that SAR does not pay a quarterly dividend at this point.
SAR seems close to starting to pay one such dividend. When that happens, I expect SAR to trade in line with the BDC sector, which implies around 41% upside for the stock.
Disclosure: The author has no positions in any stocks mentioned, but may initiate a long position in SAR over the next 72 hours. The author wrote this article themselves, and it expresses their own opinions. The author is not receiving compensation for it (other than from Seeking Alpha). The author has no business relationship with any company whose stock is mentioned in this article.
Editor's Note: This article covers one or more stocks trading at less than $1 per share and/or with less than a $100 million market cap. Please be aware of the risks associated with these stocks.