Zale Corporation (ZLC), the specialty retailer of fine jewelry, recently delivered fourth-quarter 2010 results. The company was able to narrow its bottom-line loss on the back of cost cuts and fewer merchandise discounts that improved margins and helped offset the decline in the top-line.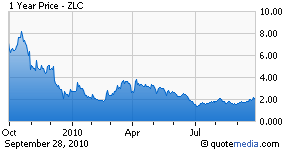 The quarterly loss came in at 89 cents a share compared with a loss of $2.81 in the prior-year quarter. The Zacks Consensus Estimate for the quarter was a loss of $1.30 per share.
The jewelry market was hit hard by the recent global meltdown, which tightened credit market and aggravated heavy job losses. Zale lost market share as consumers cut back on their discretionary spending.
The company's total revenues slipped 3.4% to $345 million during the quarter compared with $357.1 million in the year-earlier quarter. The quarterly revenues missed the Zacks Consensus Estimate of $351 million.
Zale, which faces stiff competition from Signet Jewelers Limited (SIG), indicated that comparable-store sales dropped 2.1%, reflecting a sharp improvement from a decline of 21.2% posted in the prior-year quarter.
Despite a drop in the top-line, Zale's gross profit climbed 9.7% to $181.8 million, on account of a 14.7% fall in cost of sales, whereas gross profit margin expanded 630 basis points to 52.7%. The company's adjusted operating loss improved to $26.7 million from a loss of $42.4 million reported in the prior-year quarter.
Zale operates 1,218 fine jewelry stores and 672 kiosks, a total of 1,890 retail locations. The company ended the quarter with cash and cash equivalents of $26.2 million, long-term debt of $295.9 million, reflecting a debt-to-capitalization ratio of 49%, and shareholders' equity of $308 million.