American Realty Capital Properties (ARCP) has been one of the market's worst performing triple net lease REITs in 2014. The stock has been hammered, with questions raised regarding the low pricing of a recent secondary equity offering. In addition, ARCP's proposal for Red Lobster has left many wondering if the company is skimping on quality to boost short-term results. However, this decline has made ARCP dirt cheap, especially compared to its peers such as Realty Income (NYSE:O).
Why is the stock down?
ARCP has been questioned repeatedly for its aggressive share issuances. Just last month, the company issued 120 million shares plus a 18 million share greenshoe at $12 each, netting it about $1.59 billion. Just to put this into perspective, via the offering, ARCP increased its share count by nearly 20%.
Furthermore, the $12 per share price of the secondary may have undervalued the stock. ARCP had been in the previous months trading above $14 per share, implying at least a 15% discount.
Yet another concern for ARCP would be its recent decision to sell its shopping center portfolio to Blackstone (NYSE:BX) for $1.975 billion in cash. Previously, it was assumed that the company would spin off these assets into another public company called American Realty Capital Centers.
However, these plans seem to have been canceled and or changed. ARCP plans to use the cash from this sale to fund its Red Lobster transaction. This may imply that the market was not really interested in the mall focused IPO and/or that ARCP saw Red Lobster as a better option.
Red Lobster can be a game changing transaction
According to its release, ARCP has teamed up with Golden Gate Capital to buy 500 Red Lobster restaurant properties from Darden (NYSE:DRI) for $1.50 billion via a sale-leaseback transaction. 93.5% of the leases will be 25-year initial term, with another 6.5% having an average 18.7-year initial term. This portfolio will also have annual 2% rent increases, locking in income growth for the company.
The GAAP cap rate of 9.9% (7.9% cash rate) is well above average for the industry which typically runs at about 7.0%. As a result, this transaction should be very accretive on a per share level.
However, many fear that ARCP is taking on quite a bit of risk by buying the Red Lobster portfolio. Red Lobster saw a nearly 9% decline in its same store sales last quarter, by far the worst number posted by Darden's restaurants.
In addition, once closed, these properties will represent 12% of ARCP's rental income, more than 3x the next largest tenant Walgreen (WAG).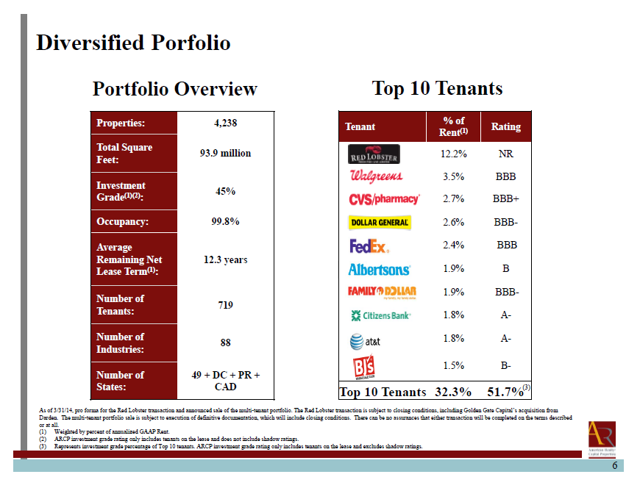 Click to enlarge
Furthermore, the combined creditworthiness of ARCP's tenants has dipped with Red Lobster. Golden Gate Capital does not have an investment grade rating and hence will likely have a higher cost of capital. This may impact its ability to turns things around at the struggling casual dining chain.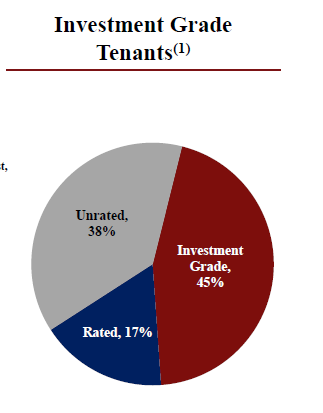 ARCP is a strong buy
While ARCP most certainly has some fleas, I still think the stock is a buy at current prices.
First, ARCP has de-risked its balance sheet via the equity offering. The leverage ratio (net debt divided by adjusted EBITDA) has come markedly down, from 7.5x to a pro forma 6.0x. Furthermore, ARCP's credit rating of BBB- , while below peers such as Realty Income, is still considered investment grade.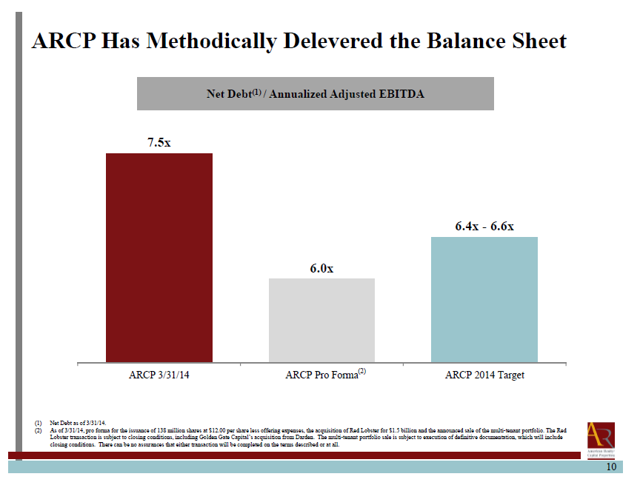 Click to enlarge
In terms of income, ARCP's dividend yield of 8.30% is easily one of the highest in the net REIT lease sector. The dividend is paid out monthly at an annualized rate of $1.00 per year, or $0.0833 per month. By comparison, Realty Income yields under 5%, W.P. Carey Inc (NYSE:WPC) 5.55%, and National Retail Properties (NYSE:NNN) around 4.40%.
Conclusion: Risk is high, but so is the reward
Given its massive 8.30% yield and 10.50x AFFO multiple, ARCP is worth a shot. I do understand that the company may be among the lower quality net lease REITs. That being said, that sort of discount valuation plus high yield is hard to resist.
Furthermore, ARCP recently became internally managed, which has allowed it to grow at a faster pace. The company is likely to continue its growth spurt, especially if market sentiment were to turn in its favor. I believe the stock is worth between $14 to $15, or about 12 to 13x 2014 FFO.
Disclaimer: The opinions in this article are for informational purposes only and should not be construed as a recommendation to buy or sell the stocks mentioned. Please do your own due diligence before making any investment decision.
Disclosure: The author is long ARCP, O. The author wrote this article themselves, and it expresses their own opinions. The author is not receiving compensation for it (other than from Seeking Alpha). The author has no business relationship with any company whose stock is mentioned in this article.