Shares of Keryx Biopharmaceuticals (Nasdaq: KERX) have started to trade higher and a Bullish flow has been detected in KERX with 6494 calls trading, or 5x the recent average daily call volume. Options traders are obviously placing their bets that this stock is headed higher.
The emerging biopharma has two lead compounds in late-stage, Phase 3 development for the treatment of cancer (perifosine) and renal disease (Zerenex) under Special Protocol Assessment (SPA) agreements with the FDA and the stock price is rising ahead of the Phase 3 developments for Zerenex, which are due in December. Zerenex is an oral, iron-based compound that has the capacity to bind to phosphate and form non-absorbable complexes.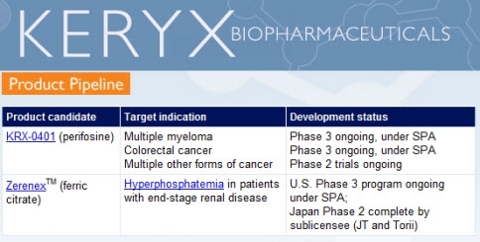 Keryx Biopharmaceuticals is focused on the acquisition, development and commercialization of medically important pharmaceutical products for the treatment of life-threatening diseases, including cancer and renal disease. Keryx is developing KRX-0401 (perifosine), a novel, potentially first-in-class, oral anti-cancer agent that inhibits the phosphoinositide 3-kinase (PI3K)/Akt pathway, a key signaling cascade that has been shown to induce cell growth and cell transformation. KRX-0401 has demonstrated both safety and clinical efficacy in several tumor types, both as a single agent and in combination with novel therapies. KRX-0401 also modulates a number of other key signal transduction pathways, including the JNK pathway, which are pathways associated with programmed cell death, cell growth, cell differentiation and cell survival. KRX-0401 is currently in a Phase 3 trial, under Special Protocol Assessment (SPA), in multiple myeloma, and in Phase 2 clinical development for several other tumor types.

Ron Bentsur, the Company's Chief Executive Officer, conducted a presentation at the JMP Securities Healthcare Conference in New York City on Tuesday afternoon. A live audio webcast of Mr. Bentsur's presentation can be found here.
A look at the company's chart shows support at $4.62 with the next levels of resistance at $4.89 and $5.25.The MACD is trending very bullishly, as is the EMA analysis. Fibonacci analysis also indicates very bullish levels while the stock's Relative Strength Index is also getting stronger.
See the full chart here.

Disclosure: No Positions