by Jeff Bailey
Gilead (NASDAQ:GILD)'s new hepatitis-C drug Sovaldi, which rang up sales of $2.27 billion during the 90 days ended March 31, costs $84,000 per treatment, or $1,000 per pill over the course of a 12-week treatment. A comparison with year-ago results indicates Sovaldi's after-tax profit on those sales was about $1.5 billion for the quarter.
The drug is highly effective. Gilead shares have been rising in recent years on heightened expectations of the hep-C drug, and in the chart below one sees the increasing forward PE ratio propelling the shares. And then, once Sovaldi sales hit the bottom line, the ratio plunges, as it should, though it plunged farther than one might have expected.
Gilead's valuation - about 13 times expected forward earnings -- now has priced into it substantial doubt about the company's ability to maintain its Sovaldi pricing, which has come under harsh criticism, and also doubt about hanging onto sales in the face of competing hep-C drugs expected to hit the market soon from AbbVie (NYSE:ABBV) and Merck (NYSE:MRK) via an acquisition.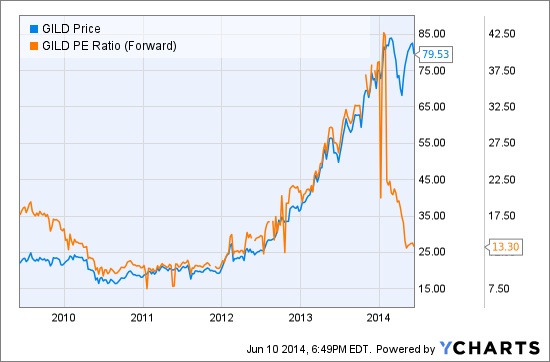 GILD data by YCharts
Even Gilead's full-year 2014 guidance omits prospective Sovaldi sales, giving a range of $11.3 billion to $11.5 billion in sales for all the company's other products, but refusing to project sales for the hep-C drug.
Sovaldi may be priced like an orphan drug, but it's not one; more than 3 million Americans have hep-C and it would cost close to $250 billion to give them all a round of Sovaldi treatment.
Investors are wondering what will happen to pricing; whether there are enough well-insured (including by the government) hep-C patients to propel and sustain sales of all three companies' drugs; and how pricing and regulatory approvals will play out overseas.
The hep-C drugs hold out the promise to supplant rheumatoid arthritis medicines - three of them brought in about $24 billion as recently as 2012 -- as the top cash generators for Big Pharma.
In recent days, articles in two major publications - The Economist and Forbes - have taken very different points of view on the Sovaldi situation, and suggest vastly different outcomes for Gilead, potentially for AbbVie and Merck, and for investors in the companies.
First, The Economist used Sovaldi to show how nutty drug pricing in the U.S. is compared to in other developed countries. We tolerate higher prices, in effect subsidizing drug use in other countries, because our government won't use its market clout to negotiate on price. The article is a smart rundown on the U.S. drug-pricing problem. And with the publication's global point of view, it wonders whether "America might, at last, begin to act like the rest of the world."
The impact of any change would be felt far beyond Sovaldi and the makers of hep-C drugs. If the U.S. did adopt a more European-like approach to drug buying, it could crimp Pharma sales and profits significantly.
Matthew Herper of Forbes, on the other hand, takes a more Yankee-centric view and concludes that insurers may have already missed their chance to control spending on hep-C drugs. His analysis is more deeply rooted in the nuances of the U.S. market, and investors will find much to like in the article.
In a rational world, The Economist would probably be right, and the U.S. would find some way to begin reducing its spending on drugs. Our effective subsidizing of drug sales in other countries would end. And Pharma investors would get shellacked.
But the Obama Administration already had its best chance to tackle drug spending, as part of its overall health insurance program, and it passed. Republicans seem more interested in repealing Obamacare than in tackling runaway healthcare spending, be it on drugs or other things. As unsustainable as the current situation seems, Herper's suggestion that we'll keep muddling forward may be the keener observation. If he's right, Gilead stock could be cheap.
Disclosure: No positions