by Jeff Bailey
Last month, before filing for its initial public offering, GoDaddy, the domain name marketer, paid a $350 million dividend to its owners, which include the leveraged buyout firms Kohlberg Kravis Roberts, Silver Lake, Technology Crossover Ventures and GoDaddy's founder, Bob Parsons. The payout, far from unusual in the private equity world, pushed GoDaddy debt up to $1.5 billion on May 31, just days before the IPO filing.
The substantial borrowings add to the difficulties facing GoDaddy. It reported a net loss of $51.3 million for the quarter ended March 31, roughly equal to last year's quarterly loss. That followed a 2013 full-year loss of $199.9 million and a 2012 loss of $279.1 million.
Loss making, of course, has become admired by some investors who're focused on rapid growth, and that sentiment has pushed up shares of some tech shares, notably sotware-as-a-service stocks like Workday (NYSE:WDAY), Salesforce (NYSE:CRM), NetSuite (NYSE:N), ServiceNow (NYSE:NOW), Concur Technologies (NASDAQ:CNQR) and Splunk (NASDAQ:SPLK).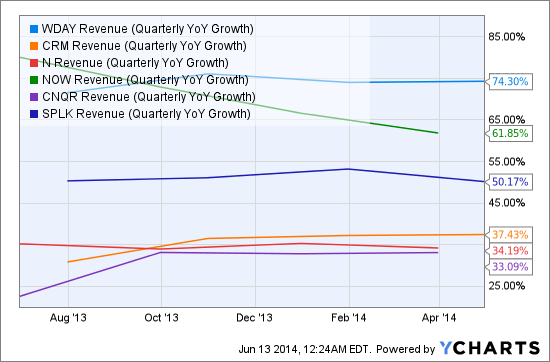 WDAY Revenue (Quarterly YoY Growth) data by YCharts
But GoDaddy, still relatively small with annual sales cresting above $1 billion for the first time in 2013, posted first-quarter revenue growth of a mere 22%, to $320.2 million. Google (NASDAQ:GOOG) (NASDAQ:GOOGL), which had 2013 revenue of $55.6 billion, is still growing nearly that fast; its first-quarter revenue was up 19%.
Terms of the GoDaddy offering aren't set yet and market conditions in coming weeks will have a lot to say about how much the company can raise in the offering, and whether the IPO can establish a deep and liquid market in GoDaddy shares that would allow the investor groups and Parsons, should he want to, to make an exit. Or, as GoDaddy's ads say, "It's Go Time."
KKR and Silver Lake led the $2.33 billion buyout of GoDaddy in late 2011; GoDaddy had filed for an IPO in 2006 and then called it off. The 2011 deal had the buyout firms putting up $881.7 million of actual cash, more than one third of the purchase price. A KKR official told Reuters at the time that a bigger cash contribution than normal was involved because GoDaddy was a "growth investment."
Parsons founded the company in 1997 and it became the largest marketer of domain names, with 57 million addresses under management, or 21% of domains worldwide. Once someone buys a domain name, they tend to renew, so 85% or so of GoDaddy revenue comes from customers who were also with the company the year before. That's the kind of annuity-like business model investors like to see.
GoDaddy was last profitable on a full-year basis in 2009, with net income of $14.6 million on revenue of $610.3 million. A modest loss in 2010 was followed by big losses in the following three years.
Growing, it turns out, is expensive, with big technology investments, marketing and sales costs and, under the buyout's accounting set-up, big amortization and depreciation expense.
In its IPO filing, GoDaddy makes clear it prefers different metrics. It likes bookings, which are all the cash receipts taken in during a given period, better than revenue. It only records revenue as the domain name and other customer agreements progress, so a two-year domain name rental paid up results in revenue spread out over 24 months. Bookings for 2013 were $1.40 billion, versus revenue of $1.13 billion. Some sales don't stick, however, and GoDaddy is forced to make refunds: $96.1 million of refunds in 2013.
GoDaddy also likes adjusted EBITDA, which omits those pesky depreciation and amortization expenses. And it's also enamored by a metric known as unlevered free cash flow, which is akin to a consumer making a monthly budget that omits the mortgage payment. It's fun to dream.
Costs as a percentage of revenue are generally coming down, which is good news. But the domain name and web site hosting business has become very competitive. And, GoDaddy warns in the IPO's risks section: "As a result of out increased expenditures, we will have to generate and sustain increased revenue to achieve future profitability."
Disclosure: No positions