With the spotlight on Europe and the US all year, most of the world has paid little attention to developed economies in the Pacific region. But for nearly all of 2010, the Japanese yen has been surging against the greenback, with the yen ETF (NYSEARCA:FXY) gaining over 10% this year. This movement has left many confused as Japanese markets have struggled with negative returns for nearly two decades and shows little prospect of improving in the near future. As the yen continues to gain, more people have shifted their focus to Japanese equities and the funds that track them to see how major exporters would be impacted by this quick change.

Late last night, well after market close, the Japanese government released two key pieces of data that will have a significant impact on how the major companies of Japan are performing. The first report, the Large All Industry Capex, measures the capital expenditure by all Japanese industries save financials. This report will be a key indicator because it will shed light on companies that are planning to expand or grow, which will be evidenced by higher expenditures. The second report, the Large Manufacturers Outlook, provides an outlook of the next quarter for major manufacturers based on business expectations and economic trends.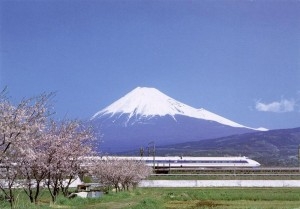 The Large All Industry Capex report was expected to come in at 3.0, a growth from the previous 2.7. That figure came in at 2.4 spelling bad news for economic growth in the somewhat stagnant Japanese economy. Meanwhile, the Manufacturers' Outlook was predicted to remain at the same level of 3, but it sank all the way down to -1. This decrease is further bad news for the manufacturing industry of Japan and could spell a contraction going forward.

With these two major reports coming in last night, the iShares S&P/TOPIX 150 Index Fund (ITF) should be active in trading today. This all Japan equity ETF measures the performance of the 150 most liquid companies on the Tokyo Stock Exchange which is sure to include a number of companies which are heavily impacted by these two data releases. From a sector standpoint, this ETF focuses on consumer goods (31%), industrial materials (18%), and financials (17%) and had gained 1.8% on the year while paying out a dividend of 4.7%. With such heavy allocations to the consumer goods and industrial materials corner of the market, this ETF should be in for a volatile session today, so look for a rough start to ITF in Wednesday trading.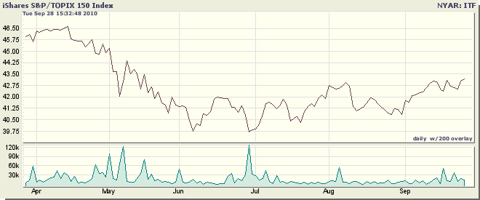 Click to enlarge
(Click to enlarge)
Disclosure: No positions
Disclaimer: ETF Database is not an investment advisor, and any content published by ETF Database does not constitute individual investment advice. The opinions offered herein are not personalized recommendations to buy, sell or hold securities. From time to time, issuers of exchange-traded products mentioned herein may place paid advertisements with ETF Database. All content on ETF Database is produced independently of any advertising relationships.