by Carla Fried
Investors hungry for income know steady dividend payers such as AT&T (NYSE:T), Coca-Cola (NYSE:KO), Chevron (NYSE:CVX) and Procter & Gamble (NYSE:PG) can sate their appetite. All currently have dividend yields above the 2.6% level on the 10-year Treasury note: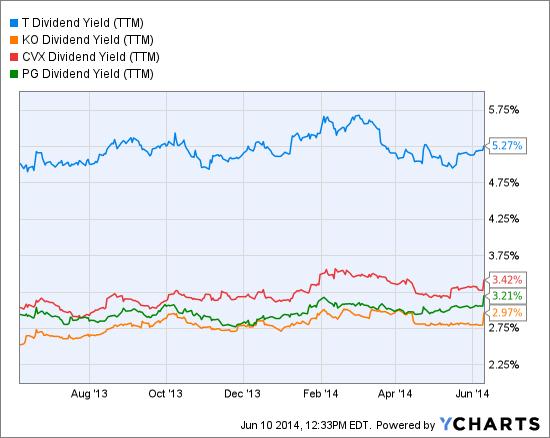 T Dividend Yield (TTM) data by YCharts
But knowing how best to feed on income payers can significantly boost a portfolio's ultimate payout: total return.
High yielders are a bit like fried food: the fat income yield tastes great but is not necessarily the healthiest choice for long-term returns. Stocks with standout dividend growth are the smug grilled choice: good for your long-term health if not exactly super filling for those in pursuit of current income. A new piece of research from the Leuthold Group suggests the best way to feed on dividend paying stocks is to focus on companies that serve up key quality metrics, such as high return on equity, return on assets, solid cash flow and healthy debt to equity levels.
From 1989 through early 2014 dividend payers in Leuthold's universe of the 3000 largest U.S. stocks (excluding MLPs and REITs) had an average annualized gain of 11.6%. That handily beat the 9% annualized gain for the S&P 500. Granted, that's a bit of an apples to oranges comparison given the smaller-cap bias of a basket that includes 3000 stocks vs. 500.
Where it gets most interesting is that Leuthold's Jun Zhu found that dividend payers that also score high on Leuthold's quality screen delivered an annualized gain of 14%, well ahead of the 12.2% gain for the highest yielding stocks and the 10.9% pick up for dividend growers that boosted their payout for at least 10 consecutive years. (For the volatility conscious, dividend growers had the lowest monthly standard deviation of 4.0%. High yielders and the S&P 500 came in at 4.3% and the quality bunch had a standard deviation of 4.1%.)
Three ETFs with a quality focus are Schwab Dividend Equity (NYSEARCA:SCHD), iShares High Yield Dividend (NYSEARCA:HDV) and Vanguard Dividend Appreciation (NYSEARCA:VIG). It's no coincidence that all three have an abundance of stocks that Morningstar deems to have wide economic moats -- a factor that seems to have a bias toward strong returns as well. The Vanguard portfolio leads the way with two-thirds of its portfolio rated wide moat.
Johnson & Johnson (NYSE:JNJ) and Coca-Cola (KO) are the only stocks to have a spot among the top 10 positions in all three ETFs. Both exceed the average 20.8% return on equity and 8.1% return on assets for the S&P 500.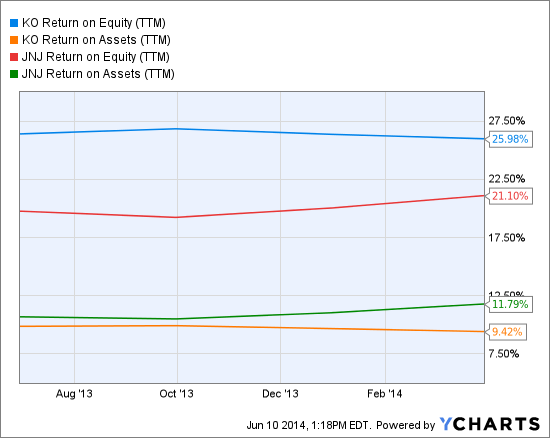 KO Return on Equity (TTM) data by YCharts
In terms of financial strength, Johnson & Johnson is one of three companies that manages a AAA credit rating from S&P 500, and Coca-Cola's is solidly in the high grade camp with a AA- rating. Strong cash generation provides ample cushion to keep their long history of dividend payouts -- and growth -- coming: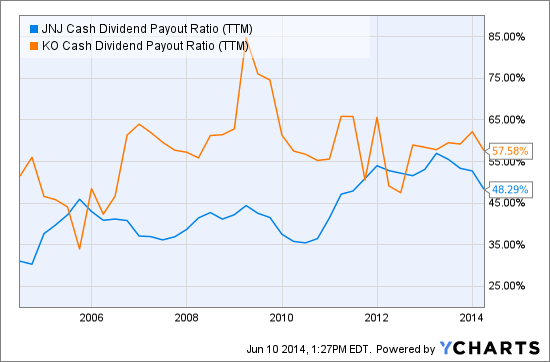 JNJ Cash Dividend Payout Ratio (TTM) data by YCharts
Procter & Gamble (PG) and Pfizer (NYSE:PFE) and showed up in two of the three portfolios, as did two of the better value propositions around these days: Exxon Mobil (NYSE:XOM) and Chevron (CVX).
Yes, energy stocks have been serious laggards during the recovery, but they also have a habit of leading in the latter stages of a bull market. According to InvesTech Research, the S&P 500 energy sector has a median gain of 34.2% in the last year of bull markets dating back to 1972 compared to 18.1% for the overall index. And the energy sector beat the broad market in 83% of those late-stage runs. Chevron happened to show up in a recent Leuthold quality screen.
Backing out the cash on their books, Chevron's 11.3 PE ratio less cash is even better than the still-low 13.6 for Exxon Mobil. And Chevron's current dividend yield above 3.3% is more than a half a percentage point ahead of Exxon Mobil. In terms of future dividend capacity, there's nothing to worry as both have payout ratios below 40%.
Technology also has a nice habit of outperforming in the late stages of bull market. According to InvesTech it has a 22.9% median gain and outperformed in two thirds of the latter stage bull markets going back more than 40 years. Microsoft (NASDAQ:MSFT), IBM (NYSE:IBM) Qualcomm (NASDAQ:QCOM) and Intel (NASDAQ:INTC) showed up as a top 10 holding in one of the three quality ETFs.
Microsoft is the sweet spot if you're looking for some current yield. Its current 2.7% yield is slightly ahead of the 10 year Treasury and well above the 2.0% payout on the S&P 500. While Intel has a 3.2% yield, in terms of future growth capacity, Microsoft has the strongest 5-year dividend growth history and a payout ratio below 40%.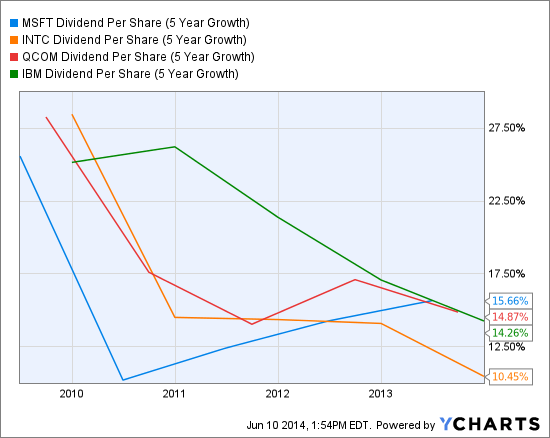 MSFT Dividend Per Share (5 Year Growth) data by YCharts
Microsoft also joins Johnson & Johnson and Exxon Mobil as the only three companies to have a sparkling AAA credit rating from Standard & Poor's.
Disclosure: No positions