According to the Financial Times, Brazilian finance minister Guido Mantega said central banks are locked in an "international currency war" and declared his preparedness to purchase dollars in unlimited quantities. Brazil's economy is suffering as the real has gained 25% on the dollar since the beginning of last year. Central bank intervention reached $1 billion per day, as the real hit a 9-month high of R1.70/$ (FT, see chart).
click to enlarge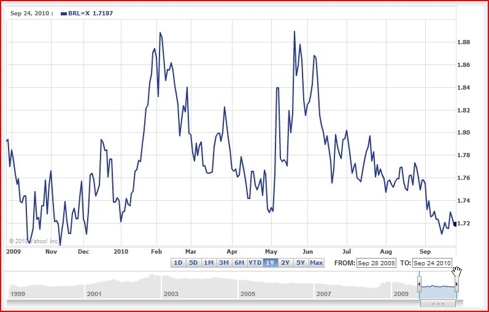 In addition to intervening in the currency markets, Brazil has implemented a 2% tax on financial transactions. This is a clear attempt to slow the deluge of capital into Brazilian markets. While cheap capital lowers Brazilian borrowing costs (short-term rates are over 10%) and helps Petrobras (PBR) and other corporations raise money cheaply, the upward force on the real is an unwanted side effect. The situation in Brazil is typical of the global attempt of governments and central banks to export capital and devalue their currencies in an attempt to boost their local economies at the expense of other countries.
Mad Money Printing
This currency war has flared up like wildfire across the globe. So far this year, Japan, Brazil, South Korea, Taiwan, Peru, Argentina, Switzerland have engaged in "quantitative easing" or similar measures. Add in such countries as China that maintain currency pegs, and who knows how many central banks have fired up the printing presses. In his last meeting, Bernanke announced that the Federal Reserve is on the verge of joining this curious activity. Unfortunately for central bankers, it is impossible for all currencies to fall in relation to each other. If one goes down, another must go up. The U.S. dollar seems to be the standard choice to push up.
If this activity strikes you as absurd, it is. "Desperate" would be another apt description. It's like trying to push down all the bumps in a carpet that is too big for the room. Flatten it in one area, and another pops up like a sore thumb. I find this activity especially curious as the global economy seems to have stabilized (according to mainstream media reports). Apparently, the patient is not as stable as the doctors would have us believe.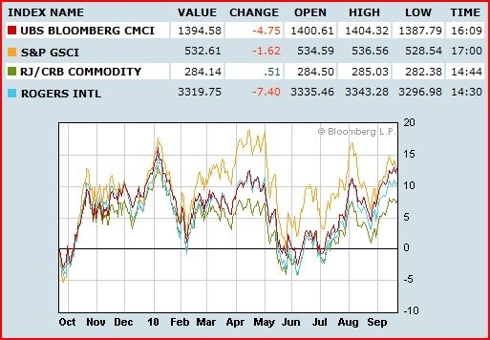 With all this printing going on, it is no wonder that major commodity indexes are pushing towards new highs for the year. Even more significant are the recent rises in food prices this year: corn, +54%; wheat, +57%; soybeans, +21% (data from FT). Russia's ban on wheat exports in August caused a spike of almost 100%. Food inflation may be even more frightening to Chinese officials than rises in raw materials. Just three weeks ago, the People's Daily reported that Chinese corn imports have surged 56-fold over last year, fueling an agricultural trade deficit topping $13.1 billion through July of this year. Rice imports have risen six-fold versus last year.
Against this backdrop, the U.S. has been pushing for China to revalue the renminbi. President Obama has publicly criticized China for currency manipulation. Treasury Secretary Tim Geithner just spent a week working with congress on trade sanctions. This week, the House of Representatives will vote on a bill allowing U.S. companies to petition the Department of Commerce to place import duties on Chinese products. The petition system is a solution to the problem that many of China's factories are owned or controlled by U.S. companies. This system allows the Department of Commerce to selectively place tariffs on specific goods for maximum effect. I believe that these tariffs will be passed. In a world of 0% interest rates and massive fiscal deficits, there are not many tools left to devalue the dollar. Tariffs also have the additional (expected) advantage of lowering the politically sensitive problem of high unemployment.
The Chinese renminbi has been revalued by 2% against the dollar since the beginning of September. At the U.N. earlier this week, Chinese Premier Wen Jiabao warned that "we cannot imagine how many Chinese factories will go bankrupt, how many Chinese work will lose their jobs, and how many migrant workers will return to the countryside" if the renminbi should appreciate over 20% (Bloomberg). What strikes me is that despite the massive and continual pressure on China that the U.S. has brought this year, China can't even make a 2% revaluation without apocalyptic warnings and protests. I believe that this is because Chinese exporters operate with such low margins that the current 2% rise puts their entire economy on the edge of a precipice.
But many in the U.S. believe that China holds an ace up their sleeve: hundreds of billions of U.S. Treasury bonds. Unfortunately for them, China's one supposed weapon has fired up blanks. Over the past 12 months, the People's Bank has dumped $100 billion in Treasuries with no ill effect on U.S. bond market. In fact, 2-year bills recently hit record low yields. In the current global situation, it is likely that any future sales will be offset by the global round of dollar buying by other central banks, or by Bernanke himself.
Recently, an FT article analyzed the international situation in Hostilities Escalate to Hidden Currency War. Speaking about international economic relations, the author said:
While most of the countries currently intervening would be likely to welcome a revaluation of the renminbi, few emerging market governments seem to want to stand up to China publicly – barring sporadic criticism such as that from Brazilian and Indian central bankers earlier this year.

Last week Celso Amorim, Brazil's foreign minister, said that he did not want to become part of an organised campaign.
This certainly looks to me like an "organized campaign," although it is possible that global economic forces were just fated to turn out this way. No matter what the cause, global economic forces have outflanked China on three sides: global central bank currency printing, commodity price increases fueling inflation, and now, tariffs. Assuming the U.S. government does indeed implement tariffs, this could be a devastating salvo in the global currency war. I believe that Bernanke and Geithner have reached the limit of their patience with China and are determined to export unemployment and inflation to China. And who could blame them? They have already pushed the boundaries of fiscal and monetary stimulus to new frontiers.
Investment Implications
The investment implications of this analytical framework are many. However, several jump out at me right away. First is an expectation that gold will continue to do well as the supply of fiat money balloons. In fact, gold has beaten even the world's strongest currency, the Brazilian real, over the past 18 months. The more funny money is printed, the better gold will do.
Another major implication is my expectation of inflation in China. As inflation rises, GDP growth will slow sharply. Wages and interest rates will be forced upwards, putting a further brake on growth. The central government will have its hands full maintaining political power and stability.
Finally, the U.S. dollar will be pushed downward. However, the path of the dollar depends on the effectiveness of the tariffs, along with the actions of other central banks. So far, Bernanke, Geithner, and Obama have discovered devaluing the dollar is harder than it looks. I believe the sign du jour that the dollar will plunge will be inflation causing the People's Bank of China to tighten monetary policy. A possible outcome of a dollar plunge could be a rising stock market in dollar terms, especially for domestic manufacturers protected by tariffs.
Beyond this summary, much of the outcome will be determined by future events, such as the amount, timing, and details of central bank actions. However, this framework will be useful predicting the likely implications of those future actions.
Special thanks to Russ Winter, Mish, and Michael Pettis for supplying me with most of the data and some of the argument in this article.
Disclosure: Long gold metal, long IAG, long ORE.TO, long NG calls, long 30-yr Treasury bonds