Good morning to all. It is a slow day today in the news. There are no big economic reports besides crude oil inventories, which does not typically affect the whole market. Let's get into today's plays:
Buy Pick of the Day: Worthington Industries Inc. (NYSE:WOR)
Analysis: One of the only companies all week that is looking to report a big gain in earnings is Worthington Industries. The company is a steel manufacturer. They are slated to earn an EPS of 0.24, which is 200% higher than one year ago's earnings. Further, the company tends to beat earnings by a significant margin with 65% being the lowest surprise in the past four quarters.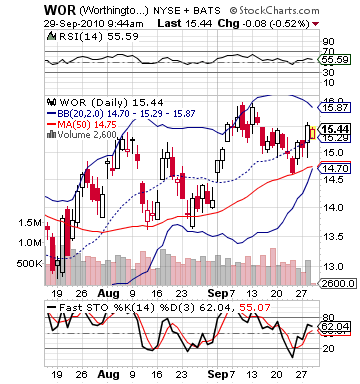 The upcoming earnings has helped the company start to rise since last week. Moving into earnings and a possible early pullback to start the day will help us to get involved with Worthington. One of the reasons that earnings should be so much better is that prices of steel have vastly improved from one year ago for Q3. Prices were between $400 - $500 per tonne versus $350 - 400 one year ago.
Worthington is sort of all alone in the steel reporting season, however. The company does not have much help from anyone else, but things are looking up for steel. Demand is growing in India and Brazil, and the Chinese steel companies are not dominating like they were last year.
Technically, Worthington is in a great bull run right now. Its stochastics are picking up and moving into overbought territory, but they still have upside. The stock still has lots of upside to its upper bollinger band and has broken its 50-day MA. The stock does show a slight overvaluation on RSI, but it is very small.
The stock looks good for a buy today and possible OT hold.
(In progress)

Entry: We are looking to enter the stock from 15.35 - 15.50.
Exit: We are looking to exit for a 2-3% gain.
Stop Loss: 3% on bottom
Short Sale of the Day: Thor Industries Inc. (NYSE:THO)
Analysis: How about those RVs? Last night, Thor Industries (THO) reported earnings with an EPS of 0.78 versus expectations for 0.63. The company saw year-over-year revenue growth 51% coming in at $663.8 million. Revenue estimates were in line. Thor, though, despite its ability to show significant growth from one year ago is set up for a short sale.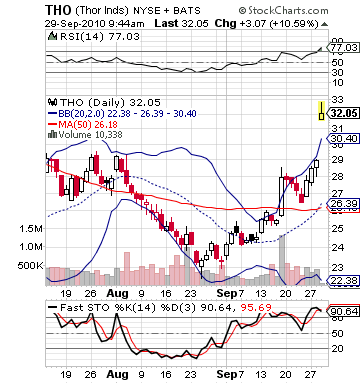 The market, for one, does not look strong today. It is hard for a stock to carry a 6-7% pre-market gain much higher if the market is red. The market looks poised to open lower on European worries and technical pullbacks on a lot of overvaluation. Moving into earnings, Thor was already very overvalued. The stock had hits its upper bollinger band and was completely overbought.
This latest movement just takes Thor much too high, and it will most likely see a quick selloff to start the morning. Despite Thor's improvements, the RV industry is still an industry that will have trouble moving forward. The company also makes commercial buses and ambulances.
Sell this one out of the gate!
Entry: We are looking to enter at 30.90 - 31.20.
Exit: We are looking to cover for 2-3% to the downside.
Stop Buy: 3% on top.
Disclosure: No positions