QuickLogic Corporation's (NASDAQ:QUIK) annual SEC filing is clear that microcontrollers can be a threat to its Customer Specific Standard Products ("CSSP"). Suppliers of low power microcontrollers ("MCUs") are described as competitors to CSSP solutions. CSSPs, in turn, are crucial to the company's success.
According to its most recent quarterly filing, QuickLogic expects business growth to be driven by CSSPs -- and CSSP revenue growth needs to be strong enough to enable it to sustain profitability. It works with mobile manufacturers to develop reference designs, or Catalog CSSPs. A recent example of a Catalog CSSP, announced during March 2014, is an Android KitKat compatible, context aware, ultra-low power sensor hub. The company believes that the ArcticLink 3 S1, which fits the description of the product announced in March, will lead production revenue during the second half of this year.
Unless something is being missed, implementations of QuikLogic's sensor hub utilize an MCU. Some discussions of QUIK have tended not to include certain details. Advantages of a low power sensor hub tend to be emphasized. Little, if anything, is mentioned of an MCU, including no elaboration about an NXP Semiconductors (NASDAQ:NXPI) "Design win" coinciding with Apple's (NASDAQ:AAPL) incorporation of the M7 Motion Coprocessor in the iPhone 5S. NXP is known to produce the MCU, and it almost certainly has helped Portable & Computing sales.
Regarding lower energy--and potentially competitive--solutions for motion sensing, there is an Electrical Engineering Journal article published in April 2014 that says QuickLogic's technology utilizes
a tiered approach: the always-on busy stuff will still happen in hardware with lowest power. Moderate-frequency stuff can happen in the microcontroller at lower power than the applications processor ("AP"). So the hardware wakes the micro when it thinks something interesting has happened; the micro then does some more work, ultimately waking the AP if it agrees that the event is worthy of attention.

...the micro operate[s] at a more relaxed pace…
To reiterate, it sounds as if the ArcticLink 3 S1 is complementary to an MCU.
Though the company continues to report losses, QuickLogic's financial position is not worrisome at this time. As of March 30th, it has $37.1 million in cash; and a revolving credit line. Only $8.7 million in contractual obligations and commercial commitments are due within one year.
Here is a chart that shows operational improvement (Figures on the left USD thousands; Source, Form 10-Q):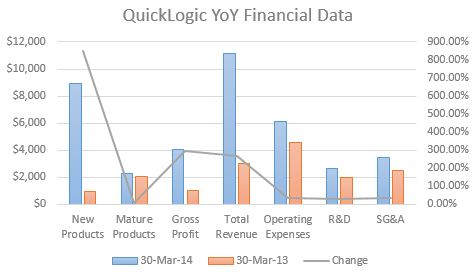 Despite revenue of $11.2 million, up nearly 300% since last year, QuickLogic reported a net loss of $2.1 million, or -$0.03 per share, for the first quarter of 2014. It compares favorably to a net loss of $3.6 million for the first quarter of 2013.
Risks include the fact that product life cycles are predicted to be shorter, perhaps resulting in a decline in the value of inventory. A $343,000 inventory write-down has occurred in Q1. Inventory is $5.2 million currently, up approximately 27% from $4.1 million last year.
Further, there is an expectation of revenue from mature products dropping over time; though they are a smaller portion of revenues. Another thing is that the mobile market can be cyclical. Lastly, Samsung (OTC:SSNLF) accounts for over 70% of revenues.
There has been positive commentary on QuickLogic's new products. A big design win would probably solve several short-term problems and position it for the future as well. Some investors may be comfortable banking on it; I am not among them at this time.
If it does not occur, the unprofitable company can still get by, though some things are precarious.
Disclosure: The author is long NXPI. The author wrote this article themselves, and it expresses their own opinions. The author is not receiving compensation for it (other than from Seeking Alpha). The author has no business relationship with any company whose stock is mentioned in this article.
Additional disclosure: I may initiate a long position in AAPL, QUIK over the next 72 hours.
Editor's Note: This article discusses one or more securities that do not trade on a major U.S. exchange. Please be aware of the risks associated with these stocks.