Occidental Petroleum Corporation (NYSE:OXY) stock has surged strongly in the last four months. In fact, its relative strength index [RSI] technical indicator is indicating almost overbought conditions. Since this year low of $87.14 on February 04, OXY's stock has gained 18.5%, and since the beginning of the year, OXY's stock has gained 8.6%, while the S&P 500 index has increased 5.9%, and the Nasdaq Composite Index has risen 4.5%. Nevertheless, OXY's stock is an excellent combination of very good value and solid growth dividend stock, and in this article, I will explain why, in my opinion, OXY's stock is a promising long-term investment.
The Company
Occidental Petroleum Corporation is international oil and gas exploration and production company, as well as a major North American chemical manufacturer. The company was founded in 1920 and is headquartered in Los Angeles, California.
Valuation Metrics
The table below presents the valuation metrics of OXY; the data were taken from Yahoo Finance and finviz.com.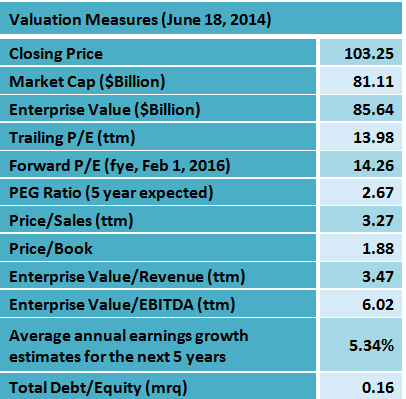 Occidental's valuation metrics are very good; the trailing P/E is low at 13.98, and the Enterprise Value/EBITDA ratio is very low at 6.02. According to James P. O'Shaughnessy, the Enterprise Value/EBITDA ratio is the best-performing single value factor. In his impressive book "What Works on Wall Street", Mr. O'Shaughnessy demonstrates that 46 years back-testing, from 1963 to 2009, have shown that companies with the lowest EV/ EBITDA ratio have given the best return. Mr. O'Shaughnessy explains that EV/ EBITDA is a better way to assess value-that is, how cheap or expensive it is-than looking at the PE ratio alone. The EV/ EBITDA is neutral to a company's capital structure and capital expenditures. Stocks that have very high debt levels often have low PE ratios, but this does not necessarily mean that they are cheap in relation to other securities.
Latest Quarter Results
On May 05, Occidental Petroleum reported its first-quarter 2014 financial results, which beat EPS expectations by $0.05 (2.90%) and missed on revenues. The Company announced net income for the first quarter of 2014 of $1.4 billion ($1.75 per diluted share), compared with $1.4 billion ($1.68 per diluted share) for the first quarter of 2013.
In announcing the results, Stephen I. Chazen, President and Chief Executive Officer, said:
We continued to focus on our domestic production growth strategy, growing our oil production to 274,000 barrels per day. This was an increase of 10,000 barrels per day on a year-over-year basis and 4,000 barrels per day on a quarter-over-quarter basis. Our cash flow from operations was approximately $2.7 billion. Net of contributions from partners, we spent about $2.2 billion on capital expenditures and purchased approximately 10.5 million shares of our stock during the quarter. We are on track with our key long-term projects. The New Johnsonville chlor-alkali plant started production in March, the BridgeTex Pipeline is expected to start operations in the third quarter and the Al Hosn Gas Project is expected to start-up by the end of the year.
Dividend and Share Repurchase
Occidental has been paying uninterrupted dividends since 1982, the forward annual dividend yield is at 2.79% and the payout ratio is only 35.6%. The annual rate of dividend growth over the past three years was very high at 20.3%, over the past five years was at 16.2%, and over the past ten years was also very high at 17.3%. I consider that besides dividend yield, the consistency and the rate of raising dividend payments are the most crucial factors for dividend-seeking investors, and OXY's performance has been impressive in this respect.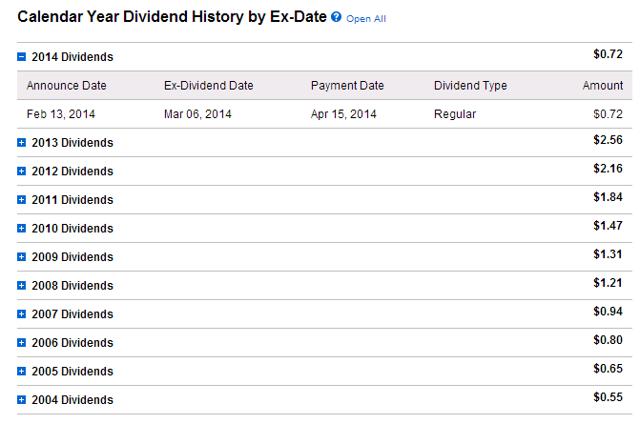 Source: Charles Schwab
Since Occidental is generating strong cash flow and the payout ratio is low, I believe that the company is well-positioned to achieve steady dividend growth going forward.
During 1Q14, OXY repurchased 10.5 million shares and had 26.5 million shares remaining under its buyback authorization.
Competitors
A comparison of key fundamental data between Occidental and its main competitors is shown in the table below.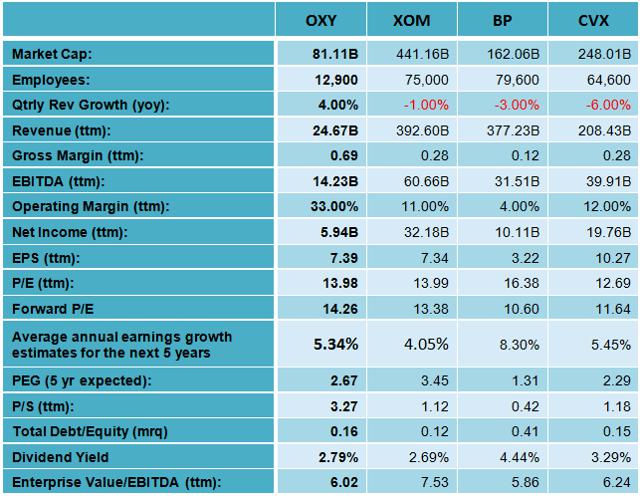 There is not a big difference between Occidental's valuation metrics and those of its competitors..
OXY's Margins have been much better than its industry median, its sector median and the S&P 500 median, as shown in the table below.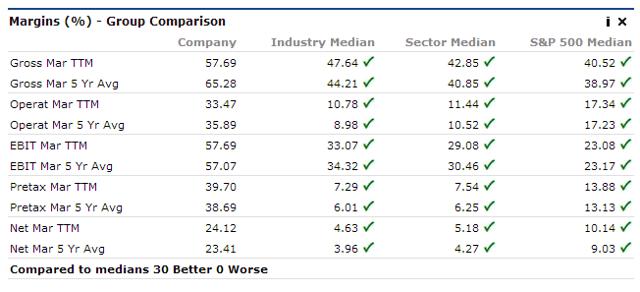 Source: Portfolio123
Ranking
According to Portfolio123's "All-Stars: Greenblatt" powerful ranking system OXY's stock is ranked second among all S&P 500 energy stocks that pay a dividend with more than 2% yield, only National Oilwell Varco, Inc. (NYSE:NOV) has a better ranking (see my SA article about NOV). The "All-Stars: Greenblatt" ranking system is taking into account just two factors; Return on Capital and Earnings Yield (E/P) in equal proportions. Back-testing has proved that this ranking system is one of the best free available ranking method. I recommend investors to read Joel Greenblatt's book "The Little Book That Beats the Market", where he thoroughly explains his system.
Technical Analysis
The charts below give some technical analysis information.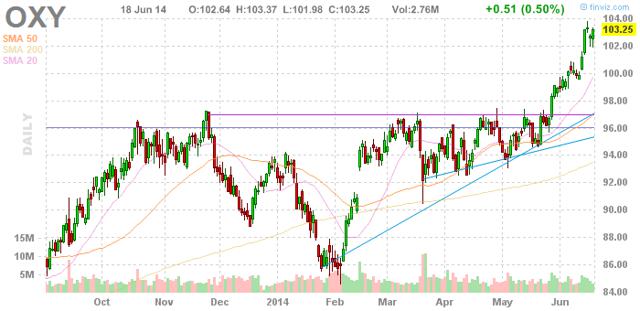 Chart: finviz.com
The OXY stock price is 3.93% above its 20-day simple moving average, 6.62% above its 50-day simple moving average and 10.49% above its 200-day simple moving average. That indicates a short-term, mid-term, and a long-term uptrend.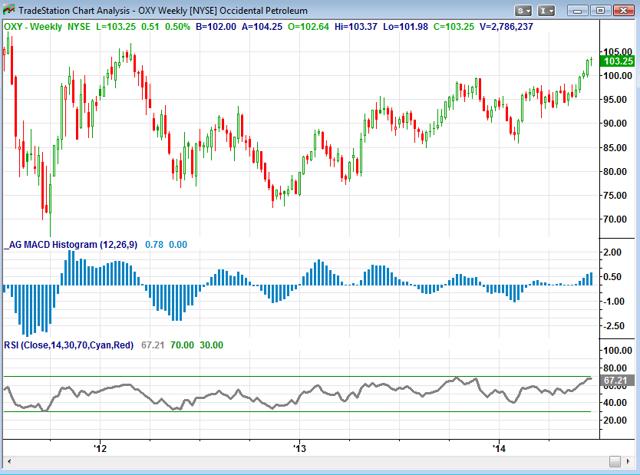 Chart: TradeStation Group, Inc.
The weekly MACD histogram, a particularly valuable indicator by technicians, is at 0.78 and ascending, which is a bullish signal (a rising MACD histogram and crossing the zero line from below is considered an extremely bullish signal). The RSI oscillator is at 67.21 which indicate almost overbought conditions.
Analyst Opinion
Many Analysts are covering the company and most of them recommend the stock. Among the 26 analysts, 9 rate it as a strong buy, 7 rate it as a buy, and ten analysts rate it as a hold.
TipRanks is a website that ranks experts (analysts and bloggers) according to their performance. According to TipRanks, among the analysts covering OXY stock there are only six analysts who have the four or five star rating, four of them recommends the stock.
On May 09, Citigroup's analyst Faisel Khan upgraded the stock to Buy from Neutral on restructuring Pro Forma Analysis. Mr. Khan also increased its price target to $111.0 from $103.0 per share; he believes that upstream returns on capital will rise from 10 percent (last year) to 19 percent by the end of 2020. I consider Mr. Khan's analysis very valuable, since he has 4-Star rating from TipRanks for the accuracy of his previous calls.

Source: TipRanks
Major Developments
On February 14, Occidental Petroleum announced the next phase of its strategic review. The Board of Directors has authorized the separation of Occidental's California assets into an independent and separately traded company. According to Occidental, the new California company will be California's largest natural gas producer and the state's largest oil and gas producer on gross-operated barrels of oil equivalent basis. Occidental believes that creating two separate energy companies will result in more focused businesses that will be competitive industry leaders.
In my opinion, Occidental's decision to spin off its California natural gas business will benefit its shareholders since it will simplify OXY's business structure and help each company to improve its market focus.
Since most of Occidental's earnings come from oil and gas production, it will continue to benefit from the rising prices of oil and natural gas. Oil and natural gas prices have been rising from the start of the year. WTI crude price has risen 17.9% from its low of $90.02 per barrel on January 09, 2014, to $106.10 per barrel on June 19, while Henry Hub natural gas price has risen 12.0% since the beginning of the year to $4.642 per Million Btu.
WTI crude August 2014 leading contract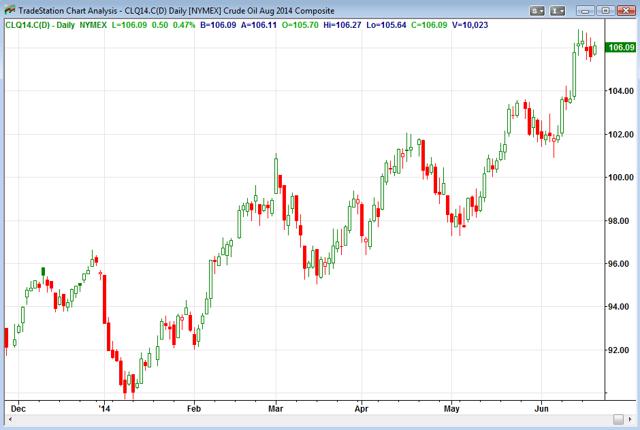 Henry Hub natural gas July 2014 leading contract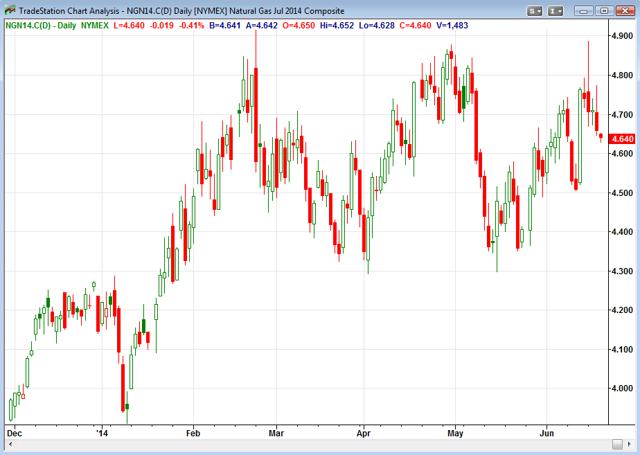 Charts: TradeStation Group, Inc.
Conclusion
Occidental will continue to benefit from the rising prices of oil and natural gas. Occidental has compelling valuation metrics and solid earnings growth prospects; its Enterprise Value/EBITDA ratio is very low at 6.02. Furthermore, the company is ranked second among all S&P 500 energy stocks yielding more than 2% according to "All-Stars: Greenblatt" powerful ranking system. Occidental is generating strong cash flows, and it returns value to its shareholders by stock buyback and by increasing dividend payments. All these factors bring me to the conclusion that OXY stock is a smart long-term investment.
Disclosure: The author has no positions in any stocks mentioned, and no plans to initiate any positions within the next 72 hours. The author wrote this article themselves, and it expresses their own opinions. The author is not receiving compensation for it (other than from Seeking Alpha). The author has no business relationship with any company whose stock is mentioned in this article.