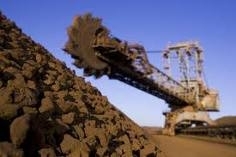 Mergers and Acquisitions have been the prime driving force of the markets in the recent week across a majority of segments. Such has been the force of M&A's that world stocks hit their highest level in nearly five months on Monday while oil prices rose as growing corporate merger activity and last week's upbeat U.S. economic data encouraged investors to buy risky assets. Thomson Reuters recent data shows that global mergers and acquisition activity announced so far this year totaled $1.678 trillion, surpassing volumes in the first nine months of 2009.
While there is no doubt that Mergers and Acquisitions can work in favor in the long term if the prospect of incoming organization has some synergy with the buying organization happen when companies have surplus cash in hand but problems happen when companies start buying things loosely associated with their business as witnessed in the early 1970's to 80's when oil companies had so much cash they didn't know what to do with it.
Similar story is seen to be replicating in the Metals sector with the recent takeover bids by BHP Billiton and Vedanta showing a bounty of cash from high metals prices is slowly enticing miners to chase pricey takeovers and build unwieldy conglomerates. When mining groups seek acquisitions in new sectors like fertilizer in the name of diversification they can easily destroy value by paying full prices when synergies are lacking, analysts warn.
BHP (NYSE:BHP), the world's top mining group, surprised many investors last month when it unveiled a $39-billion hostile bid the largest takeover offer so far this year for the world's biggest fertilizer maker, Canada's Potash Corporation (NYSE:POT). Critics of the BHP-Potash deal say it is unlikely to add value since there are no synergies and BHP has scant experience in the sector but BHP continues to be bullish on the crossover Merger and argues it has expertise in large capital projects and the takeover will further diversify the group.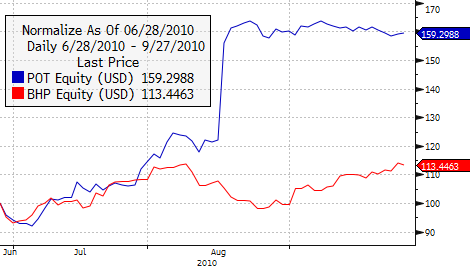 While Indian-focused Vedanta Group with virtually no experience in the oil sector also stunned the market when it announced its plans to add oil and gas to its portfolio by spending up to $9.6 billion to clinch control of Cairn (OTCPK:CRNCY) India.
The recent upturn in M&A activity has been witnessed mainly as miners find themselves in an entirely different situation from last year, when they had to virtually scramble to conserve cash amid the economic downturn and tumbling prices. Meanwhile Nomura estimates that by the end of next year, UK-listed miners will have $175 billion of headroom on their balance sheets and will be increasingly tempted to put it to use.
Meanwhile analysts as well as investors are hoping for miners to resist the temptation to build empires and instead return excess cash to shareholders or buy back shares, as Brazil's Vale (NYSE:VALE) recently announced.
Disclosure: No positions