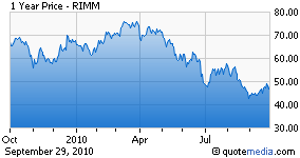 With the American President Barak Obama's statement that he was "bored" of his blackberry handset with only a handful of people authorized to email the super-encrypted device, Research in Motion (RIMM) knew that it constantly needs to be innovative if it needs to be a top ranker in the mobile telecommunication business. With the growing competition from Google's (NASDAQ:GOOG) Android based phones and Apple's (NASDAQ:AAPL) iPhone, Research In Motion introduced its version of the Tablet PC named 'the PlayBook' at its annual developers' conference yesterday.
The BlackBerry PlayBook with its 7-inch display touch screen is smaller than its rival Apple's iPad and aimed at business and corporate users, which have been RIM's core customers for its e-mail and messaging phones.
Although the announcement of the new device was well timed which came close to the news of Apple i-4 phone's euphoric sales in China, the world's largest communication device market, the one thing that the company would have least expected is the negative stock trends after the announcement instead of any substantial buying interest.
Research In Motion shares fell 3.4 percent, as concern over the late release date of the BlackBerry PlayBook tablet computer prompted investors to claw back some of the stock's recent gains. Although the decline in the RIMM's stock was not entirely unexpected given its strong rise in the run-up to the release, the company has already given the lead to its rival Apple as its next generation iPad will be in he markets by the time Blackberry Playbook rolls out its version 1.0.
While most analysts and communication device gurus have lauded the PlayBook's sleekness and compact size, the projected release date of early 2011 makes it difficult to penetrate the consumer market that Apple dominates and looking to consolidate.
The one thing Playbook may have going for it is a focus on enterprise functionality such as the opening of BBM as a social platform and a BlackBerry Advertising service giving developers the tools to build applications that take advantage of the social aspects of the popular BBM service. However competing with an innovative company like Apple and giving them a head start in the market is not considered as the best of strategies.
If Research In Motion had announced the release of the Tablet before Christmas this year, the news could have triggered off an interesting market trend and could have also countered the rising Apple euphoria in Asian nations but with its late release, the company is bound to play catch up in the competitive segment although catching up has not been a new thing for Research in Motion as RIM has always been playing catch-up in terms of features, and introduced Blackberry OS version 6 to counter the increasing competition in the smart phone market while Apple iPhone and Android-based smart phones have been increasing their market shares at the expense of RIM over the last few years.
Pending Security Issues: RIMM has been facing mounting pressure to open its secured data network for scrutiny by the governments of Saudi Arabia and the United Arab Emirates. RIM competes with Apple, Motorola (MOT) and Nokia (NYSE:NOK) in the mobile phone market. Several other countries, including India, Algeria and Lebanon, have recently pushed for access to Blackberry data for law enforcement purposes.
If RIM denies their requests, its Blackberry Messenger service and/or smart phones could be banned from these countries. On the other hand, some Blackberry users might lose confidence in the service if they feel that their data is no longer confidential.
RIMM's net profit margins of 16.5% are significantly higher than other mobile phone manufacturers of 5%, mainly because of RIMM's higher margin is its Service revenue segment but If numerous governments were to ban Blackberry Messenger services, RIM is likely to loose its USP which is its competitive advantage, prompting subscribers to buy other smart phones. Research in Motion has been getting brutally punished by Wall Street.
Disclosure: No positions