By Brad Zigler
As Gomer Pyle used to say, "Surprise! Surprise! Surprise!" Count 'em. That's three surprises. And that's what the petroleum complex got this morning when the US Energy Department released its weekly inventory report showing across-the-board declines in energy supplies.
First off, the government said commercial crude oil stocks fell by only 500,000 barrels from the previous week. On Tuesday, the industry-supported American Petroleum Institute estimated that crude inventories fell by 2.4 million barrels. There was no surprise for analysts, however, who called the inventory decline correctly with a forecast of a 300,000- to 700,000-barrel drawdown.
The API, after estimating a 3.0-million-barrel build in gasoline supplies, was also surprised by the whopping 3.5-million-barrel decline announced by the Energy Department. Analysts missed this one as they had been shopping for a smaller build, between 350,000 and 600,000 barrels.
The surprise party wrapped up with the government's figures for distillate fuel inventories.
Stocks decreased by 1.3 million barrels, far less than the 2.8-million-barrel drawdown anticipated by the API. Here, analysts were caught flat-footed, as they had eyed a build between 200,000 and 400,000 barrels.
Refinery usage, said the Energy Department, fell to 85.8 percent of capacity last week, well below the previous week's 87.8 percent utilization rate. The Street had forecast only a slight downtick — to 87.3 percent — in usage.
Gasoline production increased last week to a daily average of 9.2 million barrels, while distillate fuel output decreased slightly to 4.3 million barrels.
The Energy Department said daily gasoline demand rose 0.9 percent from year-ago levels to an average 9.1 million barrels. At an average daily rate of 3.8 million barrels, distillate fuel consumption was reported up 13.4 percent from last year.
Trading Week
For the week ending Tuesday, West Texas Intermediate crude oil prices rose 3.6 percent. A decline in refining margins was a natural consequence of the contemporaneous 1.5 percent uptick in gasoline and 1.4 percent increase in heating oil costs. Gasoline refiners fared slightly better, with a 2.4-point drop to 11.4 percent. Operators leaning on the distillate side had their margins shaved by 2.5 points to 13.4 percent.
Nearby heating oil/gasoline spreads rose 16 points in the middle distillate's favor, while the corn/ethanol crush fell by an average 9 cents a bushel. The decline in ethanol yields was largely due to continued upward pressure in grain prices.
Average daily volume for WTI futures fell 19.1 percent to 638,790 contracts. Open interest rose by 22,907 contracts to 1.321 million.
This week, WTI's discount to Brent crude fell from a per-barrel average of $4.21 to $3.09. Contango in the WTI market also shrank. The average cost of a three-month roll dropped from $3.66 a barrel to $3.14. The net annualized yield for a three-month cash-and-carry fell to 4.7 percent.
Technical Picture
Spot prices are stuck in a consolidation range, mostly between $75 and $76 a barrel, with occasional forays to either side. The bias, however, remains bullish.
Excursions to the $77 level — representing a 50 percent retracement of crude's August decline — have been short-lived to date.
Near-term support for spot is its 10-day moving average at $75.52. Resistance is likely near the 200-day moving average at $77.56. Deep support rests at $73.64.
Front-Month WTI Futures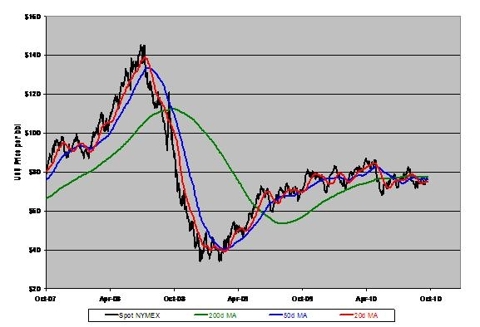 (Click to enlarge)
Disclosure: No positions