We are in the midst of our DIY Dividend Investors Club series which is dedicated to the open discussion and analysis of building and managing a long-term dividend portfolio. The goal of the series is to build a dividend portfolio "watch list" by sector (based on the 9 major sectors in the S&P 500 as well as alternative sectors like MLPs, REITs and BDCs).
General Mills (NYSE:GIS) is one of our "stocks to watch" in the Consumer Staples sector and this article highlights some key information and analysis from our Buy Zone Report for GIS.
General Mills Business Overview (source: S&P Capital IQ)
General Mills, Inc. produces and markets branded consumer foods in the United States and internationally. It also supplies branded and unbranded food products to the foodservice and commercial baking industries. The company's products include ready-to-eat cereals, refrigerated yogurt, ready-to-serve soups, dry dinners, shelf stable and frozen vegetables, ice creams and frozen desserts, refrigerated and frozen dough products, dessert and baking mixes, frozen pizza and pizza snacks, grains, fruit and savory snacks, and various organic products, including granola bars, cereals, and soups. General Mills, Inc. sells its products directly, as well as through broker and distribution arrangements to grocery stores, mass merchandisers, membership stores, natural food chains, commercial and noncommercial foodservice distributors and operators, restaurants, and convenience stores, as well as to drug, dollar, and discount chains. The company was founded in 1928 and is based in Minneapolis, Minnesota.
Parsimony Rating
The core of our investment philosophy is to buy great stocks at reasonable prices and we use a combination of fundamental and technical analysis to determine which stocks to buy and when to buy them.
We created our ranking system, which ranks over 750 U.S. dividend stocks on a monthly basis, to help us find the best dividend stocks. In our experience, if you rank all of the stocks in a universe against their peers on a consistent basis, it becomes clear which companies are the strongest and which offer the best investment opportunities going forward. Our composite rating is derived by ranking each stock based on 28 key fundamental and technical data points in five sub-rating categories.
The table below for General Mills highlights some of the key data points that we look at when determining our rating.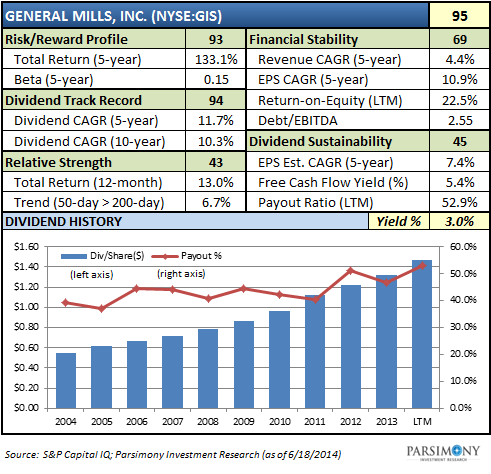 As highlighted in the table above, General Mills has a solid overall Parsimony Rating of 95, primarily driven by high ratings for Risk/Reward Profile (93) and Dividend Track Record (94).
GIS has a very low beta (0.15) and the stock has exhibited low volatility in the past. In addition, GIS has a nice dividend yield of 3.0% and it has delivered shareholders a 133% total return over the past 5 years.
The company has increased its dividend at a compound annual rate of 11.7% and 10.3% over the past 5-year and 10-year periods, respectively. In addition, GIS has raised its quarterly dividend 6 times in the past 20 quarters (see chart below).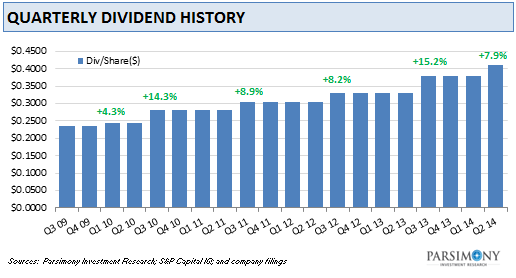 Valuation Analysis
Valuation is a key factor in determining our "Buy Zones".
We use our rating system to determine WHICH stocks to buy and we use our "Buy Zone" reports to determine WHEN to buy them. We focus on four key levels of support when determining a "Buy Zone":
Valuation - Support levels based on historical valuation multiples.
Technical - Support from short and long-term trend lines (i.e., 10-week and 40-week moving average).
Volatility - Target correction levels based on historical volatility and maximum draw down.
Yield - Support levels based on forward dividend yield.
Below is a summary valuation analysis for General Mills: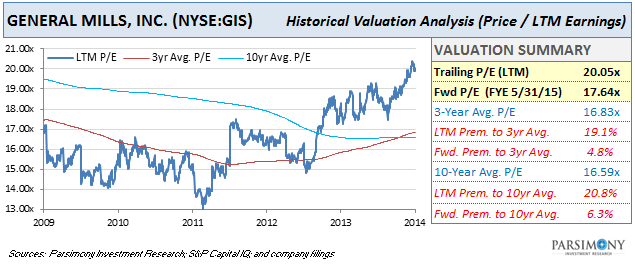 As highlighted above, GIS is currently trading at 20.05x trailing earnings, which represents 19.1% and 20.8% premiums to the company's respective 3-year and 10-year historical averages.
Based on consensus estimates for FYE 5/31/15, GIS is currently trading at 17.64x forward earnings, which represents 4.8% and 6.3% premiums to the company's respective 3-year and 10-year historical averages.
Is General Mills In The "Buy Zone"?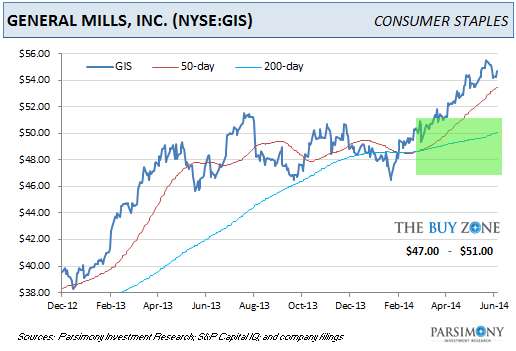 GIS currently trades 7.2% above the top range of its Buy Zone. Ideally, we would like to purchase GIS under $51.00 (which would equate to a forward P/E ratio around 16.5x and a forward yield around 3.25%).
Disclosure: The author is long GIS. The author wrote this article themselves, and it expresses their own opinions. The author is not receiving compensation for it (other than from Seeking Alpha). The author has no business relationship with any company whose stock is mentioned in this article.