"Our performance in fiscal Q1 demonstrates that we are firmly on track to achieve important milestones, including our financial objectives and delivering a strong product portfolio. Over the past six months, we have focused on improving efficiency in all aspects of our operations to drive cost reductions and margin improvement. Looking forward, we are focusing on our growth plan to enable our return to profitability."

- John Chen, CEO, BlackBerry
Yesterday, I wrote about BlackBerry's (NASDAQ:BBRY) announcement regarding the Amazon app store and why I thought that news came at an interesting time. Why wouldn't they pair that news with the company's earnings report? The only thing I could think of was that they had the goods to "one up" this news with a decent quarter - and that was exactly what happened.
I have to say, I had this one pinned down. The writing was clearly on the wall here for anyone who was paying attention: Chen raising the odds of the company's survival publicly, making coy comments when asked about Android, and the man's track record of turning around Sybase all should have told you that he was capable of making the changes needed to turn around BlackBerry.
BlackBerry reported earnings this morning around 7AM EST before the market opened, and showed some serious signs of progress. Pre-market trading saw the equity pushing up over $9 for the first time in a while. There is no doubt that this company has turned a massive corner and is on its way to survival - and who knows, potentially becoming an acquisition target if the price stays this low.
BlackBerry reported Q1 EPS of $-0.11, which beat expectations of -$0.26 or -$0.28, depending on which guidance you were looking at. The company posted revenue of $966 million, which also beat expectations of $963 million. The company posted a GAAP net income profit of $0.04, as reported by BlackBerry's press release:
GAAP net income for the first quarter was $23 million, or $0.04 earnings per share ("EPS"). The net income includes non-cash income associated with the change in the fair value of the Debentures of $287 million (the "Q1 Fiscal 2015 Debentures Fair Value Adjustment") and pre-tax restructuring charges of $226 million related to the Cost Optimization and Resource Efficiency ("CORE") program. Excluding these items, adjusted loss for the first quarter was $60 million, or $0.11 per share. These impacts on GAAP net income and EPS are summarized in the table below.
Additionally, the company's cash position increased from $2.7 billion to $3.1 billion at the end of the quarter. The company's gross margin was 48%, up from 43% from the quarter prior. The company has reduced their opex by 57% YOY and 13% quarter-over quarter. This is Chen cutting the fat off of this company and getting it running as smoothly as possible.
Long story short: better margins, more cash, less spending, nearly profitable.
The company didn't comment too much on its Jakarta release of its phone in its press release, but it did say that they sold 2.4 million phones (a little less than Michael Blair's estimates of 3.4 million). But, it also noted that there are 8 additional countries to follow with releases. If they all have half the success BlackBerry had with sales this past quarter, the company is going to be profitable no doubt in the coming quarters.
The company continues to have 93.43 million shares held short. While that's not as massive of a percentage of the float as it once would have been, I'm guessing that some of those shorts are going to take this news as a cue to cover this morning.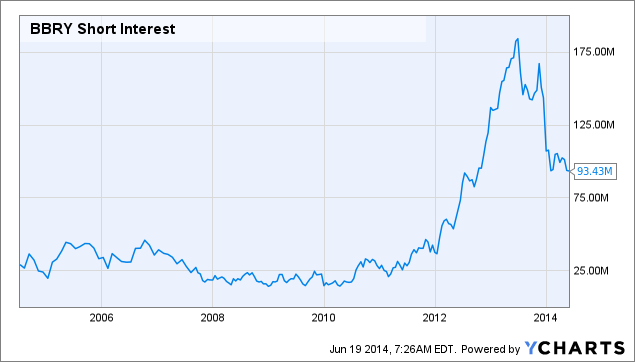 BBRY Short Interest data by YCharts
The company is trading $9.21 x $9.23 pre-market, representing about a 10% gain from yesterday's closing price.
From today's conference call, I'm going to be looking for information on QNX, BB10, the progress of the Z3 in Jakarta, and Chen's future plans for enterprise and potential partnerships. The company will be hosting a conference call this morning at 8AM EST. QTR will be listening in on the call and publishing a recap/analysis later today.
Disclosure: The author is long BBRY. The author wrote this article themselves, and it expresses their own opinions. The author is not receiving compensation for it (other than from Seeking Alpha). The author has no business relationship with any company whose stock is mentioned in this article.