By Steven Carroll
Chart 1, from Eikon, shows two different indicators of residential property prices - the Halifax index, which has yet to regain its former peak, and the Rightmove index, which certainly seems more aligned with the London home-buying frenzy.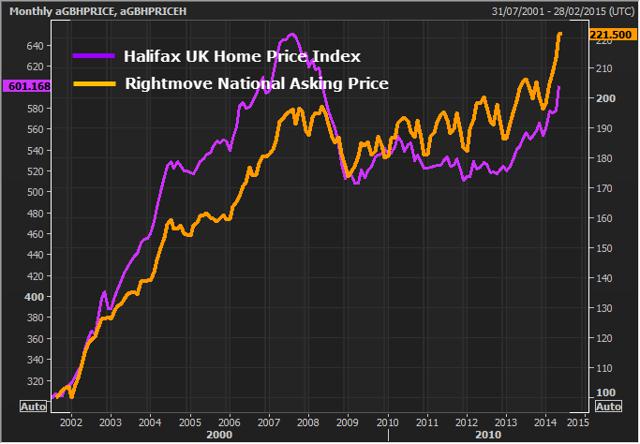 Shades of the tech terror
It is hard not to be reminded of the mid-2000 period and the massive damage to consumer sentiment and overall business activity caused by the tech bubble. Then-Fed Chair Alan Greenspan, not known for his hawkish policy, kept rates too low for too long - sparking an enormous housing bubble which, in turn, sowed the seeds of the next market crash.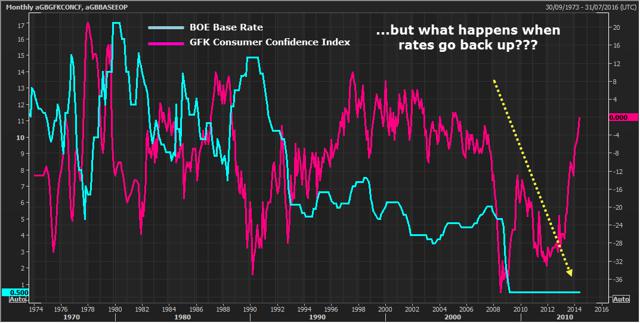 Interest rates low, confidence high
Chart 2 shows U.K. consumer sentiment alongside the Bank of England base rate. The chart doesn't go far enough back to show the last time interest rates were at current levels. Few products do, since the market data industry was somewhat less developed when the BOE was founded in 1694.
William III (1650-1702) would still recognize the swings in market sentiment, given he was Dutch by birth and the Tulip Boom had only occurred one generation prior - still the best known example of market mania in modern times.
Fast forward to today's U.K. housing market and we wonder at the sustainability of these price increases against this bullish backdrop.
Taylor Wimpey (OTCPK:TWODF) enjoys a plethora of positive factors from StarMine: continuing upward revisions across the income statement, attractive valuation, moderate credit risk (the house builders have learned their lesson about gearing, as leverage has fallen dramatically across the industry). The only question mark seems to be over price momentum - so clearly a market still scarred by the last property crash is treading cautiously.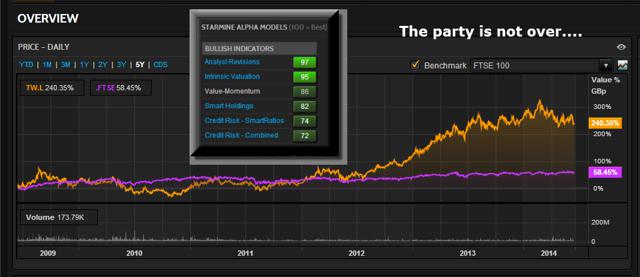 Valuation is the mystery
One of the tricks of investing is being able to identify cheap, versus "cheap for a reason." This writer found Royal Bank of Scotland trading at 6x earnings quite alluring in 2008. Unfortunately, the market had an appropriate understanding of the cycle that was somewhat more prescient than RBS CEO Fred Goodwin, who blew up the bank with a slew of acquisitions.
So here I ask what is driving the 8.8 valuation at Taylor Wimpey, which has 57% forecast EPS growth for this year, and another 31% for next year. Low leverage, no credit flags at all in fact, an excellent dividend yield, so all one is left with is the macro - or the company's track record.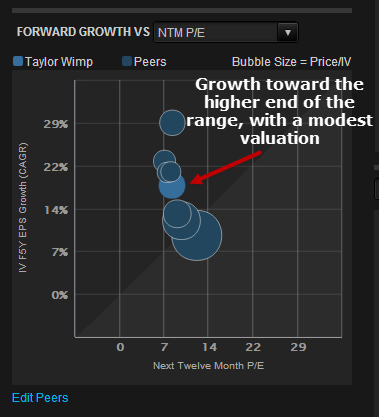 Framing the argument
For those who believe the U.K. housing market isn't about to correct, despite BOE Governor Mark Carney's warning of higher rates to come - the sector remains an interesting option.
Taylor Wimpey offers an impressive yield of 5.4%, the market is implying EPS growth that won't even match inflation (nominal implied 5-year CAGR of 1.9%, versus StarMine forecast 18.4%) and the company is a less-aggressive, more conservatively-levered entity at this point in the cycle.
If you're willing to bet that the Bank of England can raise rates without inducing a panicky selloff, you might pick up a hammer and build a case for Taylor Wimpey.
Disclosure: The author has no positions in any stocks mentioned, and no plans to initiate any positions within the next 72 hours.
Business relationship disclosure: Alpha Now at Thomson Reuters is a team of expert analysts that are constantly looking at the financial landscape in order to keep you up to date on the latest movements. This article was written by Steven Carroll, independent commentator and analyst. We did not receive compensation for this article, and we have no business relationship with any company whose stock is mentioned in this article.
Editor's Note: This article discusses one or more securities that do not trade on a major U.S. exchange. Please be aware of the risks associated with these stocks.