We are in the midst of our DIY Dividend Investors Club series which is dedicated to the open discussion and analysis of building and managing a long-term dividend portfolio. The goal of the series is to build a dividend portfolio "watch list" by sector (based on the 9 major sectors in the S&P 500 as well as alternative sectors like MLPs, REITs and BDCs).
PepsiCo (NYSE:PEP) is one of our "stocks to watch" in the Consumer Staples sector and this article highlights some key information and analysis from our Buy Zone Report for PEP.
PepsiCo Business Overview (source: S&P Capital IQ)
PepsiCo, Inc. operates as a food and beverage company worldwide. Its Frito-Lay North America segment offers Lay's and Ruffles potato chips, Doritos and Tostitos tortilla chips, Cheetos cheese flavored snacks, dips, Fritos corn chips, and Santitas tortilla chips. The company's Quaker Foods North America segment provides Quaker oatmeal, grits, and rice cakes; and Aunt Jemima mixes and syrups, Quaker Chewy granola bars, Cap'n Crunch and Life cereals, Rice-A-Roni side dishes, Quaker Oat Squares, and Quaker Natural Granola. The company's PepsiCo Americas Beverages segment provides beverage concentrates, fountain syrups, and finished goods under the Pepsi, Gatorade, Mountain Dew, Diet Pepsi, Aquafina, 7UP, Diet Mountain Dew, Tropicana Pure Premium, Sierra Mist, and Mirinda brands; and ready-to-drink tea and coffee products. It serves wholesale distributors; foodservice customers; grocery, drug, convenience, membership, and discount/dollar stores; mass merchandisers; and authorized independent bottlers. The company was founded in 1898 and is headquartered in Purchase, New York.
Parsimony Rating
The core of our investment philosophy is to buy great stocks at reasonable prices and we use a combination of fundamental and technical analysis to determine which stocks to buy and when to buy them.
We created our ranking system, which ranks over 750 U.S. dividend stocks on a monthly basis, to help us find the best dividend stocks. In our experience, if you rank all of the stocks in a universe against their peers on a consistent basis, it becomes clear which companies are the strongest and which offer the best investment opportunities going forward. Our composite rating is derived by ranking each stock based on 28 key fundamental and technical data points in five sub-rating categories.
The table below for PepsiCo highlights some of the key data points that we look at when determining our rating.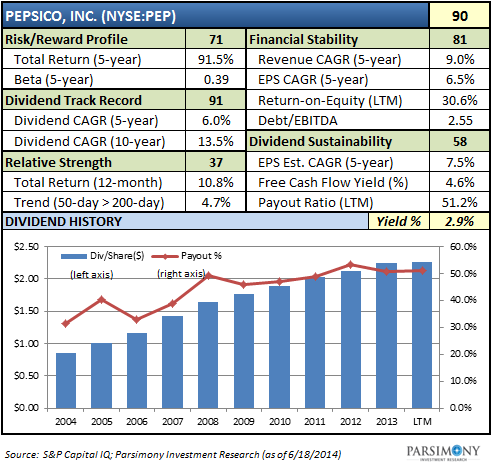 As highlighted in the table above, PepsiCo has a solid overall Parsimony Rating of 90, primarily driven by high ratings for Financial Stability (81) and Dividend Track Record (91).
PEP has a low beta (0.39) and the stock has exhibited low volatility in the past. In addition, PEP has a nice dividend yield of 2.9% and it has delivered shareholders a 92% total return over the past 5 years.
The company has increased its dividend at a compound annual rate of 6.0% and 13.5% over the past 5-year and 10-year periods, respectively. In fact, the company has paid consecutive quarterly cash dividends since 1965, and 2014 marked the company's 42nd consecutive annual dividend increase. As shown in the chart below, PEP has raised its quarterly dividend 5 times in the past 20 quarters (including a 15.4% hike last quarter).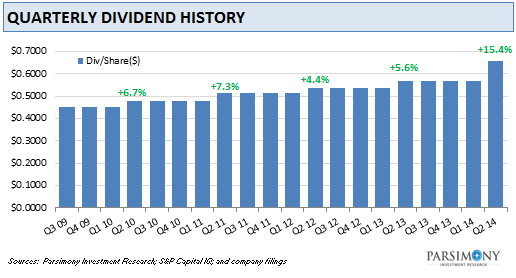 Valuation Analysis
Valuation is a key factor in determining our "Buy Zones."
We use our rating system to determine WHICH stocks to buy and we use our "Buy Zone" reports to determine WHEN to buy them. We focus on four key levels of support when determining a "Buy Zone":
Valuation - Support levels based on historical valuation multiples.
Technical - Support from short and long-term trend lines (i.e., 10-week and 40-week moving average).
Volatility - Target correction levels based on historical volatility and maximum draw down.
Yield - Support levels based on forward dividend yield.
Below is a summary valuation analysis for PepsiCo: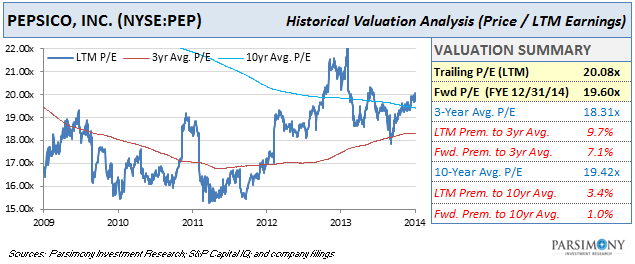 As highlighted above, PEP is currently trading at 20.08x trailing earnings, which represents 9.7% and 3.4% premiums to the company's respective 3-year and 10-year historical averages.
Based on consensus estimates for FYE 12/31/14, PEP is currently trading at 19.60x forward earnings, which represents 7.1% and 1.0% premiums to the company's respective 3-year and 10-year historical averages.
Is PepsiCo In The "Buy Zone"?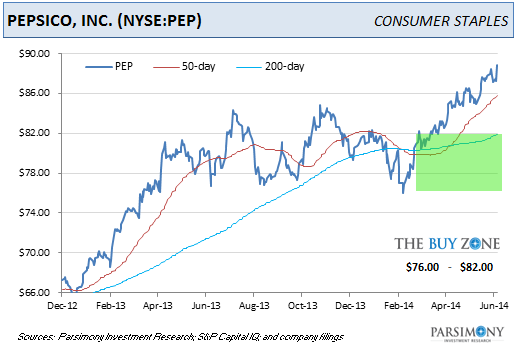 PEP currently trades 8.4% above the top range of its Buy Zone. Ideally, we would like to purchase PEP under $82.00 (which would equate to a forward P/E ratio around 18.0x and a forward yield around 3.25%).
Disclosure: The author has no positions in any stocks mentioned, and no plans to initiate any positions within the next 72 hours. The author wrote this article themselves, and it expresses their own opinions. The author is not receiving compensation for it (other than from Seeking Alpha). The author has no business relationship with any company whose stock is mentioned in this article.