BlackBerry (NASDAQ:BBRY) inched back to a profit in Q1, with a gain of $287 million on fair value accounting for its debentures making up the biggest contribution to a $23 million profit.
The company saw customers take up and pay for 2.6 million BlackBerry smartphones in the quarter, about 800,000 short of my estimate of 3.4 million, no doubt owing to my overoptimistic view that the new Z3 would contribute significant volume in the quarter. While the Z3 was well received, it was only released in Indonesia in the quarter, and only for a couple of weeks in that country. BlackBerry gave no information as to Z3 volumes.
Once carrier inventory comes into balance with sales, which cannot be more than another quarter or two away, revenues will come into line, with actual sales to end-users adding about 1 million units, or about $250 million to quarterly revenues, assuming a $250 average selling price.
The actual results were still a profit, albeit a nominal one. The encouraging trend is that costs are under control, with combined R&D, G&A and amortization pretty well on my forecast of $710 million.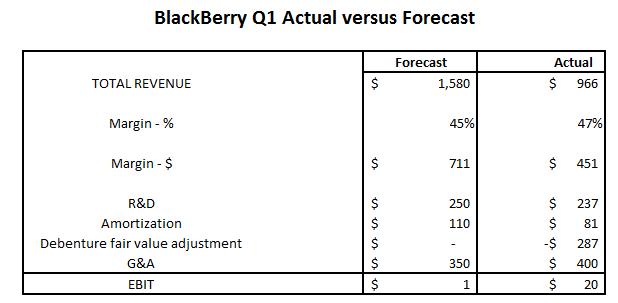 Source: BlackBerry Earnings Release
BlackBerry's recent deal with Amazon.com (NASDAQ:AMZN) to include the Amazon App Store on BB10 devices is a major move ahead, and brings the number of applications available on a BlackBerry device to about 370,000, according to reports. While that number lags the massive applications library for iPhones and Google (GOOG, GOOGL) Play, it is nonetheless impressive and features most popular applications.
Amazon's release of its new Fire smartphone is likely to attract developers and expand the Amazon App Store. Videos of the new phone show that while the hardware is state-of-the-art but otherwise unremarkable, the interface is elegant, creative, innovative and in many ways, compelling. Rather than describe it in words, I suggest readers take a moment to view it on this video. Words cannot capture the power of the interface, and I suspect it might become a hit with users quite quickly.
Turning back to BlackBerry, CEO John Chen is making all the right moves. The company is now stabilized and beginning to show signs of survival. With a market capitalization of only $4 billion or so, it will not take much to move this stock off the bottom, and the catalysts are all in place.
I am cashing in my calls that expire this Friday, but will add to my long position by buying longer dated calls or just buying the stock.
Disclosure: The author is long BBRY. The author wrote this article themselves, and it expresses their own opinions. The author is not receiving compensation for it (other than from Seeking Alpha). The author has no business relationship with any company whose stock is mentioned in this article.