I'm confused about what to think about the Mississippi Lime oil and gas play that is located in the American states of Oklahoma and Kansas.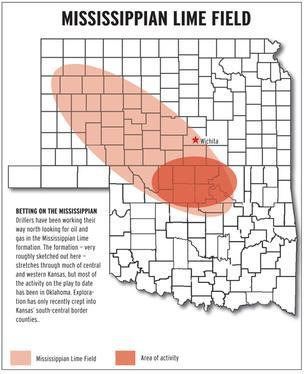 During the early days of the Mississippi Lime play I was quite smitten with the idea that Sandridge Energy (NYSE:SD) had created a huge win for shareholders by building up an enormous acreage position at rock bottom prices.
At the time I had facts to back that opinion up. When I wrote that article Sandridge had accumulated 2 million Miss Lime acres at a total cost of $350 million ($175 per acre) and then sold one quarter of that (500,000 acres) for proceeds of $1.83 billion ($3,660 per acre).
It was pretty incredible really.
In a couple of years Sandridge turned a $350 million investment into deals worth $1.83 billion. On top of that, after the deals Sandridge still held on to 75% of the acreage which if valued at $3,600 per acre (like the acreage that was sold) would be worth $5.5 billion.
SandRidge spent $350 million, received $1.83 billion back from that and still retained another $5 billion plus of the original acreage.
With the benefit of hindsight, it appears that Sandridge should have sold the entire land position back then when the play was hot. Roughly a year after I wrote my original article Miss Lime article I noticed that Sandridge had greatly reduced its estimates of how profitable Miss Lime wells actually were.
The play went from looking like a prolific reservoir going from optimization phase to a very profitable resource harvest phase to one that was still very much in the early stages of optimization.
And that wasn't just a conclusion of mine, some major companies with big land positions in the play confirmed it.
An Exodus From The Miss Lime
Like all of the repeatable high profile oil and gas plays that have been in the headlines over the past decade, the Miss Lime has an initial land rush. Sandridge was a leader in this, but there were other companies that also established large positions.
The initial enthusiasm that many of these companies had for the Miss Lime disappeared once they actually got down to the business of drilling wells with the intention of turning a profit.
Here is a list that I've cobbled together of companies that have decided to exit the Miss Lime:
Royal Dutch Shell (NYSE:RDS.A) - In September of 2013 Shell announced that it was selling off its huge 600,000 acre Miss Lime position which was located in Kansas. Included in what was sold were 45 producing wells that Shell had drilled. In July of 2013 Shell completed a strategic review and concluded that the Miss Lime did not meet the company's internal profitability targets.
Encana (NYSE:ECA) - Under a new CEO (Doug Suttles) Encana has wisely decided to narrow its focus considerably. Instead of trying to spread capital across 20 different plays, Encana has decided to concentrate on its five best liquids rich assets. One of the plays that Encana has decided to exit is its position in the Miss Lime located in Oklahoma.
Sandridge Energy - Sandridge hasn't exited the Miss Lime, but it has greatly narrowed its focus. A great portion of Sandridge's massive acreage position that was originally thought to be high quality, actually isn't. Out of the nearly 1.85 million acres that Sandridge has in the Miss Lime, the company has narrowed its focus to six "focus areas". Those areas include the counties of Comanche, Barber, Harper, Woods, Alfalfa and Grant.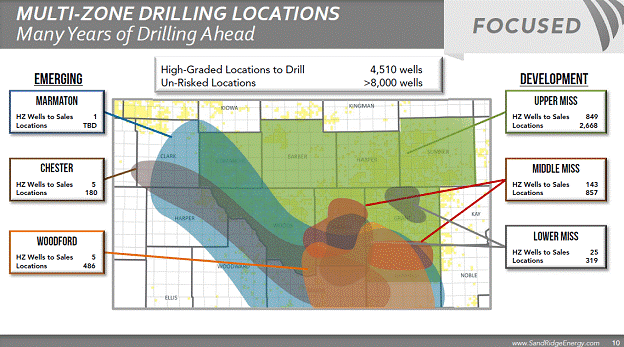 Sandridge has stated that it is perfectly happy to let leases in the non-focus areas of the play expire.
The Game Isn't Over -Technology And Focus Could Be The Answer
It is clear that the Miss Lime has been a significant disappointment. But what exactly is the problem?
There appears to be a few issues.
The first nasty surprise that companies drilling wells discovered was that the play was considerably "gassier" than expected. With oil production being significantly more valuable per barrel of oil produced, that lower than expected oil content greatly changed the expected economics of the play.
Additionally the total amount of hydrocarbons that can be recovered per well turned out to be less than originally estimated. So not only did the oil content disappoint, but the total amount of oil and gas that can be recovered came in light.
Then there were the challenges with high water cuts. The play produces enormous amounts of water which requires a significant investment in water handling and water disposal facilities. This greatly increases the cost of adding production and also slows down the time between drilling and production. Those high costs don't leave much room for error.
The Miss Lime has its challenges to be sure, but I can't help thinking one thing. All of the best plays in North America were also at one point uneconomic to produce from. For years we knew that the Bakken contained prodigious amounts of oil, but we didn't have the technology or techniques to profitably produce that oil (the price of oil increasing also played a part).
Time and innovation can be great friends to large quantities of oil and gas in the ground.
Perhaps then it is too early to give up on the Miss Lime. Sandridge certainly seems to be making some progress with its wells.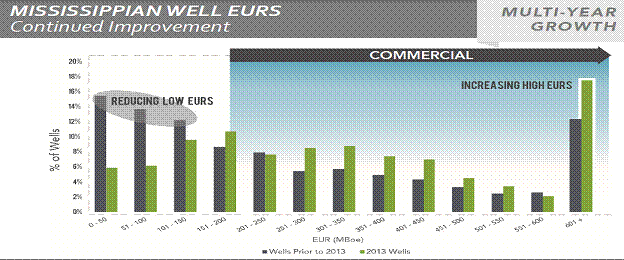 The EUR's (Estimated Ultimate Recovery) per Sandridge well has increased significantly in 2013 (see the image above). Part of that is due to the focus on only the best areas of the play but it is also because Sandridge has improved its drilling and completion techniques.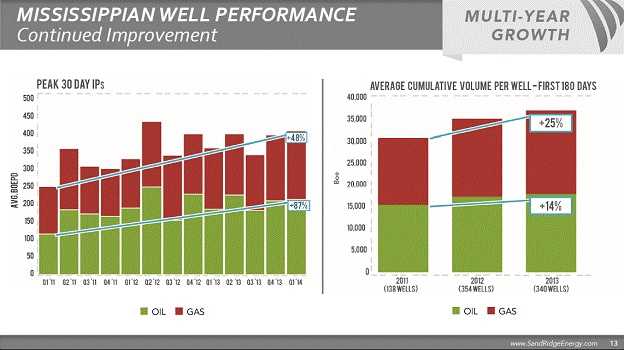 Sandridge's operating focus has been directed at experimenting with completion techniques, sectional development, sharing facilities to reduce cost and employing an artificial lift to enhance production.
Sandridge had also cut down on its average cost per well by moving from delineation drilling to pure development drilling which has allowed for more wells being drilled from the same pad. This is again where a focus on the best acreage is beneficial.
It is also important to remember that in the Miss Lime, like with every play in the North America it isn't just a single company like Sandridge that is working to improve the economics of drilling wells. Instead it is all of the operators in the play who are working every day to increase production and recoveries as well as lower costs.
If any company makes a significant improvement that improves profitability, all of the companies will adopt that improvement and benefit.
Along those lines a recent announcement from Miss Lime focused Petro River Oil (OTCPK:PTRC) caught my attention. Petro River announced the acquisition of Spyglass Energy Group which has 106,000 contiguous acres in the Miss Lime in the county of Osage Oklahoma.
That is a big block of land, but that isn't what I found interesting.
The following blurb from the announcement was what I found especially intriguing:
Shane Matson, President of Bandolier, commented, "I have worked in this region and on the Pearsonia West asset for a dozen years and following our recent drilling results - wells with IPs as high as 900 BOPD from short laterals - we have cracked a significant component of the code for stimulation of tight Mississippian reservoirs of the Mid-Continent. The size and continuity of this asset allows a great deal of flexibility to continue developing it while seeking industry partners to develop this acreage alongside us.
The eye-catching item in that is obviously the 900 barrel per day initial production figure. Without knowing the all-in cost of the wells involved in drilling those wells we can't assess possible economics, but the company clearly thinks theyhave made a leap forward.
My point here not being that Petro River has necessarily provided a step change in the Miss Lime, but that it only takes one company to do so for all of the acreage in the play to increase in value significantly. And that would especially apply to the areas of the play that are not in the sweet spots which would move from having little value to having considerable value.
Implications For Investors
If you are aggressive, a focused bet on the Miss Lime might be interesting to you. When a play is high quality and everyone knows it, the price you are going to pay for exposure to that play is going to be steep. However when a play is out of favor because of its disappointing economics there could be a chance for outsized returns should the industry make improvements to the techniques and technology used to develop the play.
Personally I'm in the "wait and see" camp. If someone like Petro River clearly demonstrates that they have cracked the code and significantly moved the economics of the play forward then I'll move.
As I've learned the hard way, there is never any rush to buy shares because a better price is usually right around the corner.
Disclosure: The author has no positions in any stocks mentioned, and no plans to initiate any positions within the next 72 hours. The author wrote this article themselves, and it expresses their own opinions. The author is not receiving compensation for it (other than from Seeking Alpha). The author has no business relationship with any company whose stock is mentioned in this article.