General Motors (NYSE:GM) stock reacted negatively to the initial recall debacle, culminating in a 52-week low of $31.13 shortly after CEO Mary Barra's April 1 testimony before a House committee. In the following weeks, GM's stock has strongly rebounded to $36.36 (June 17, 2014) as investors note that consumers have largely shaken off news of the recalls.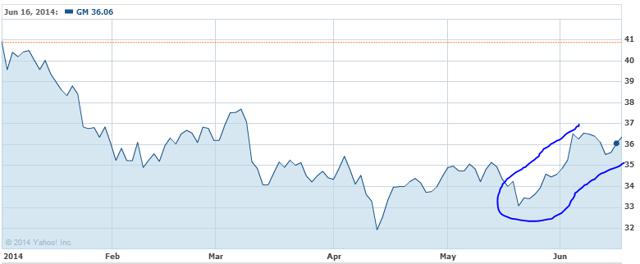 I was of the same opinion until very recently; I now believe we have reached an inflection point for the company, and therefore GM's stock. There comes a point where the combination of an almost continual stream of recalls over a multi-month period combined with widely publicized news of GM's pass-the-buck culture combined with the politically motivated desire of politicians and regulators to "teach a lesson" has an impact. I have followed my own advice, selling my GM position over the last two days while reinvesting a portion of the proceeds in Ford (NYSE:F).
A steady drumbeat of negative news over a sustained period of time works its way into the psyche. The news does not even have to be true; unfortunately, for GM, in this case, it is true and it is bad.
The consumer is moving beyond the "isolated incident" and the "old news" frame of mind to believe that GM is tainted, can't be trusted and may not be worth the risk (quality, resale value and explaining to the neighbors). I believe we will start to see shifting, notwithstanding GM's efforts to capture sales from the recall process, as early as this month (June sales data) and no later than July. The prospect of reduced sales is the opposite of the much desired recurring revenue stream; it reflects a multi-period reduction in sales and a reduced base with which to amortize R&D and overhead. Analysts all too often place too much stock on the past, relying on accounting data instead of understanding the ramifications of change. A recent example was the recurring overly optimistic guidance for BlackBerry (NASDAQ:BBRY). Analysts have not perceived what will happen in the near future; they have only noted what has happened in the recent past.
If you were to guess whether the stock of GM or Ford had done better over the last twelve months, most of us would intuitively say "Ford." Interestingly, as the following chart shows, on a twelve-month basis, GM and Ford have performed almost identically.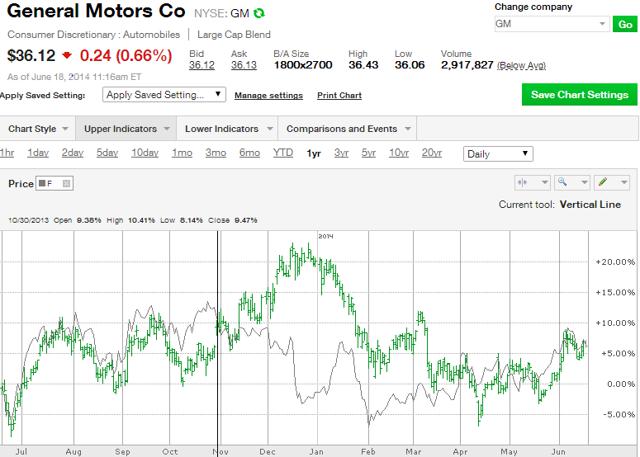 The reason for the near identical twelve-month performance rests in GM's 15% rebound from its lows over the past two months. Logically, this does not make sense. Operationally, analysts project GM's profits to grow 52% in 2015 as compared to 2014's recall tainted earnings which is impressive, but not that much more striking than Ford, whose earnings are expected to grow by a robust 45%. Keep in mind that Ford's 2014 earnings estimates are more "normalized" (Ford has recalls, but not nearly of the same magnitude as GM). As I suggested above, GM's 2015 estimates are overly optimistic about 2015 (and likely 2016).
On a valuation basis, GM's forward (2015) P/E is lower than Ford's. However, I would argue there is significantly more risk (that word just keeps popping up) to GM's 2015 earnings. I would be surprised if estimates did not drop significantly in the coming months. Looking at a modified PEG (2016 compared to 2015), Ford boasts a very appealing 0.69 compared to GM's 1.20.
Both GM (3.3%) and F (3.0%) provide reasonably strong dividends; the dividends of both are considered safe. It is not unreasonable to believe that Ford's dividend may increase prior to the end of the year. I don't think many would suggest, due to financial and political reasons, that GM's dividend will be increased in 2014. Transocean (NYSE:RIG) and British Petroleum (NYSE:BP) are two examples of companies whose ability to raise their respective dividends were negatively impacted following a high profile event (the 2010 gulf oil spill).
Assuming a metric of 8x-10x EPS as fair value and further assuming that we are still in the growth phase of the post-recession recovery, I would suggest both companies should be valued at the high end of the range. Using this metric, both domestic automakers are undervalued. However, taking short-term franchise risk into account, I believe Ford is the better risk-adjusted bet.
Key Metrics: GM and F
| Stock | Price | 2014 | 2015 | 2016 | Div. | Yield | S&P | F-PE | PEG | Metric |
| --- | --- | --- | --- | --- | --- | --- | --- | --- | --- | --- |
| GM | $36.13 | $3.12 | $4.75 | $5.05 | $1.20 | 3.3% | n/a | 7.6x | 1.20 | 8x-10x |
| F | $16.63 | $1.32 | $1.92 | $2.15 | $0.50 | 3.0% | 4 | 8.7x | 0.69 | 8x-10x |
Source: TDAmeritrade
Price: As of June 17
P/E: 2015
PEG: P/('15/'16)
In conclusion, GM's earnings estimates do not reflect the negative impact to sales the constant drumbeat of bad news is creating. Surprisingly, the stocks of GM and F have performed roughly the same over the past twelve months. While not overtly advocating the purchase of F, to the extent you wish to own a domestic automaker, Ford is the better investment.
Disclosure: The author is long F, RIG. The author wrote this article themselves, and it expresses their own opinions. The author is not receiving compensation for it. The author has no business relationship with any company whose stock is mentioned in this article.