I have been inactive as a contributor for quite some time, and I think it appropriate to provide a short explanation. I was testing various improvements to my investing process, and that was best done in private.
One of the side benefits of this was the formulation of a medium-term discretionary trading system based on a ranking system, rather than on the more traditional mathematically-oriented trading systems. The thinking behind this is outlined at the end of this post, for those interested. This ranking simplifies the identification of stocks which exhibit historically interesting trading ranges, which have a good statistical chance of outperforming and which have a lower statistical chance of unacceptable drawdown. For clarity, out of a sample of 1600 stocks, the worst ranks as 1600 and the best ranks as 1.
I favor a combination of technical and fundamental analysis on the basis that it limits potential exposure to stocks which could be described as speculative only. Therefore, I combine the technical signal with other information, and of course, Seeking Alpha provides an excellent source of divergent opinion, information and analysis. The stock becomes a recommendation only where Seeking Alpha posts are broadly supportive of a stock and where that stock has a sound business case to consider.
To demonstrate what is involved, I present, as an example, Movado Group (NYSE:MOV) which offers periodic trading opportunities. In my universe of around 1600 stocks, MOV regularly posts 3 monthly periods of poor relative performance, that is, falling to a rank of 1300 or worse. This is invariably followed by periods of relatively good performance. The variability in rank in the period from March 2009 is shown in the first graph. The buy signal at rank 1300 is superimposed on the MOV price, as shown in the second graph. The timing of Seeking Alpha articles is also noted in the second graph, and they are supportive of MOV.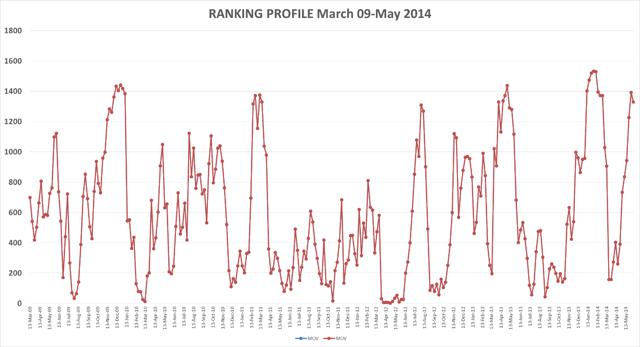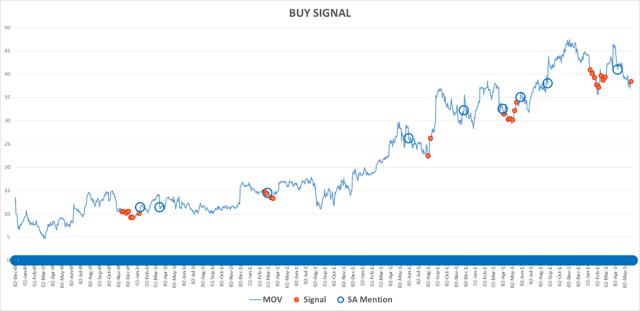 So, on this basis, I have put together the following trading portfolio of ten stocks which appear worthy of consideration over a three-month horizon.
| | | |
| --- | --- | --- |
| VVI | Viad Corp. | Business Support Services |
| WNS | WNS (Holdings) | Business Support Services |
| MOV | Movado Group | Clothing & Accessories |
| RKT | Rock Tenn Co. | Containers & Packaging |
| CQB | Chiquita Brands Int. | Food Products |
| HGR | Hanger Inc. | Health Care Providers |
| SMA | Symmetry Medical | Medical Equipment |
| RDY | Dr Reddy's Laboratories | Pharmaceuticals |
| DIN | Dineequity | Restaurants & Bars |
| OMG | OM Group | Specialty Chemicals |
Appendix
Because it has been some time since I first mentioned this, I restate the underlying concept, which hasn't changed. If stock returns are risk-adjusted using some mathematical construct, and then ranked in order best-to-worst, then a portfolio of consecutively ranked stocks show a remarkably linear active return, as demonstrated below. This pattern repeats all the time. Opportunities always present themselves, and therefore, it makes sense to identify stocks which regularly make it to the top 50 in ranking, but which are down in ranking at the time of analysis. That is the historical pattern.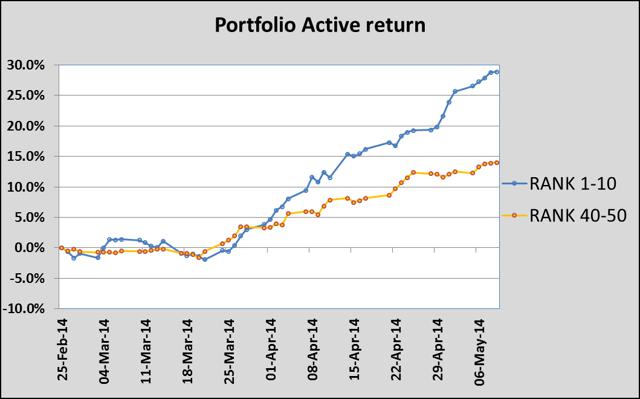 Disclosure: The author has no positions in any stocks mentioned, and no plans to initiate any positions within the next 72 hours. The author wrote this article themselves, and it expresses their own opinions. The author is not receiving compensation for it (other than from Seeking Alpha). The author has no business relationship with any company whose stock is mentioned in this article.