"It's far better to buy a wonderful company at a fair price than a fair company at a wonderful price."
-Warren Buffett
Most value investors are familiar with Buffett's famous advice to seek out quality companies rather than invest in mediocre companies that look cheap. Determining what a "fair price" means is important because Buffett is obviously not advocating that investors ignore the valuation when considering a stock.
Sometimes, a great company can actually be a risky stock when it becomes significantly overvalued. When the tech bubble burst, some great companies such as Oracle (NASDAQ:ORCL), Microsoft (NASDAQ:MSFT) and Intel (NASDAQ:INTC) saw their prices drop between 50-80%. All three of those companies were highly profitable and growing rapidly, but their valuations had simply reached unsustainably high levels. Accordingly, over a decade later, none of them have regained their pre-crash valuations.
This market has not reached the dangerous exuberance of the late 90s. However, there are a significant number of companies that, despite their strong profitability, look overvalued at current prices. Figure 1 has ten examples of quality companies that are poor stocks. Note that these are not the same as our Danger Zone picks, which tend to earn poor ratings across from the board. These companies earn Attractive or Very Attractive ratings on their quality of earnings but Dangerous or Very Dangerous valuation ratings.
We rate stocks based on five metrics. We use economic vs. accounting earnings and return on invested capital (ROIC) to evaluate earnings quality, and free cash flow yield, price to economic book value (PEBV), and market implied growth appreciation period (GAP) on the valuation side. See here for more details. All ten companies in Figure 1 have positive and rising economic earnings and ROICs above 10%.
Figure 1: Great Companies, But Overvalued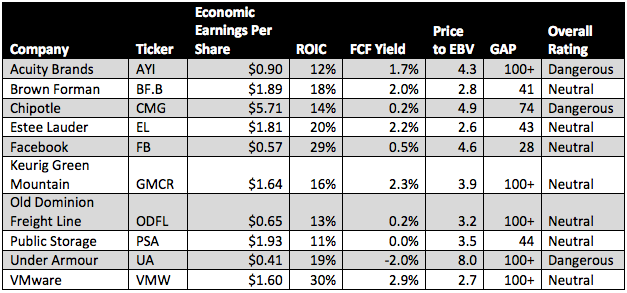 Sources: New Constructs, LLC and company filings.
Of these 10, Under Amour (NYSE:UA) best exemplifies the great company/bad stock dichotomy. UA has grown after-tax profit (NOPAT) by 30% compounded annually for the past five years while increasing its ROIC from 14% to 19%. Few companies can match that track record of growth and value creation.
Unfortunately, the market has reacted to UA's growth by pricing in high expectations for future profit growth. At ~$56/share, UA's valuation implies that the company will grow NOPAT by 30% compounded annually for 10 years. By the end of that forecast, UA would be earning roughly the same revenue and NOPAT that Nike (NYSE:NKE) earns today.
I like Under Amour the company, but I wouldn't want to bet on it becoming bigger than Nike, which is what the company must do to exceed the expectations already baked into the current price.
Note that no single sector dominates in Figure 1. Many different types of companies make the list, including Public Storage (NYSE:PSA), a REIT, Chipotle (NYSE:CMG) a restaurant, Old Dominion Freight Line (NASDAQ:ODFL), a trucking company, and Estee Lauder (NYSE:EL), a cosmetics company.
Investors are probably not surprised to see tech companies like Facebook (NASDAQ:FB) and VMware (NYSE:VMW) on this list, but the presence of consumer staples company Brown Forman (NYSE:BF.B) or industrial lighting company Acuity Brands (NYSE:AYI) might surprise some. The diversity of names on the list shows that overvaluation exists throughout this market, not just in specific sectors.
Despite their overvaluations, I wouldn't recommend investors short any of these stocks. As long as they continue their profitability and growth their valuations could remain elevated for quite some time. Investors should avoid these stocks for now and monitor them to see if their valuations drop to a more reasonable level.
Sam McBride contributed to this report.
Disclosure: David Trainer and Sam McBride receive no compensation to write about any specific stock, sector, or theme.
Disclosure: The author has no positions in any stocks mentioned, and no plans to initiate any positions within the next 72 hours. The author wrote this article themselves, and it expresses their own opinions. The author is not receiving compensation for it. The author has no business relationship with any company whose stock is mentioned in this article.