This morning, Rite Aid (NYSE:RAD) slightly beat Wall Street consensus on revenue, but was slightly below EPS estimates, when it reported its earnings. For the first quarter, revenue was $6.5 billion and net income was $41.1 million or $0.04 per diluted share. Wall Street was expecting $6.27 billion in revenue resulting in $0.07 per share in earnings. Two weeks ago, the stock fell nearly 10% as management warned of higher than expected drug costs related to a delay in lower-priced generic drugs. After reviewing the quarterly results, it is clear that this pullback was unwarranted as these elevated costs were temporary.
Operating Results
Revenue grew 2.7% in this quarter compared to the prior year's first quarter. This growth was driven by an increase in pharmacy same store sales, which is a positive sign of new initiatives being successfully implemented. Same store sales for the quarter increased 3.1% over the prior year and pharmacy same store sales increased 4.6%. Pharmacy sales grew at a great clip even with a 1.43% negative impact from new generic introductions. The negative on the release was that adjusted EBITDA was $282.6 million or 4.4% of revenue compared to $344.8 million or 5.5% of revenue in the same period a year ago.
The decrease was caused by a reduction in pharmacy gross profit, due to lower reimbursement rates, that were not offset with reductions in generic costs. However, management stated in the conference call that this gross profit reduction will only affect Q2 and then will return to normalized levels.
New Initiatives
Mckesson Agreement
Rite Aid's stock was driven up recently by its renewed partnership with drug distributor, McKesson through 2019. This will allow RAD to receive drug deliveries 5 days a week and reduce inventories, thus improving working capital. The success of this transition is evident from the reduction in inventory over the past few quarters. The transition to this new pharmacy distribution model is the reason for the reduced gross profit. Generic costs will be reduced from this new distribution method which will return the gross profit level. The transition between the company managing the costs and Mckesson taking over results in a brief period of higher costs. It may take until Q3 for gross profit to normalize and may be even lower than historical levels soon.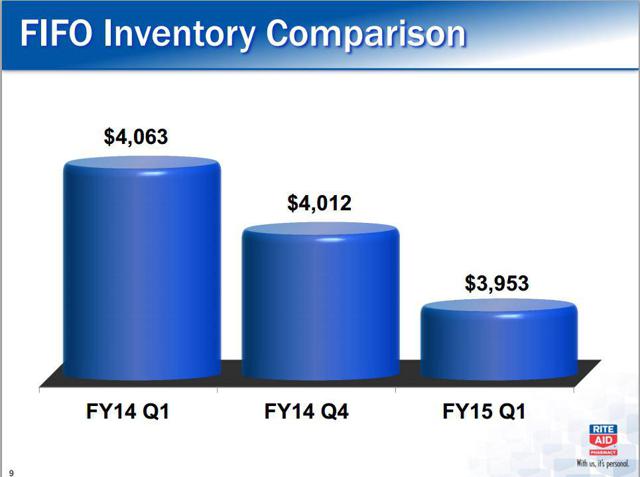 Source: Investor Presentation
Health Alliance Initiative
Another one of the integral aspects of Rite Aid's turnaround plan is its Health Alliance Initiative. The focus of this initiative is to cater to chronically & polyphonically ill, which represent the most salient demographic for drug stores. This program supports the patient in their wellness goals by having pharmacists, in-store care coaches, and local physicians working together. The 4.6% increase in pharmacy sales shows that this initiative is successfully being rolled out.
Wellness 65+
On the conference call, management discussed the successful implementation of their Wellness65+ program as well. This demographic is integral to Rite Aid's success. At Q4 last year, the program had 1.7 million senior citizens. During the call, management said the program now had about 2 million enrollees. This growth is tremendous for the future outlook of Rite Aid.
Store Alterations
During the quarter, the company remodeled 105 stores to their new wellness stores. Overall, that brings the total number of remodeled stores to 1325. Altering these stores represents a positive direction as the average remodeled store increases front end sales by 2.65% and RX sales grew 1.2%. With new remodels on the horizon, same store sales will further see a boon.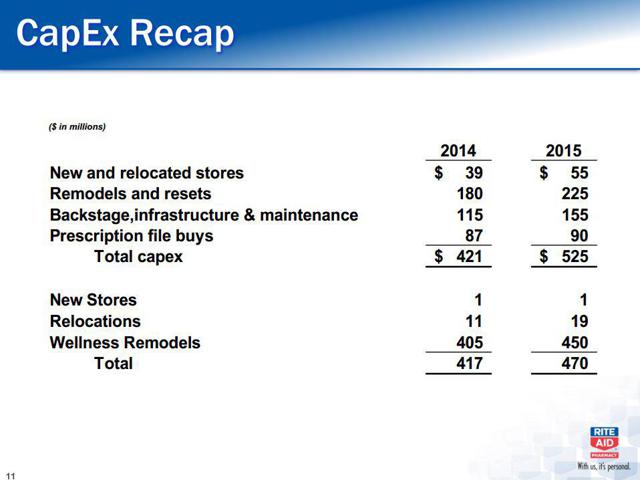 Source: Investor Presentation
Revised Guidance
Rite Aid revised its guidance on June 5th and reiterated its guidance with the quarterly release. Previously it estimated earnings would be $0.31 to $0.43 per share and revised it lower slightly to $0.30 to $0.40 earnings per share. Revenue guidance was also given in the range of $1.275 billion to $1.350 billion. Management also guided that same store sales growth will continue to grow between 2.5% to 4.5%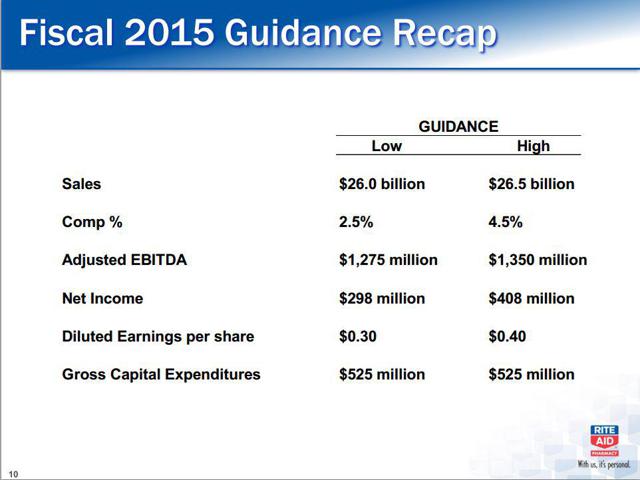 Source: Investor Presentation
Final Thoughts
The transition period of shifting RAD's pharmacy distribution method has temporarily raised costs and lowered gross margins. This reduction has led to a 10% pullback in the stock, but as management has said several times, this will normalize in the coming quarters. Same store sales growth, particularly pharmacy sales growth is strong, new initiatives are paying off, and this company is poised to excel. Investors should take advantage of this unique period and acquire shares of this lucrative long-term play.
Disclosure: The author has no positions in any stocks mentioned, and no plans to initiate any positions within the next 72 hours. The author wrote this article themselves, and it expresses their own opinions. The author is not receiving compensation for it (other than from Seeking Alpha). The author has no business relationship with any company whose stock is mentioned in this article.