The following is a list of oversold stocks, as defined by the Relative Strength, or RSI(14), indicator. All of the stocks in this list have RSI(14) values below 40, which usually signals oversold conditions.

In addition, institutional investors have been aggressively selling all these names of the last three months. Is this excessive pessimism warranted?

To give perspective on investor sentiment, we'll also include data on short float and performance.

Institutional data sourced from Reuters, short float data sourced from Finviz.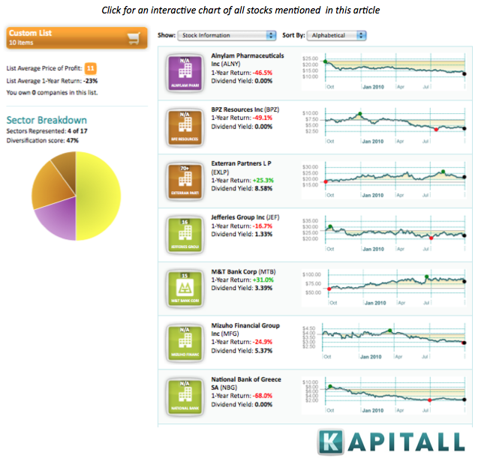 The list has been sorted by the change in institutional ownership over the last 3 months...

1. National Bank of Greece SA (NBG): Market cap of $7,009B. RSI(14) at 36.69. Institutional investors currently own 57,897,607 shares vs. 82,621,381 shares held 3 months ago (-29.92% change). Short float at 0.12%, which implies a short ratio of 1.05 days. The stock has lost -68.01% over the last year.

2. Nomura Holdings Inc. (NYSE:NMR): Market cap of $17,462B. RSI(14) at 27.09. Institutional investors currently own 58,977,103 shares vs. 79,300,252 shares held 3 months ago (-25.63% change). Short float at 0.07%, which implies a short ratio of 3.48 days. The stock has lost -23.26% over the last year.

3. BPZ Resources, Inc. (NYSE:BPZ): Market cap of $431M. RSI(14) at 38.83. Institutional investors currently own 59,975,950 shares vs. 67,019,460 shares held 3 months ago (-10.51% change). Short float at 17.84%, which implies a short ratio of 11.48 days. The stock has lost -49.12% over the last year.

4. Alnylam Pharmaceuticals, Inc. (NASDAQ:ALNY): Market cap of $522M. RSI(14) at 29.56. Institutional investors currently own 23,843,761 shares vs. 26,537,473 shares held 3 months ago (-10.15% change). Short float at 12.2%, which implies a short ratio of 21.08 days. The stock has lost -46.49% over the last year.

5. Exterran Partners, L.P. (EXLP): Market cap of $836M. RSI(14) at 39.76. Institutional investors currently own 4,085,501 shares vs. 4,455,689 shares held 3 months ago (-8.31% change). Short float at 0.44%, which implies a short ratio of 1.1 days. The stock has gained 36.32% over the last year.

6. M&T Bank Corp. (NYSE:MTB): Market cap of $9,745B. RSI(14) at 37.87. Institutional investors currently own 89,336,718 shares vs. 97,356,383 shares held 3 months ago (-8.24% change). Short float at 8.%, which implies a short ratio of 9.96 days. The stock has gained 35.83% over the last year.

7. PDL BioPharma, Inc. (NASDAQ:PDLI): Market cap of $633M. RSI(14) at 38.13. Institutional investors currently own 108,707,510 shares vs. 117,759,456 shares held 3 months ago (-7.69% change). Short float at 8.92%, which implies a short ratio of 3.3 days. The stock has lost -12.56% over the last year.

8. Jefferies Group Inc. (JEF): Market cap of $3,839B. RSI(14) at 38.82. Institutional investors currently own 129,826,708 shares vs. 135,801,812 shares held 3 months ago (-4.4% change). Short float at 11.42%, which implies a short ratio of 17.27 days. The stock has lost -15.9% over the last year.

9. Pilgrim's Pride Corporation (NYSE:PPC): Market cap of $411M. RSI(14) at 30.72. Institutional investors currently own 25,709,395 shares vs. 26,835,594 shares held 3 months ago (-4.2% change). Short float at 5.48%, which implies a short ratio of 6.27 days. The stock has lost -18.38% over the last year.

10. Mizuho Financial Group, Inc. (NYSE:MFG): Market cap of $22,699B. RSI(14) at 33.6. Institutional investors currently own 44,476,855 shares vs. 45,622,221 shares held 3 months ago (-2.51% change). Short float at 0.00%, which implies a short ratio of 0.42 days. The stock has lost -24.87% over the last year.


Disclosure: No positions