Glu Mobile (NASDAQ:GLUU) announced a new shelf registration when it announced its second consecutive record breaking quarter on April 30th. While the stock dropped about 15% on news of the offering, Mark Gomes of research firm Poised to Triple lays out why this was a very bullish move by the company, and why it remains his top pick and holding in his article "Glu's Secondary is Bullish." Since Mark does a great job outlining the implications of the offering with Glu's experience in monetization, I will focus on another potential reason for the cash raise... Real Money Gaming.
Glu's Partnership with Probabilty PLC
Glu first disclosed its partnership with Probability in October of 2012. The first partnered title (a "Samurai vs. Zombies" themed slot game) went live in 2013, and Glu quickly decided to expand the offerings to other titles and expand into more markets. Glu's CEO Niccolo de Masi commented on initial results by saying:
"We were pleased with the initial player response to Samurai vs. Zombies Defense Slots and continue to see a significant long-term opportunity in the mobile real-money gambling market."
Source: here
Probability owns and operates some of the UK's most popular mobile gambling sites, including flagship casual gambling brand LadyLucks (ladylucks.co.uk), Moobile Games (moobilegames.com) and Touch My Bingo (touchmybingo.com). It offers white label solutions and fully manages risk, regulations, payouts, etc., for its partners.
The partnership with Probability enabled Glu to gain much needed experience in the real money gambling market with very little risk, while various markets and regulatory bodies hashed out the fate of the industry in various markets across the world.
Upon the initial announcement of the partnership, the stock soared up 25% on 15x average volume on the news. The euphoria was due to the fact that real money gaming monetizes 100% of users, versus free to play gaming's average of about 3%-5%.
Now that online gambling is gaining some traction in the U.S., as it is now legal in some states, Glu may be positioning itself to take that next step.
Bee Cave Games
Bee Cave Games is a developer of casino games for mobile and Facebook and was started by former Zynga (NASDAQ: ZNGA) employees. Its BlackJack Casino title was one of the most popular casino titles on Facebook (NASDAQ: FB) and Glu was quick to take a strategic investment in the company of an undisclosed amount during the company's seed round of funding financed solely by Glu Mobile and Bee Cave Games' employees.
Bee Cave's founders previously worked on titles such as Zynga's Texas Holdem' Poker, Mafia Wars and Bingo.
Interestingly enough, Glu happens to have two social casino games currently in beta, Bingo 3D and Casino World.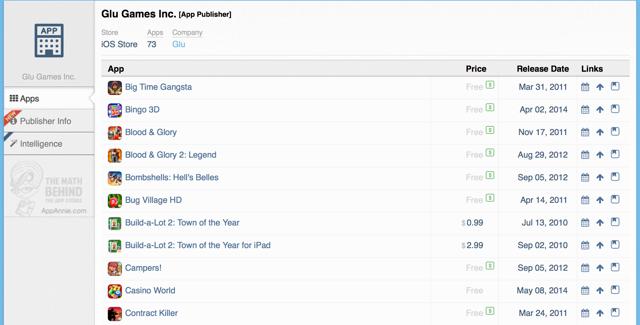 Source: Appannie.com
Bee Cave also announced late last year that it plans to launch a real money casino product in the U.K., and launched an Amazon version of its BlackJack Casino shortly thereafter.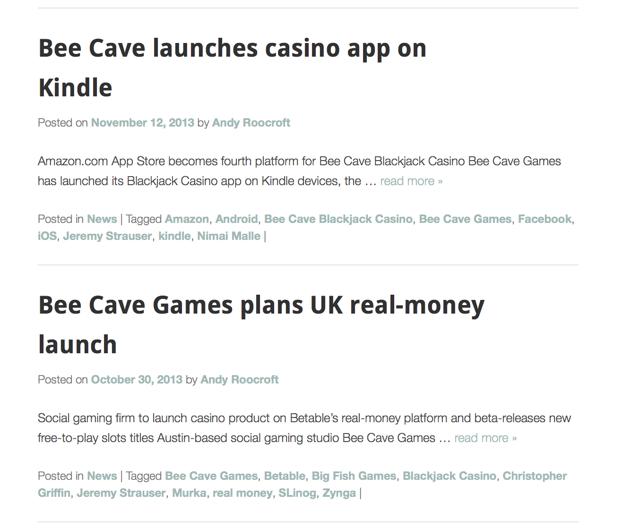 So far in 2014, the company has completed an additional round of funding and signed a content deal with Multimedia Games.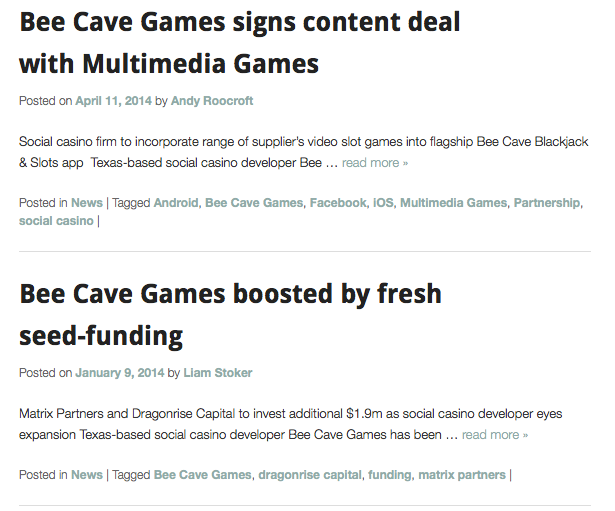 New funding for further expansion, coupled with new content deals, could mean we may hear news from this venture on the horizon, especially since Glu already has a partnership with Probability in the U.K.
Skillz Platform
While the U.S. market may not be fully ready for online gambling, skill-based real money gaming is gaining traction quickly. There's a good article on SFGate.com which explains in detail how the system works (found here).
Here's a quick rundown: In a head-to-head tournament, two players are matched based on their similar skill levels, or by challenging each other. Each will pay say $0.60 for a chance to win $1. The winner will then get $1 of the pot, and Skillz and the game developer would split the remaining $0.20. Tournaments can range from $1 payouts for novice tournaments up to $20 for expert levels.
As opposed to real money gambling, skill-based real money gaming is currently legal in 37 states, including California, and in most international markets.
Glu mobile has recently greatly enhanced its games as a service features by incorporating real time tournaments, frequent updates, in-game chat and various social features. These features just so happen to align perfectly with Skillz's gaming strategy. Glu even went so far as to shut down its GameSpy servers which hosted multi-player games for Activision (NASDAQ: ATVI), Electronic Arts (NASDAQ: EA), Nintendo and several others, so it could reclaim those resources for its own titles.
After doing so, Glu introduced tournaments and real-time Player vs. Player to its Eternity Warriors and Frontline Commando franchises.
Tournaments have several advantages in gaming, which is why Glu has recently made those extensive investments in infrastructure to support them. Not only do they add an entirely new element to a game, but competing against people and friends is in gamer's blood and it adds even more fun and excitement. The competitive factor gets players to play more often to hone their skills as well as purchase upgrades to improve their chances of winning in a tournament, or for bragging rights (or revenge) against foes.
As of right now, winners and top finishers in Glu's hosted tournaments earn special improved items or currency to spend in the game. An added option to compete for REAL money could produce big returns for Glu considering the large number of users of its games.
According to a Venture Beat Article, a survey conducted by Paradise showed that 41% of consumers want to compete in real-money competitions in their favorite games. In the same article, Skillz claims that some games have experienced a 330% jump in revenues after the introduction of their platform. That means that Glu's market cap has the potential to triple based on the increased revenues the platform would provide.
Real money wagering is arguably most popular in sporting games. Glu obviously has its shooting games like Deer Hunter and Contract Killer, but this could very well be why we've seen Glu start to release games like Motorcross Meltdown. The company also currently has Real Fishing 2014 and Tap Sports Baseball in beta. Just imagine a fantasy baseball style game where you can trade team mates and compete against friends in live head-to-head games for a buck or two.
Glu actually already has some experience with the Skillz platform, as its Deer Hunter Reloaded title was one of the first available on the early Skillz platform. While that title proved not to be very popular, it did give Glu its first peak into real money gaming. Now that Glu's new version of the game, Deer Hunter 2014, has quickly become the most successful title ever for the company, I suspect we will see a Skillz incorporation into it very soon.
There are a few reasons why I believe Glu was waiting to pull the trigger on this. For one, Deer Hunter has been doing very well as a standalone free to play title. I suspect Glu wants to milk that for as long as it can. Now that popularity has waned a bit, the introduction of Skillz could really reinvigorate users and revenue. Secondly, Skillz was previously only available on android, but Skillz just announced on June 5th that it was approved by Apple (NASDAQ: AAPL) to release its real money gaming SDK for iOS. Now that Glu can roll the game and platform out to all of its users, the move becomes even more lucrative. Lastly, Glu wouldn't want to show its hand to the competition until it was able to fully capitalize on it.
Board Members
Another interesting move by Glu is its latest addition to its Board of Directors: Lorne Abony. According to Glu's "About" page on its website… Lorne Abony was appointed as Chairman of the Strategy Committee and "…brings to Glu strong public company growth experience in skill-based gaming and online gambling." Everything in his bio on the page (shown in full below) points to a future in real money gaming/gambling for Glu.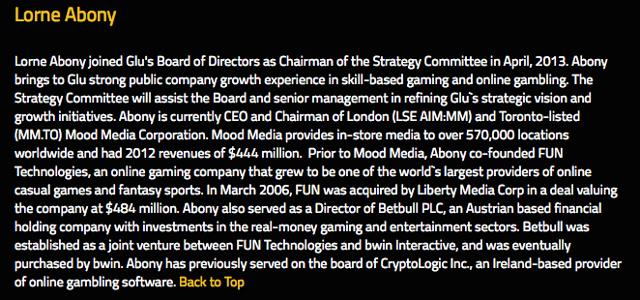 Source: glu.com/about
Conclusion
The recent non-vital secondary to raise an additional $30M in cash tells me that the company has another acquisition plan in the very near future. Considering the company just acquired mobile game company PlayFirst, my bet is that Glu is now eyeing the real-money gaming market. Its PvP and tournament servers are up and running, Skillz is now available on both iOS and Android, and it now has the cash to support it, I believe real-money gaming could be just around the corner.
If I'm wrong, and Mr. Gomes is correct in that the money will be used for an acquisition of another gaming company... that still bodes well for investors. Just consider that the company purchased the Deer Hunter IP from Atari for $5 million and turned it into a multi-hundred million dollar franchise in just a couple years.
Thus, regardless of what management decides to do with the money, I believe now is the time to own shares of Glu Mobile.
Bonus Technical Analysis
There are several bullish technical indicators in Glu Mobile's chart right now… but for the long-term investor such as myself, the monthly provides a longer time frame view into the stock's expected performance. Several months ago, I identified a cup and handle formation (learn more about it here) in Glu's chart. This formation is a long-term bullish consolidation pattern that produces explosive yields upon completion. Here is the formation on Glu's chart.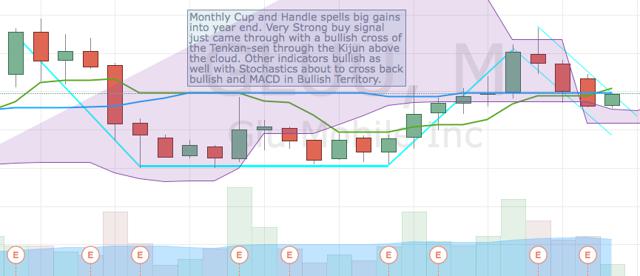 As you can see, the green candle on the far right side is attempting to break the downward trend line of the "handle." Once that happens, the stock should quickly re-test the right side of the cup at $5.65 (also the stock's 52-week high). Once that level is surpassed, the stock should continue its way on into the $8-$10 range, providing an impressive 200%-plus return from here this year... right in line with Northland Capital's $7.50 price target.
In addition to that, the candles are moving above cloud resistance on the monthly chart for the first time in its history. Combining that with the green line (Tenkan-Sen) crossing up through the blue line (Kijun-Sen) and you get a buy signal in popular Ichimoku technical analysis.
Disclosure: The author is long GLUU, FB, ZNGA. The author wrote this article themselves, and it expresses their own opinions. The author is not receiving compensation for it (other than from Seeking Alpha). The author has no business relationship with any company whose stock is mentioned in this article.