With the comments yesterday from the Federal Reserve, the precious metals market is showing strength which we are wary of. Yes, the inflation outlook and gameplan were good for holders of precious metals, but it seems to us that there is just a very low ceiling for where that news can take the market. The SPDR Gold Shares (NYSEARCA:GLD) and the iShares Silver Trust (NYSEARCA:SLV) are both moving higher in a carryover trade today but we think that one should not be using these for bullish trades but rather an insurance policy. Even as an insurance policy though we would prefer the iPath S&P 500 VIX ST Futures ETN (NYSEARCA:VXX) as the volatility in the market has disappeared even as we are faced with rising tensions in Iraq and once again Ukraine.
The bulls have returned to the gold trade and have pushed the price back above $1,300/ounce; these are levels not seen for around a month.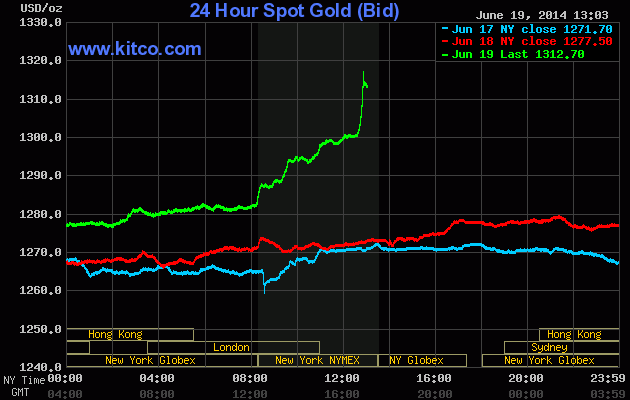 Source: Kitco
Chart of the Day:
We have been in the camp that believes that palladium prices will have to retreat moving forward due to speculators exiting their positions. Palladium has come off of its highs but remains elevated, as the ETFS Physical Palladium Shares (NYSEARCA:PALL) indicate. If tensions between Russia and Ukraine escalate again, look for momentum traders to return. We would not try to front-run the news here based on the risk.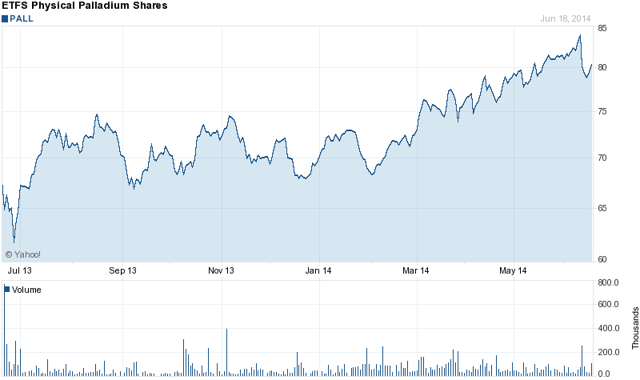 Source: Yahoo Finance
Commodity prices are as follows (at time of submission):
Gold: $1,313.80/ounce, up by $41.10/ounce
Silver: $20.735/ounce, up by $0.957/ounce
Oil: $106.22/barrel, up by $0.25/barrel
RBOB Gas: $3.1277/gallon, up by $0.0295/gallon
Natural Gas: $4.63/MMbtu, down by $0.029/MMbtu
Copper: $3.078/pound, up by $0.018/pound
Platinum: $1,473.20/ounce, up by $22.40/ounce
More Hotspots?
Iraq is a mess right now and it appears that the country is set to become three separate countries, whether officially or unofficially via semi-autonomous regions and governments (much like the Kurds have enjoyed in the north). The US appears to be seeking a leadership change in the country before using the air force to bailout the current government and while that is taking place the insurgents are now consolidating their gains north of Baghdad.
Add to this the fact that NATO is now reporting that Russia has sent more troops to the border that they share with Ukraine and one has to expect something to take place in that area too. It could be a military excursion (very unlikely in our opinion), further rhetoric (quite likely) or Russia finally cutting off natural gas to Ukraine for unpaid bills. The world's attention is focused upon Iraq right now, but we do think that it might be worth investors time to pay attention to these recent troop movements and possibly even take a look at a speculative trade in FX Energy (NASDAQ:FXEN) which is a small natural gas driller in Europe that could catch a bid on any cut in natural gas exports from Russia to Europe. It is a high-risk trade, but something which has worked in the past.
Disclosure: The author has no positions in any stocks mentioned, and no plans to initiate any positions within the next 72 hours. The author wrote this article themselves, and it expresses their own opinions. The author is not receiving compensation for it (other than from Seeking Alpha). The author has no business relationship with any company whose stock is mentioned in this article.