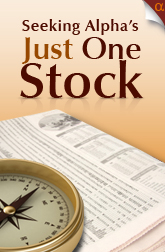 Several times a week, Seeking Alpha's Jason Aycock asks money managers about their single highest-conviction position - what they would own (or short) if they could choose just one stock or ETF.
---
Andrew Shapiro is founder, president and portfolio manager of Lawndale Capital Management, an RIA based in Mill Valley, Calif., that manages activist hedge funds focused on small and micro-cap companies. Prior to founding Lawndale in 1992, he managed the workout and restructuring of high-yield bonds, distressed equities and risk arbitrage securities for First City Capital.
If you could only hold one stock position in your portfolio (long or short), what would it be?
Our best risk/reward idea is Reading International (NASDAQ:RDI), an internationally diversified movie exhibitor, with a related business segment that owns, develops and operates substantial real estate assets, many of which are entertainment-themed retail centers ("ETRCs") anchored by Reading's cinema multiplexes. Reading's cinemas generate growing, recession-resilient and recurring box office and concession cash flows. The cinema business builds value by paying down acquisition debt, as well as funding the front-end cash demands of developing Reading's valuable real estate assets. The development process includes purchasing raw land, up-zoning, development and construction, eventually generating cash through leasing or outright sale.
In addition to its upside from present prices triggered by impending catalysts and growing cash flow, Reading has an enormous "margin of safety" both from the value of its huge landholdings in Australia, New Zealand and the United States, as well as a reasonable valuation of its cinema segment.
Tell us a little more about the company behind the stock.
Over the past few years, Reading has strategically expanded its many cinema circuits in Australia, New Zealand and the U.S. through organic growth and acquisitions, building the fourth-largest exhibitor in Australia, third-largest in New Zealand and the 12th-largest here in the United States. Its approximately 462 screens in 56 cinemas and four live ("Off-Broadway") theaters are primarily situated on owned or long-term leased land.
Reading's cinema segment cash flows have continued to show resiliency in recessionary times, producing approximately $35 million of adjusted EBITDA for the 12 months ended June 30. In addition to selective new theater openings and culling of underperforming theaters, Reading has begun equipping a majority of its theaters with digital 3-D capabilities that will provide incremental cash flow into this cinema segment.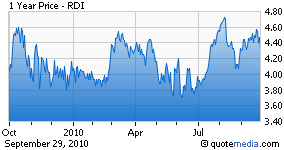 As for the real estate segment: Unlike other cinema exhibitors, Reading owns over 16.5 million square feet of real estate, of which only 1.2 million square feet is already developed and generating approximately $13.5 million of adjusted EBITDA for the 12 months ended June 30. In many instances, Reading benefits by having its own multiplex as an anchor tenant and by having itself as landlord. Developed real estate includes the Courtenay Central shopping center in downtown Wellington, New Zealand; the Red Yard Centre in the Auburn suburb of Sydney; and the Reading Newmarket Centre near Brisbane, Australia.
A substantial portion of the more than 15.3 million square feet of additional land owned by Reading holds great cash flow growth potential as it is developable in desirable urbanized locations throughout Australia, New Zealand and the United States, but not yet generating a dime of cash flow. These undeveloped parcels are in various stages as stand-alone developments or "phase two" expansions of existing ETRCs. In addition, Reading owns the land underneath its New York City and Chicago live theaters, including the Union Square Theater, and also midtown Manhattan real estate underneath its Cinema 123 on Third Avenue, across from Bloomingdales - all prime land.
Reading's 51-acre Burwood Square project in Melbourne, Australia, is by far Reading's most valuable undeveloped parcel, on its balance sheet for around $45 million. Purchased in 1996 when it was a former brickworks and rock quarry, this giant parcel has now been upzoned to be a "major activity center," zoned for residential, commercial, entertainment and retail use, and is one of the last prime developable sites fairly close to Melbourne's central business district.
It should be noted that Reading owns its Burwood parcel (as well as its recently completed and leased Indooroopilly Brisbane office building) debt-free, unencumbered by any mortgages.
Most of Reading's real estate that has been held or developed over a long period of time (some, like Burwood, since the mid-90s) is on the company's balance sheet at values which we believe greatly understate current market value. These parcels have enjoyed - to varied degrees - substantial unrealized appreciation from up-zoning, surrounding population growth, property improvements, construction and lease-out, and, in some instances, more than a decade of market inflation.
As more of Reading's real estate assets are converted to either current cash flow generation or outright sale, Reading ought to be viewed more and more as an undervalued growing operating company attracting a multiple, rather than simply an asset play.
How does your choice reflect your firm's investment approach?
My firm, Lawndale Capital Management, and the funds it manages have for over 17 years targeted capital appreciation in securities where our research-intensive and active style can add value by identifying and capitalizing on market mispricing. We invest as very active owners, preferring to have strong friendly relationships with the portfolio company managements and boards, but never afraid to take any and all measures that are in the best interests of protecting and creating value, including proxy fights or other legal steps. We regularly take 13D filing-size positions and communicate our views.
We seek large returns through concentration in a few core companies that are analytically out-of-favor (contrarian), analytically complex (special situation), or analytically uneconomic (illiquid). We find small and micro-cap company stocks, and small issues of more senior securities such as preferred stock, and corporate debt of even larger companies, are often priced inefficiently due to illiquidity and investor neglect or incomplete fundamental analysis.
We balance our quest for substantial returns with a fundamental tangible asset-based and deep value-style approach, seeking a "margin of safety" that cushions the biggest risk to our returns: the extensive time and effort to unlock value in our portfolio companies.
Our Reading investment fits right in with our strategy. It started even more analytically illiquid and complex when initially invested in Reading's three micro-cap predecessor companies, Craig Corp., Reading Entertainment and Citadel Holdings. These companies had much smaller public stock floats and an interrelated ownership structure confusing to most investors. We encouraged and supported a year-end 2001 merger of the three companies to become the single, simpler and larger small-cap Reading International. Even today, tracking progress milestones and estimating the value of Reading's multiple undeveloped foreign parcels turns off most investors and every sell-side analyst. The fact that Reading's current stock price basically provides its sizable undeveloped landholdings for free more than adequately provides us our required margin of safety.
How much is your selection based on the Reading's industry, as opposed to a pure bottom-up pick?
The concentrated private-equity-like portfolio approach Lawndale takes creates inherently larger event risk, so we seek to invest as generalists in several different industries. That being said, as deep value balance sheet-focused investors, we have a predilection for companies with hard assets where investors aren't pricing those hard assets. For example, with Reading, we own a sizable cinema player that owns a lot more land than investors give it credit for.
In general, our selections are bottom-up where we identify assets undervalued by the market due to perceptions or misperceptions of perpetual deterioration or perpetual stagnation at best. We look for operations that can be turned around, credit quality that can be improved, or dysfunctional boardroom and management situations that are fixable with a catalyst such as ourselves.
How is Reading positioned with regard to competitors?
Initially, the entrenched real estate moguls in Australia severely stalled Reading's development plans in the late '90s and early part of this decade, but that logjam has been overcome and almost all of Reading's parcels have now received their up-zoning.
While Reading's small theater footprint in the U.S., relative to Regal (NYSE:RGC) and Cinemark (NYSE:CNK), had hurt availability and terms on first-run films several years ago, an antitrust lawsuit against the largest movie studios and exhibitors (long since favorably settled) and growth of Reading's market share in certain markets (70% Hawaii, 12% San Diego) has alleviated this issue.
How does Reading's valuation compare to its competitors?
Extracting the value of all of Reading's real estate from its enterprise value imputes a compelling, very low or even negative multiple on Reading's geographically diverse cinema business. Alternatively, Reading's cinema business, using multiples below those of comparables, plus its understated book value on its developed real estate, exceeds Reading's present enterprise value. Thus, the value of all of Reading's substantial to-be-developed real estate is "free," serving as a substantial "margin of safety."
Without individual cash flow figures available on Reading's land, our valuation model becomes a three-pronged matrix. On the cinema segment, we use an EBITDA multiple as well as a multiple on-screen count. For developed parcels, we are compelled to use a multiple on net book value, based on building age and occupancy and/or appraisals the company previously disclosed. On the to-be-developed parcels we use very conservative assumptions in an NPV approach. Finally, while cinema segment G&A is accounted for in its EBITDA, including a deduction for the value of real estate segment and normalized corporate G&A expenses results in a total value range for RDI of at least $8-12/share. [Reading closed Wednesday at $4.32.]
Does your view differ from any consensus sentiment on Reading?
Based on more than 70% of Reading's current cash flow being generated by its cinema segment, we think Reading should be considered a cinema exhibition company. However, Reading is not followed directly (or even indirectly as a comparable) by any sell-side analysts. I note that analyst-covered Carmike Cinemas (NASDAQ:CKEC) has a smaller public share float and market value, and far less owned real estate and book value than Reading. Yet the analyst coverage contributes to higher trading volume. It's a catch-22.
Does the company's management play a role in your selection? If so, how?
CEO Jim Cotter, Sr., is a very conservative and deep value investor like myself. He was one of the only cinema exhibitors to dodge the industry's overbuilding and over-leveraging in the late '90s that led to industrywide bankruptcy filings. Instead he pursued investment in Australia and New Zealand where there were far fewer screens per capita than the U.S. Furthermore, Cotter doesn't pursue construction on spec, but instead requires preleased anchors. Reading's COO and CFO also have years of experience in the industry.
Mr. Cotter controls Reading through the very small illiquid Class B voting shares, but also has a much larger shareholding and economic stake in the more liquid RDI nonvoting shares, which are the same share class we now hold in size. Cotter has proven highly skilled at growing the company's underlying asset value and has not taken advantage of his control position.
What catalysts, near-term or long-term, could move the stock significantly?
The largest known catalyst is Reading's recent plan to sell its "crown jewel" of undeveloped real estate, Burwood Square. I have written in great detail in Seeking Alpha articles on May 16, 2010 (Reading International Moves to Sell Huge Australian Development Parcel) and May 27, 2010 (Reading International: Cashing In on Australia) about Reading's long history and sale plans with this parcel to a more residential-focused developer. Reading would like to retain participation in those portions of the project it does have expertise in, namely entertainment and retail.
As Reading monetizes Burwood for a determinable value, investors ought to more easily price (via a higher stock price) the intrinsic value of both of Reading's cinema and remaining real estate assets. It is not out of the question that Reading's proceeds could amount to an additional $2.50-$4.00 per share. Proceeds are expected to be applied to all or a combination of: a) paying down debt, b) developing Reading's sizable (but much smaller than Burwood) remaining approved projects like Moonee Ponds (Melbourne), Auburn phase II (Sydney) or Newmarket Centre phase II, and - if there is no market value response - c) buying back stock.
There is another catalyst in much smaller size than the Burwood sale, but more definitive in occurrence and timing. In Q4, Reading is entitled to debt forgiveness with respect to the seller financing on its 2008 Consolidated Entertainment acquisition, under a final contingent purchase price reduction test.
Finally, as is the case with asset plays, transactions or events that result in change of control provide sudden and sizable closure of value gaps. Mr. Cotter is almost 73 years old and his three kids will inherit his shares. While each works in a portion of the business, a sale of all or part of the company would be the most likely outcome. It should also be noted that billionaire Mark Cuban - who has sizable entertainment investment interests, including art and indie theater chain Landmark Theatres, a competitor to Reading's Angelika Film Center chain - bought a 13.9% stake in Reading's voting Class B shares and a more sizable 2.4% stake in Reading's more liquid nonvoting shares.
What could go wrong with your pick?
Cotter family control: The biggest risk of an investment in Reading is time value of money should the market price not respond to continued asset-building activities of Cotter, and he continues his passive no-investor-relations approach, while retaining voting control of the company. However, upon successful conversion of Reading's largest undeveloped parcel to cash, it is far more likely that the market closes the value gap regardless of how little investor relations the company does.
Box office success is most dependent on the supply of good quality movies. With half of Reading's screens in separate English-language countries, where there are robust movie production industries, Reading's risk of movie product disruption is far lower than public U.S. Comparables.
Of longer-term risk is reduction of out-of-home movie attendance from reduced release windows or home movie technological advances. The economics of reducing release windows for the studios is far from close to being worked out, and wide cinema release is still essential for any reasonable home movie demand. The studios are not going to kill the goose that lays the golden egg, so a decent window will exist for quite some time. The advent of the VCR was said to kill cinemas, but attendance grew nonetheless.
Same was said with big-screen and high-definition TVs and home theater systems, and no real loss of business at cinemas. There is an inherent demand for out-of-home entertainment and going to the movies remains the best value in town for "date night." While the media may highlight the cost of 3-D movies and concessions, it still doesn't run close to the costs of any professional or college athletic contest all-in costs, or other theater, symphony or opera experience.
On the real estate front, once Reading's stock price better reflects fair market values on its real estate, then there are clear risks attached to localized bubble values and macro risks to those values. However, at present, how do real estate valuations pose risk to Reading when its real estate is not priced in the stock?
Currency risk: About half of Reading's assets are in Australia and New Zealand. The Aussie is a commodity-based currency and the Kiwi is tied to the Aussie. Both have appreciated versus the U.S. dollar recently. That is favorable to Reading's results. Reading does not hedge currency, so there is some risk of an unfavorable currency move. However, Aussie's economy has been and continues to be much stronger than the U.S. Furthermore, Reading has local debt to go along with its local cash flow, mitigating currency impacts somewhat.
And on attendance, in fact the industry is headed for record revenues - up 4.1%, maybe heading for the first $11 billion year - even as attendance has slipped 1.5% this year. Most of that's from 3-D surcharges; how does Reading's exhibition revenue compare, and are they in good position to take advantage of these newer economics?
Reading does not break out its attendance metrics to make a direct assessment like this. However, six-months cinema segment revenues were up 12.3% y/y, much higher than other exhibitors, from higher average ticket prices from 3-D films and also favorable currency rate moves in Australia and New Zealand. With six-month y/y admission revenue growth of 13.5% exceeding concession growth of 3.7%, one might infer ticket pricing growth exceeded attendance growth.
I don't think we have seen the end of Reading's cinema growth from 3-D, as its 10-K said by mid-2010, Reading will have deployed 3-D projectors in a little over half of its cinema locations. Note, Reading has also recently unveiled its version of an "IMAX killer" screen: "Titan XC" at its Ward Stadium Theatre in Honolulu.
Thanks, Andrew, for sharing your choice with us.
Disclosure: At time of writing, funds the author manages hold a long position in RDI. The funds or its affiliates may buy or sell securities of this issuer at any time.
Read more Just One Stock interviews »
If you are a fund manager and interested in doing an interview with us on just one stock or ETF position you'd hold, please email Rebecca Barnett.