Seadrill Limited (NYSE:SDRL) and Transocean Limited (NYSE:RIG) are the most popular top-tier offshore drillers, and should be part of any savvy portfolio. However, I believe that to show a balanced holding, we need to invest in another strong company that will complement effectively the two preceding ones, and will offer a different venue to profit from the offshore drilling industry, which is about to enter a new bullish cycle. My choice is Ensco Plc. (NYSE:ESV).
Recently, I have studied in-depth the fleet composition of SDRL, RIG, and also separately ESV, showing, for example, how a high-debt level is essential for a sustaining future growth. I believe now is the time to compare the three companies, based on my preceding articles, and see why ESV is a perfect match.
I am a self-made investor, and I give less significance to general financial indicators that many pros or want-to-be pros are using to select and evaluate stocks. My basic philosophy is that it is not easy to understand a multi-billion dollar company by analyzing restrictively a few ratios that can be gathered quickly from the balance sheet to conclude anything really meaningful and logical after that.
Of course, it is important to find an easy way to come up with a rational evaluation of the future potential of a company, however, there is a huge difference between simple and simplistic. If the financial ratios used (P/E, PEG, EV/EBITDA, BV versus cash flow...) are presented without a strong technical analysis that can justify the company's business model, it can be totally misleading.
I have discussed at length SDRL's supposedly high-level debt and its negative influence on a popular financial ratio called the EV/EBITDA used by many professionals to measure a company's business strength. The primary trouble is that debt always precedes future revenue, and by ignoring this basic fact, a company that has positioned itself for growth, as SDRL did efficiently, will be invariably presented mistakenly as an overvalued stock.
Using an actual enterprise value ("EV") with today's EBIDTA is not logical, and lacks business balance. The enterprise value takes the whole debt, and the current EBITDA is lacking the future revenue generated by the debt, hence an evident financial disconnect.
Why is Ensco Plc. my third winning candidate?
After reviewing several potential candidates, it was evident that Ensco Plc. was the best choice, and here are the five main reasons that explain why:
Ensco's jackups fleet is bigger than RIG and SDRL combined. This characteristic is the most important of all, and will allow us to profit from the entire offshore industry, from the floaters to the jackups.
The Ensco fleet size is comparable to SDRL and RIG, and provides the company with strong revenue.
Ensco has 12 new rigs in construction and only two semi-submersibles cold-stacked. Its fleet is young and well-balanced, with a strong backlog.
Ensco is paying a good and secured dividend.
Ensco stock is entering a bullish cycle.
Quick overview of the three companies' fleet
I will use three segments: Drillships, Semi-submersibles, and Jackups (including tenders.)
Comparative table:
Company

Drilling

Rigs

RIG

Idle

New

RIG

Drilling

Rigs

SDRL

Idle

New

SDRL

Drilling

Rigs

ESV

Idle

New

ESV

Drillships
22
9
31
6
12
18
4
6
10
Semi-subs
30
20
50
15
4
19
14
5
19
Jackups
11
6
17
24
8
32
37
9
46
TOTAL
63
35
98
45
24
69
55
20
75
As we can see clearly in the table above, Ensco owns the larger jackups fleet among the three. This characteristic is positioning ESV clearly apart from SDRL and RIG, which are more focused on the floaters.
Since the beginning of 2014, Ensco Plc. has sold three old jackups, Ensco 69, Wisconsin, and recently, Ensco 85 that was sold for $64 million above its book value of $54 million. Ensco Plc. has a total of eight rigs under construction right now, with five premium jackups and three ultra-deepwater drillships.
Here is a complete look of Ensco fleet:
| | | | |
| --- | --- | --- | --- |
| ESV | Drillships | Semi-subs | Jackups |
| Under-construction | 3 | 0 | 5 |
| Maintenance/shipyard/mobilized/idle | 0 | 4 | 3 |
| Stacked rig | 0 | 2 | 0 |
| Total rigs, including under-construction | 10 | 19 | 46 |
| Age average in year | 5 | 15 | 7.5 |
The jackup segment has not suffered as much as the floater segment. In fact, the premium jackups are in high demand, with increasing day rates. As we can see, ESV is also a new Drillship player, with three new drillships under construction.
Here is what Daniel W. Rabun, ESV CEO said in the last conference call:
Before I turn it over to David, I'll make some high-level comments regarding the markets. First, we still believe the recent downturn in the floater market will have a relatively short duration, and our recent order of 2 ENSCO 140 Series jackups reinforces our commitment to the shallow water market, where we continue to see positive customer demand. Second, the vast majority of the revenue outlook, we provided for 2014 on our last call is supported by contracted revenue backlog, so Ensco is very well positioned for 2014. And third, I think Ensco is better positioned than any offshore driller to weather any softness we see going forward.
From Pacific Drilling's (NYSE:PACD) last presentation, we can see that RIG and SDRL have a modern floaters fleet. ESV seems behind, however, it is one of the leaders of the jackup segment.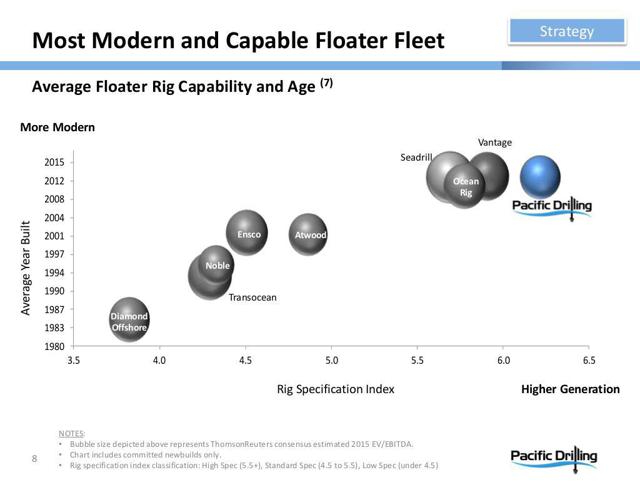 Revenue analysis:
Revenue

Q1 2014

$ billion

EBITDA

2014 (EST.)

(From Yahoo)

EV

$ billion

(From Yahoo)

Long-term debt

$ billion

Total

Shares

Million

EV/EBITDA
RIG
2.34
3.8
24.5
10.47
362
6.45
SDRL
1.221
*2.5/3.65
30.7
*14.22/12.42
469.1
12.2/8.4
ESV
1.187
2.4
17.03
4.75
233.7
7.1
* SDRL is forecasting $10 million per day in EBITDA for 2014. Yahoo indicates a much lower EBITDA.
* SDRL is indicating $12.42 billion in long-term debt, and Yahoo indicates a total debt of $14.22 billion.
Commentary:
If we analyze the ratio EV/EBITDA, both RIG and ESV are quite similar and present a low ratio compared to the industry average. It is more difficult to analyze SDRL with this particular ratio because the company has a high-level debt that has not affected the revenue and EBITDA yet. The company recently indicated $10 million per day in EBIDTA in 2014 as a goal, however, actual Q1 EBITDA is only $7 million per day. The full effect of the investment made by SDRL will be seen in 2015 and 2016, with the day rate for the 5th and 6th generation at or above $600k.
David Ethan Hensel, vice president of Marketing at ESV said at the last CC:
Nevertheless, we have seen the floater market soften this year, including some floaters going out of lease recently in certain regions as the supply of new rigs coming into those markets and delays in customer drilling programs have affected the balance of supply and demand. However, the jackup market, in general, has remained fairly strong.
These comments are particularly encouraging for the jackup sector, which is the strong character of the ESV fleet.
Dividend and contract backlog:
RIG, SDRL, and ESV have a high-level and safe dividend. All three companies have raised significantly the dividend on a regular basis, and even indicated numerous times that they had no intention to reduce or eliminate it.
| | | | |
| --- | --- | --- | --- |
| | RIG | SDRL | ESV |
| Dividend per year in $ | 3 | 4 | 3 |
| % per year | 6.71 | 10.14 | 5.58 |
| Backlog in $ billion | 26.1 | 18.8 | 10.7 |
All three companies have a very strong contract backlog that guarantees a steady cash flow and growth well after 2016. This is one major reason why these three companies will be able to pay the dividend for many years to come.
James B Swent, ESV CFO, said at the conference call:
In summary, we continue to have a very strong financial position that fully supports our dividend commitment of $3 per share annually. By virtue of doubling the dividend last year, we now have one of the highest dividend yields in the S&P 500.
Comparative chart YTD: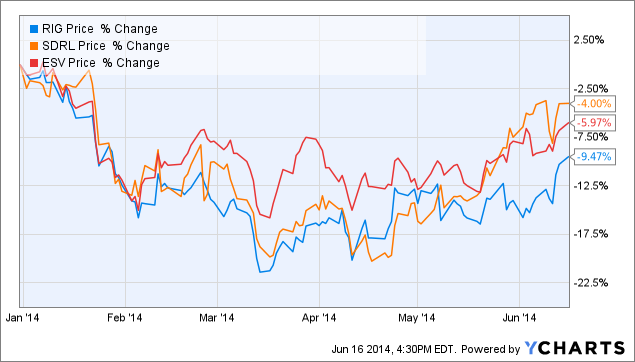 RIG data by YCharts
Although all three stocks seem a bit overvalued based on a technical point of view, however, the trend is definitely positive and indicates much higher stock prices for the end of 2014 and after. If we look at both the 50-day moving average and 200-day moving average, we can see clearly that they are about to cross, which is an important bullish indication called the "golden cross." This trend is further pronounced by multiple recent contracts, especially in the drillship sector (SDRL and Rosneft, ORIG, RDC...), and a change in analysts forecast increasingly more favorable.
Here the 1-year chart with the 50-day MA and 200-day MA.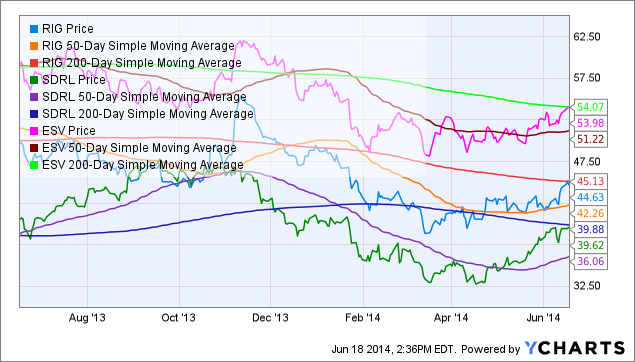 RIG data by YCharts
Conclusion:
SDRL, RIG, and ESV are my three favorite offshore drilling stocks. I believe they will do well in the second half of 2014 and the next two years. The sector is about to turn bullish again, and these three companies are positioned ideally to profit from this new situation and will have good potential for growth. ESV brings with it a strong presence, and will balance our portfolio with its modern jackup fleet.
Disclosure: The author is long RIG, SDRL, ESV. The author wrote this article themselves, and it expresses their own opinions. The author is not receiving compensation for it (other than from Seeking Alpha). The author has no business relationship with any company whose stock is mentioned in this article.