Markets provide an endless stream of opportunity for investors who perceive the markets from a different perspective than most run of the mill kind of advisers. To capitalize on the opportunity stream, one needs to identify signposts that define the predominant trend and then swim with the flow. Sometimes looking the basics provides more investment opportunities than any other. There is a basic truism that as our planets population increases more and more people need to eat for survival. Yet agriculture commodities are not considered to be the prime focus of many a market investors who go off in search of the next trendy hot technology stock or an unproven miracle stock to make some quick gains. Growing demand for commodities from fast developing economies, such as China and India, together with low global supplies, have been a huge factor in pushing the prices of commodities higher. Rising incomes in emerging economies and western influences are likely to trigger changes in worldwide food consumption.

With the financial crisis slowly fading into the past, speculation on agricultural commodities markets has returned in force. Food prices are climbing once again. Agricultural commodities could be poised for stardom in 2010 as weather concerns and alternative fuel needs throw up strong fundamentals, after lagging other commodity sectors this year.

Soybean Meal

The area with strongest fundamentals by far is the entire soybean complex including soybeans, soy meal and soy oil. It's a simple supply and demand story that has created extraordinary pressure on U.S. supplies of soybeans. New and robust demand for animal protein requires more soy-feed from emerging economies that represent roughly 50% of the world's population. Like many of the agricultural commodities, the world soybean market is currently affected by the same factors, which have helped soybean prices rise over the past 12 months.

Soybean meal is the dominant protein supplement used in U.S. livestock and poultry feeds. Technical uses include adhesives, cleansing materials, polyesters, and other textiles. But soybeans have many other uses, too. Most importantly, of course, they serve as a central ingredient in baby food, diet-food products, beer, ale, noodles, cooking oil, margarine, mayonnaise, salad dressing, shortening, etc. Lecithin is a natural emulsifier derived from soybeans. Several important low-fat sources of protein, such as tofu, miso, and soy-milk also use soybeans as a major ingredient.
Soybean meal is the most used vegetable protein feed in the production of animal feeds.
Argentina is the biggest exporter followed by Brazil, the United States and India.
The U.S. is the largest producer, followed by China and South American countries.
South East Asia (Vietnam, Thailand, Indonesia, Philippines, Singapore, Malaysia etc.), Taiwan, China, South Korea, Japan, Gulf and Europe are major importers of soybean meal.
Four countries make up 75% of world demand for soybeans: the United States, China, Argentina, and Brazil. Consumption growth has been the greatest in China and Argentina, increasing by 9% and 11% per annum respectively since 1991, compared with 1% in the United States.

Investing in Soybean Meal

Investing in soybean meal makes sense to a broadening range of traders as soybeans are increasingly being seen as a renewable resource not only for animal feed but also with its industrial applications. Diesel fuel with a soybean foundation has gained a wider following as an energy source, capturing the attention of the trucking and construction industry. So the economies of these markets impact soybean meal trading as well, an example of inter market influence.

Out of the entire Soybean complex consisting of Soybeans, soy oil and Soybean meal, the Dow Jones sub index tracks the Soybean (Dow Jones-UBS Soybean Sub-Index) and Soybean Oil ( Dow Jones-UBS Soybean Oil Sub-Index) markets closely. Despite rising trade volumes, Soybeans, just like Rough rice, continues to be devoid of any exclusive sub index nor does it has any exclusive investment vehicle like an Exchange Traded Fund, which can help bring multiple investors to this rising commodity segment. Analysts here at World Market Pulse feel that it's only a matter of time before the Soybean complex family will have an exclusive Exchange Traded Fund with major holdings for each of the constituting Soy commodities.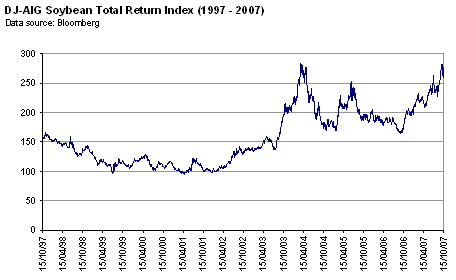 Soybean Meal Futures at CME:

Ticker Symbols
Open Auction: SM
Electronic: ZM

Contract Size: 100 Short Tons (~ 91 metric tons)

Deliverable Grade: 48% Protein Soybean Meal, meeting the requirements listed in the CBOT Rules and Regulations

Pricing Unit: Dollars and Cents per short ton

Tick Size (minimum fluctuation): 10 cents per short ton ($10.00 per contract)

Contract Months/Symbols: January (NYSE:F), March (NYSE:H), May (NYSE:K), July (NYSE:N), August (NYSE:Q), September (U), October (NYSE:V) & December (NASDAQ:Z)

Trading Hours:
CME Globex (Electronic Platform): 6:00 pm - 7:15 am and 9:30 am - 1:15 pm Central Time, Sunday - Friday
Open Outcry (Trading Floor): 9:30 am - 1:15 pm Central Time, Monday - Friday

Daily Price Limit: $20 per short ton expandable to $30 and then to $45 when the market closes at limit bid or limit offer. There shall be no price limits on the current month contract on or after the second business day preceding the first day of the delivery month.

Settlement Procedure: Physical Delivery

Last Trade Date: The business day prior to the 15th calendar day of the contract month.

Last Delivery Date: Second business day following the last trading day of the delivery month.


Soybean Meal Options
Ticker Symbols
Open Auction: MY for calls/MZ for puts
Electronic: OZM

Contract Size: One CBOT Soybean Meal futures contract (of a specified contract month) of 100 short tons

Tick Size: 5 cents/short ton ($5/contract)

Strike Price Intervals: $5/short ton when strike price is less than $200/short ton; $10 per short ton when strike price is $200/short ton or over. At the commencement of trading, 10 strikes above and 10 below the at-the-money strike are listed.

Contract Months: Oct, Dec, Jan, Mar, May, Jul, Aug, Sep; a monthly (serial) option contract is listed when the front month is not a standard option contract. The monthly option contract exercises into the nearby futures contract. For example, a February option exercises into a March futures position.

Last Trading Day: For standard option contracts: The last Friday preceding the first notice day of the corresponding soybean meal futures contract month by at least two business days.

Daily Price Limit: $20/short ton ($2,000/contract) above or below the previous day's settlement premium. Limits are lifted on the last trading day.


Top Companies Involved with Soybean Meal And Soybean, Soybean Oil

Bunge Limited (NYSE:BG): Bunge Limited (Bunge) is a global agribusiness and food company operating in the farm-to-consumer food chain. The Company is engaged in oilseed processing, producing and supplying of fertilizer to farmers in South America and selling of packaged vegetable oils worldwide.

Market cap 7.45B
P/E 4.05

Archer Daniels Midland Company (NYSE:ADM): Archer-Daniels-Midland Company procures, transports, stores, processes, and merchandises agricultural commodities and products in the United States and internationally. The company's Oilseeds Processing segment engages in processing oilseeds, such as soybeans, cottonseed, sunflower seeds, canola, rapeseed, peanuts, and flax seed into vegetable oils and protein meals for the food and feed industries.

Market Cap: 18.38B
P/E (ttm): 11.77

World Market Pulse Global Projections: Soybean meal world trade forecast is at 56.62 million MT, as per USDA stats, which is approximately one third of its total production. Soybean meal is the most traded vegetable protein meal in world markets used in animal feed. Argentina is expected to export more than 50% of the total world Soybean meal exports in 2010-11. Eu-27 is the major destination for Brazilian soybean meal.

Brazil Soybean Meal Market: Soybean meal demand for 2010 is estimated at 11.2 million MT compared to 10.5 million MT in 2009. Soybean meal accounted for 16.5% of total animal feed in 2009. Soybean meal estimated exports stood at 12.85 million tons for 2009-10 while for 2010-11 exports forecast stands at 13 million MT. EU-27 is the biggest importer of Brazilian soybean meal, importing more than 2/3rd of the country's exports. Thailand, South Korea, Indonesia, Saudi Arabia, Iran & Cuba are the other major importers of soybean meal from Brazil.

Asian Outlook: Soybean meal supplies from India, Asia's biggest exporter, are likely to drop as much as 34 % this year as a surge in local seed prices prompts buyers to shift to South American and U.S. supplies

Disclosure: No positions