Google (NASDAQ:GOOGL)(NASDAQ:GOOG) is planning to launch a new health and fitness platform called Google Fit at the upcoming Google I/O 2014 conference for developers, to be held in San Francisco on June 25 and 26. Google Fit will be used for collecting and aggregating data from fitness tracking devices and health-related apps. Apple (NASDAQ:AAPL) recently announced that it plans to enter into the mHealth (mobile healthcare) market with the launch of its HealthKit, a part of its iOS 8 SDK. In an article a few days ago, we discussed Apple's potential in the mHealth market. The launch of Google Fit is going to be Google's answer to Apple's HealthKit.
Can Google Succeed This Time?
After an unsuccessful attempt to offer personal health record management service with its Google Health, which the company introduced in 2008 and withdrew in 2012, this time Google is targeting wearable devices instead of healthcare providers or patients for collecting health-related data. Although it is still not clear whether Google Fit will be available as a standalone downloadable app or an integrated part of the next version of Android, we strongly believe that Google Fit is going to succeed this time because it will collect data from wearable third-party devices like Fitbits, Jawbone UPs or Nike FuelBands, products with an established market presence that have some sustainable competitive advantages. Google Health directly depended on healthcare providers and patients for collecting data, who didn't see enough value in storing data on the company's servers, and as a result, the service failed.
Google announced in March that it will launch Android Wear, a platform that will extend the Android OS to wearable devices. With Android Wear, users will be able to set exercise goals with reminders and get fitness summaries instantly using appropriate fitness apps. We think that Android Wear will perfectly supplement Google Fit in the growing mHealth marketplace.
In the next generation of the Android OS that will replace Android 4.4, which is set for launch at the Google I/O conference, the tech giant is expected to introduce Android Wear. While some people believe that Google Glass was a flawed project and perhaps rightly so, we believe that with Android Wear the company can overcome some of the shortcomings of the Glass project. Although the Glass project made people expect that Glass would help them do hundreds of cool things, their expectations remained unfulfilled without an appropriate OS. Android Wear is expected to boost the efficiency of Glass. However, due to regulatory hurdles, Glass will not see wide adoption in healthcare anytime soon.
Earlier this year, Google unveiled its contact lenses for monitoring glucose levels in tears with the help of a tiny sensor and a wireless transmitter. Although the contact lenses will not be commercially available until 2019, the lenses would have the potential to replace the self-administered blood tests from finger pricks when launched. Google is planning to emerge as a healthcare leader with the launch of many such wearable devices in future. The launch of Google Fit will provide a common platform to the company's upcoming devices and several other third-party devices.
How Does Google Stack Up against Apple in mHealth?
Although iOS has trailed Android in terms of global market share, Apple's iPhone and iPad have set the standard for several other mobile devices in the healthcare marketplace. Market research and data shows that iOS continues to hold its leading position in the US in healthcare with an "iOS first" strategy being the recommendation for healthcare marketers and brands. Moreover, with the recent launch of HealthKit, Apple will continue to enjoy this competitive advantage over Google at least in the near term because it will help developers write numerous health-related apps that will run on iOS. Some of these apps will make use of the sensors built into smartphone hardware, such as the accelerometer, gyroscope, magnetometer, proximity sensor and luxmeter. The launch of HealthKit along with the iOS 8 SDK is the biggest ever developer release with more than 4000 new APIs.
Doctors using iPhones or iPads will be able to join the mHealth bandwagon almost immediately. "With more than 800 million iOS devices sold worldwide, the opportunity for developers is huge," said Craig Federighi, Apple's senior vice president of Software Engineering. "This is the biggest iOS release since the launch of the App Store. The iOS 8 SDK delivers more than 4,000 new APIs including amazing new frameworks, greater extensibility and a revolutionary new programming language."
HealthKit APIs will help health and fitness apps to communicate with each other. For example, the blood pressure app could share its data with a physician app, which will enable the doctor to provide high-quality guidance and care. For Google, the availability of health-related apps will be limited initially in the absence of appropriate APIs. However, Android Wear will eventually lead to success supported by Google Fit, although it will take time. We expect that Android Wear will provide enough tools to Google app developers for creating health-related apps that can compete with iOS-based apps. Google Fit will help doctors and patients in using the apps by simplifying data handling. Moreover, the release of premium Android-based devices by Samsung (OTC:SSNLF), HTC (OTC:HTCKF) and LG (OTC:LGEIY) will also position Google as an iOS competitor in mHealth sooner, rather than later, most probably within two years.
Final Words
For investors, we don't believe that the upcoming launch of Google Fit is going to be a significant event due to the company's rich valuation. The stock is trading with a much higher P/E multiple compared to Apple, with a meaningful part of the company's future success priced in.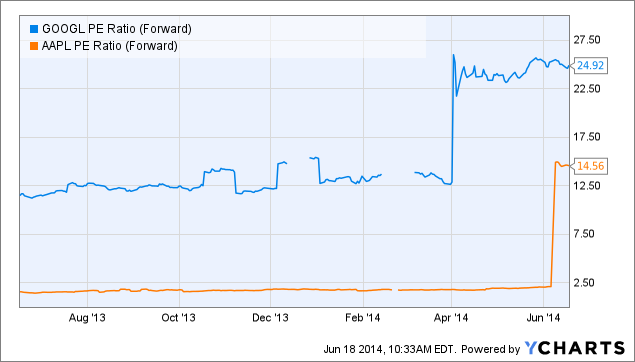 GOOGL PE Ratio (Forward) data by YCharts
Google is a long-term play in mHealth. We would advise investors to wait patiently for a dip before buying the stock.
Business relationship disclosure: The article has been written by a BB Research stock analyst. BB Research is not receiving compensation for it (other than from Seeking Alpha). BB Research has no business relationship with any company whose stock is mentioned in this article.
Disclosure: The author has no positions in any stocks mentioned, and no plans to initiate any positions within the next 72 hours. The author wrote this article themselves, and it expresses their own opinions. The author is not receiving compensation for it (other than from Seeking Alpha). The author has no business relationship with any company whose stock is mentioned in this article.