One area of the market that has outpaced most industry groups is gold. Yesterday, gold hit a new high of $1,309 an ounce, as investors buy every dip in price for the precious metal. My target of $1500 remains unchanged, that's 15% upside.
The reasons for gold's popularity are clear. A weak U.S. dollar, a promise of more monetary stimulus from the Fed and an uncertain outlook for the U.S. economy, along with currency weakening moves from Japan and England, have sent investors clamoring for an asset that can protect the value of their wealth.
Current conditions underlying gold's rise are not likely to end anytime soon. And now, gold mining companies are starting to acquire other miners to maximize their profits from high gold prices.
One stock caught up in the bidding battle is Capital Gold (CGC-OLD). CGC is up over 20% in two days on high volume. With a forward P/E of just 11, it's clear that the offer was too low. And investors agreed, sending the stock higher in anticipation of a higher bid. Currently trading around $4.80 a share, a reasonable offer for this company, which has one of the lowest cost structures in the industry, could be as high as $6.50. That would represent another 35% gain for investors. We have owned this stock in the past, and reviewed it in videos. Owners of the stock should not look to sell and those looking to enter a new position can look to buy near $4.50. Shares should take out $5 before a larger pull back occurs, with $5.40 my short term target. (Click to enlarge)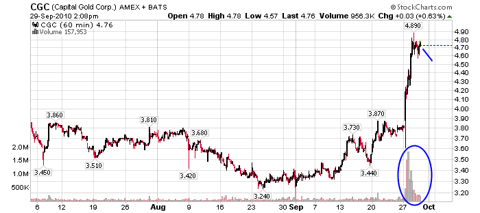 Capital Gold has recently breached $4.01 resistance on higher volume
In the chart above, shares have moved 40% higher over the past three weeks. This week CGC took out resistance near $4 on higher than normal volume. The move took the stock to higher highs and is up 20% this week.
Shares encountered resistance near $5, but volume has dried up. The lack of selling indicates more highs on on the way. The stock is building strength for a move that will take it above $5 and to my target of $5.40. A great time/place to buy is near $4.50 on a light volume decline.
Disclosure: None