ConocoPhillips (NYSE:COP) and Devon Energy (NYSE:DVN) have been two of my favorite positioned North American oil and gas production companies for several years running. I mentioned both of them in one of my first Seeking Alpha articles, outlining the best long-term energy stock investments back in November of 2013.
They have continued to zig-zag higher in price and my bullish feelings on the tandem have not changed much, if it all. Stock quotes have risen nicely for each since November, which would seem to argue for valuations being a little stretched. However, at the same time, higher oil/gas prices and smart management of long-term assets have pushed the intrinsic worth of the businesses up at a similar rate. Providing a solid foundation for future investment gains, the underlying "value" for the shares in both companies is likely still higher than present stock pricing.
Both continue to witness strong stock buying trends and trading activity. ConocoPhillips is currently ranked #8 in my proprietary model of fundamental and technical data, while Devon is ranked #9. That's out of the entire universe of 1000+ mid-cap and blue-chip stocks I dig through each week.
Will these two continue to lead the stock market the rest of 2014? I do not know for sure. The Victory Formation system can only pinpoint current buying trends. Sometimes stocks can continue to score well and rise strongly for many months; other times they fall out of favor for a few months with investors before returning to the top of the list time and again for several years; and, in other instances a stock can reach the top of the list for just a week or two, then fall back into average price movement and trading behavior for years thereafter.
The future of both ConocoPhillips and Devon, in particular, could be quite positive going forward. The two companies are leaders in North American oil/gas exploration and production. As multiple and growing problems with oil asset ownership overseas are becoming evident to all the last several years, I have been suggesting investors focus on safer U.S. ownership of oil and gas. In 2014, political turmoil in the Ukraine and its important natural gas transit route to western Europe; still unresolved issues with Iran over its nuclear development program; civil strife in Egypt, Libya and Syria; and lately a disintegrating political situation in Iraq are all putting pressure on the ownership rights of foreigners, including U.S. energy companies. Supply shortcomings in Europe and the Middle East will encourage heightened demand for American production, exactly where ConocoPhillips and Devon sit!
Peak Oil supply is here and now!
Additionally, I am a believer the world has reached Peak Oil supply, alongside a long list of other non-renewable resources approaching their limits. You can read a discussion about Peak Gold supply in another Seeking Alpha article I wrote in April. We have gone from drilling in Texas a few feet underground to finding flowing liquid deposits of crude oil in the 1950s - to drilling one mile under the sea or three miles underground in search of black gold - to trying to extract small oil amounts from shale and sand today! Just like other commodities, the costs of drilling and extraction have been skyrocketing the last 10-15 years, as we appear to have reached the outer boundaries of global production. Overall, crude oil production supply on the planet has risen just 10% since 2000, while the "cost" of production has more than tripled!
Has the world reached its long-term limit of sustaining ever rising human population numbers? Consider these facts - the globe had an estimated 500 million people in 1600 which doubled to one billion in 1800, a good 200 years later. Then came the Industrial Revolution with higher living standards, new innovations and inventions to support mankind, and slow but steady advances in medical care to allow us to live longer. The population again doubled to two billion in 1950, over a 150-year period. In modern times, relative calm on the planet from smaller more limited wars, burgeoning rates of medical and drug invention, the free movement of people and ideas in the Information Age, all protected and supported by American political and military intervention created an explosion in the population. We have created a 200-300 year increase in the planet's population over just two or three generations since 1950, as we have ballooned from 2 billion to 7 billion people in 2014! Over the last couple of decades, forward thinkers have realized we cannot stay on the present population growth path. Honest and sustainable population estimates for mankind's long-term survival, based on repeatable, organic farm growing techniques and the onset of a rapid depletion of the planet's natural resources the last 60 years indicate Mother Earth cannot support more than 2 or 3 billion people for long!
While forward thinkers have been debating possible population limits for 200 years, since the 1798 groundbreaking writings of Thomas Malthus regarding population growth from economic advances, it appears we may have actually reached the endpoint of earth's ability to support billions of people easily. If we have reached the limits of low cost oil and gas production, investors owning long-life reserves and production in America may be richly rewarded in coming years. Companies like ConocoPhillips and Devon Energy are in the bulls-eye of desirability if you believe such.
Lately, most of all the wars between/inside nations and friction in western societies from skewed distributions of income can be linked DIRECTLY to an overpopulation problem on the planet. With out-of-control money printing by central banks a final effort to support an economy and human existence that cannot mathematically stay at such lofty heights, our society and the mainstream media should probably focus more attention on this critical root cause of mass human suffering on the planet. Too many people chasing a depleted resource base on the planet means expectations for living standards are too high, and our children will likely see falling living standards no matter what Washington or the Federal Reserve bank do to combat it. If we are all properly prepared for this eventuality, it doesn't have to be depressing or earth shattering. Such a scenario is already taking place whether or not we understand or accept it, I would argue.
The biggest "risk" for mankind is future battles for dwindling natural resources will lead to major wars and large scale destruction. Early evidence of this risk is today showing up in the friction in Ukraine (with Russia and the West struggling to control the industrial base, farm lands and oil/gas resources of eastern Ukraine), the Middle East (who gets to own and profit from the oil riches?) and China's recent military push for oil resources in the seas near Japan, Vietnam and the Philippines. Future confrontations will surely materialize as economies fail to grow, but prices for basic commodities skyrocket from the lack of supply growth. Out-of-control money printing by central banks trying to maintain societies and economies will be with us for decades, especially without the hard money, gold standard backing of important currencies in 2014. Thomas Malthus predicted societies would implode and fall apart from rising commodity prices, especially food costs, pushing standards of living for the masses straight down when the limits of natural resource supply were reached. Nobody can fault him for being two centuries early in his prediction I suppose.
Fundamental Valuations
ConocoPhillips is trading at an estimated 13x earnings per share for 2015, given modest oil/gas pricing by Wall Street analyst consensus. The company pays out a robust dividend rate of 3.3% at an $83 stock price, and the dividend payout has an excellent long-term history of rising each year. If you believe high rates of commodity inflation are coming like I do, ConocoPhillips is akin to owning an inflation-adjusted CD that will witness dividend payouts, stock buybacks and production volumes increase over time, without having to trust the bank or Washington politicians to treat your investments fairly! The company's debts and total liabilities are manageable and falling. Plus you own some of the highest margin, biggest reserve and most diversified oil/gas resources in America when you buy ConocoPhillips.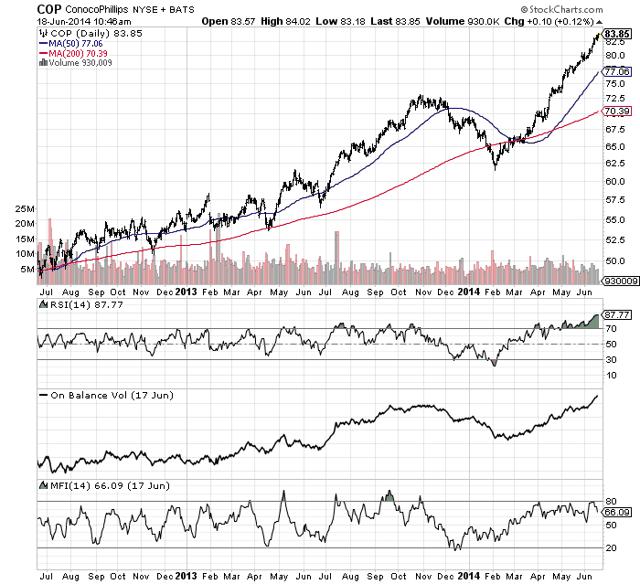 Click to enlarge
Charts courtesy of StockCharts.com
Devon Energy is priced at an estimated 12x earnings per share for 2015 results by Wall Street analyst consensus. Devon carries more debt than ConocoPhillips and pays out a much lower 1.2% dividend rate at $78 per share, but the company has a great production growth profile in coming years. While the company is a major natural gas producer with annual growth rates of 10% projected, 2014 total crude oil production is projected to grow by 30% over 2013, and 2015 production by 20% over 2014. George Soros has noticed the value in Devon, as have a long list of other old-time investors the last several years. Mr. Soros added shares in 2014. Both ConocoPhillips and Devon are major players in the Texas Eagle Ford shale formation, and expect to see strong exploration and production results in the near future from this area of the country. There are plenty of solid articles on Seeking Alpha explaining the operations of both companies in detail. Please read them if you are considering either for purchase. I would also recommend you peruse the Investor Relation website sections for each business and review some SEC 10-K and 10-Q filings to educate yourself on the assets you are buying.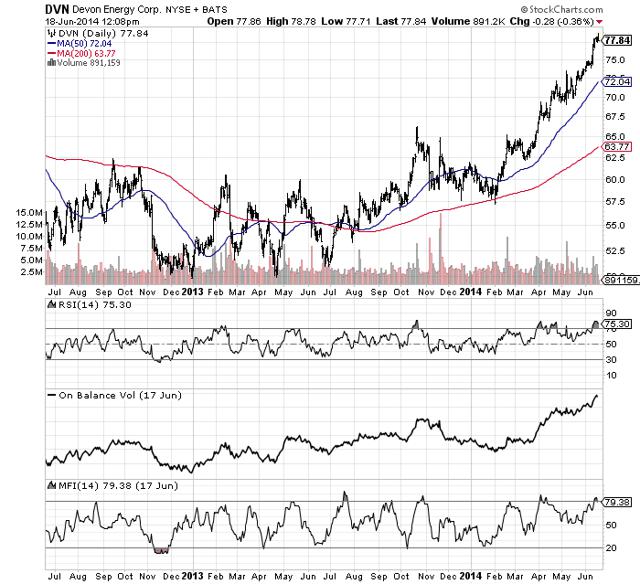 Click to enlarge
Conclusion
If you are bullish on oil and gas prices, ConocoPhillips and Devon Energy appear to be interesting risk/reward selections. Under normal operating conditions, both are projected to earn oversized income streams for their stockholders decades into the future. For long-term investment in energy assets, the two companies remain top notch choices. Buying trends and trading activity point to the strong possibility of even better stock returns to come, especially if you have the patience to hold them more than a few months. The biggest risk to investment is a stock market crash and/or major recession. Of course, plenty of alternative investment options will do worse under such a scenario. If you believe that is our future in 2014-15 (the arguments for a devastating bear market or recession have decent merits in June 2014 by the way), you should probably avoid all equity investments for a spell. However, in past bear markets and recessions, large capitalization oil and gas investments have often proven a good place to hide and/or make a profit in a supply disruption situation. On a personal note for full disclosure, I exchanged my positions in ConocoPhillips and Devon in favor of better scoring Newfield (NYSE:NFX), Suncor (NYSE:SU) and other oil/gas names earlier in the year. You can find my write-ups on Newfield here, and Suncor here. I could and may roll back into ConocoPhillips and Devon, depending on trading patterns and valuations at any time. As I have written in previous articles, investors have numerous oil/gas options today that are outlining strong returns for stakeholders. ConocoPhillips and Devon Energy are two of the larger, more conservative choices available.
Disclosure: The author is long NFX, SU. The author wrote this article themselves, and it expresses their own opinions. The author is not receiving compensation for it (other than from Seeking Alpha). The author has no business relationship with any company whose stock is mentioned in this article.
Additional disclosure: The author may initiate a long position in COP or DVN over the next 72 hours.