June is busting out gold and silver and all over the junior miners (NYSEARCA:GDXJ) which is up close to 30% this month alone. Are the black swans waking you up from the summer doldrums? The technical signals are turning positive for gold (NYSEARCA:GLD), silver (NYSEARCA:SLV) and the junior gold and silver (NYSEARCA:SIL) miners. The record shorts such as hedge funds and high speed traders who have been manipulating the paper market may soon run scared as major accumulation has entered the sector this month.
Black swans are apparent all over the horizon which could boost gold and silver prices. Look at the news Russia cuts off gas from Europe, Baghdad May Fall to Jihadists, 3 Bible Students in Israel Kidnapped by Hamas and the list goes on and on. There is a lot of tension and uncertainty that could shake the large cap equity markets which are overbought and inflated.
Look at the increase in volume and price appreciation in the gold junior miners so far in June. The 3 month downtrend has been broken as well as the 50 and 200 day to the upside. Major accumulation in the junior gold miners may be forecasting black swans and higher precious metal prices.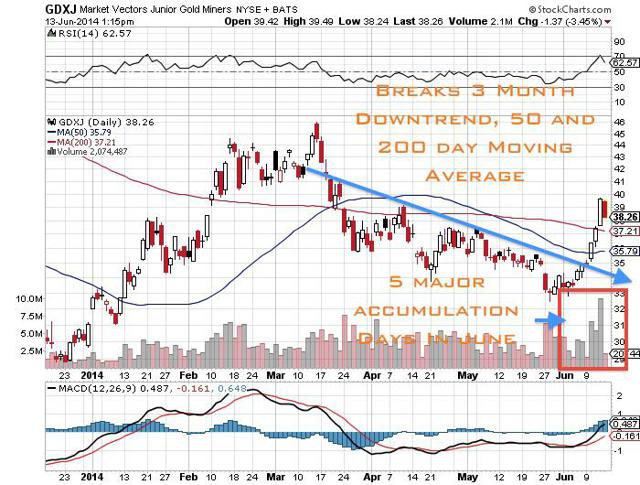 Click to enlarge
Gold and silver have held the lows and major volume and big money is coming into the sector. The record short position may already be running from cover. The Junior Gold Miner ETF is already up 15% this month.
With geopolitical tensions increasing in the Middle East and Eastern Europe get ready for a big breakout at $1400 on gold. The move in the junior miners and silver could be huge and provide great leverage to the price of gold bullion.
Also watch the oil price (NYSEARCA:USO) making a big jump as all of Iraq's oil is at jeopardy of being lost as Al Qaeda takes over key areas which may include the capital Baghdad. Higher energy prices could influence the inflationary forces here in the United States creating a possible stagflation. Investors should keep a close eye on platinum (NYSEARCA:PTM), palladium (NYSEARCA:PALL) and uranium (NYSEARCA:URA).
Remember the US, European and Japanese economies are not growing, yet equity and food prices are soaring. The stock market and US bonds are way overvalued, while gold, silver and junior miners are just beginning to breakout of a multi-year base. As accumulation continues in the precious metals look for the record short position in precious metals to cover.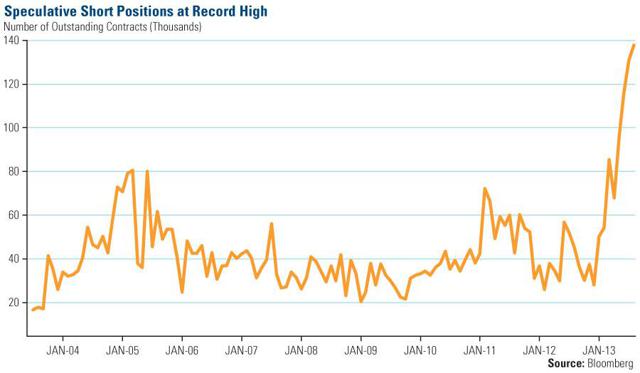 Click to enlarge
The accumulation in high quality junior gold miners is happening right before our very eyes. For instance I have shown my readers many different examples of oversubscribed financings in the junior resource sector. For these three factors look for gold to reverse possibly making gains of 4-5% daily to possibly break through $1400 before Labor Day.
1) Investment demand is soaring demonstrated in oversubscribed private placements in junior miners.
2) Record volume in the market of junior gold mining ETF is showing increased accumulation.
3) Record short position may soon need to cover.
This leads me to believe that gold and silver prices are about to take off in a major way and break the critical $1400 mark possibly by Labor Day.
Disclosure: The author has no positions in any stocks mentioned, and no plans to initiate any positions within the next 72 hours. The author wrote this article themselves, and it expresses their own opinions. The author is not receiving compensation for it. The author has no business relationship with any company whose stock is mentioned in this article.