SA contributor Seeking Profits recently argued that Kinder Morgan Energy Partners L.P. (NYSE:KMP) is pretty much a "Sell" at the $80 level. Specifically, the author pointed out:
As I believe in the US energy boom thanks to major finds in the Eagle Ford and Permian, I am generally a fan of the pipeline business. However, KMP has been diversifying away from this business into new ventures where it does not have an established core competency. This is troubling to me and could suggest that growth opportunities in the pipeline business may not be as big as I previously hoped.
While I respect the author's opinion, of course, I will strongly disagree with the assumption that Kinder Morgan Energy Partners: 1. Has no core competency in the tanker business; and 2. Growth opportunities in its core midstream business are subsiding or disappointing.
First off, I have pointed out in a recent article about Kinder Morgan's push to expand its tanker fleet, that the energy giant conducted opportunistic acquisitions of American Petroleum Tankers and State Class Tankers for $960 million at the beginning of the year and indeed acquired "core competency". Secondly, natural gas is one of the commodities forecast by the U.S. Energy Information Administration to boom the most over the next 20 to 30 years. Just consider this 'older', yet remarkably up-to-date, EIA chart which highlights the projected growth prospects of natural gas production in the United States: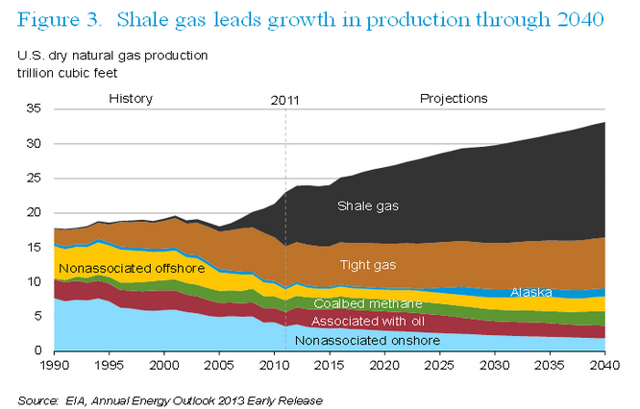 Click to enlarge
(Source: U.S. Energy Information Administration)
Kinder Morgan has rightfully identified unparalleled growth opportunities in the natural gas business. Just consider the following slide from Kinder Morgan's Investor Presentation: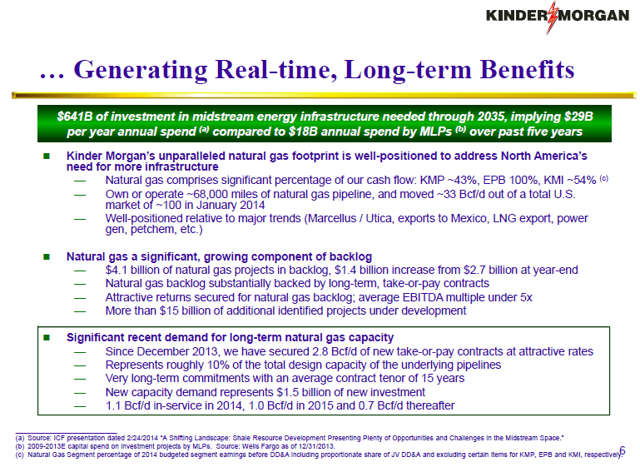 Click to enlarge
(Source: Kinder Morgan Investor Presentation)
As pointed out above, natural gas is the growth opportunity in the United States. Kinder Morgan Energy Partners, for instance, derived 60% of its first quarter revenues from its core natural gas pipelines business and 46% of its total segment EBDA (earnings before depreciation, depletion, amortization and amortization of excess cost of equity investments). Kinder Morgan went all-in on the natural gas story and I am happy it did.
Trading in and out of a high-yield investment not a good idea
Seeking Profits also concluded that $80 was a "reasonable price" for Kinder Morgan Energy Partners as "it currently yields less than 7%".
Generally, I think trading high-yielding income investments and trying to time entry and exit points, are very bad ideas.
The very essence of high-yield income investing is to hold on to an investment and benefit from a constant stream of income, preferably over more than just business cycle. Similar to real estate investment trusts or business development companies, high-yield energy investments provide investors with a structured approach to generate long-term wealth.
Using a yield of "less than 7%" as a reason to sell a growing business, which, by the way, still massively outperforms most other income investments in a variety of asset classes, appears to be at least short-sighted.
In fact, I would suggest that investors adopt a long-term investing mindset and ruthlessly take advantage of market uncertainty or sell-offs and to add more to a very solid, yet promising high-income play should Mr. Market experience a hiccup.
Chart picture
As can be seen below, Kinder Morgan Energy Partners' units have indeed rebounded strongly since February. With solid distributable cash flow growth, the key metric to be concerned with, KMP has much more potential to grow.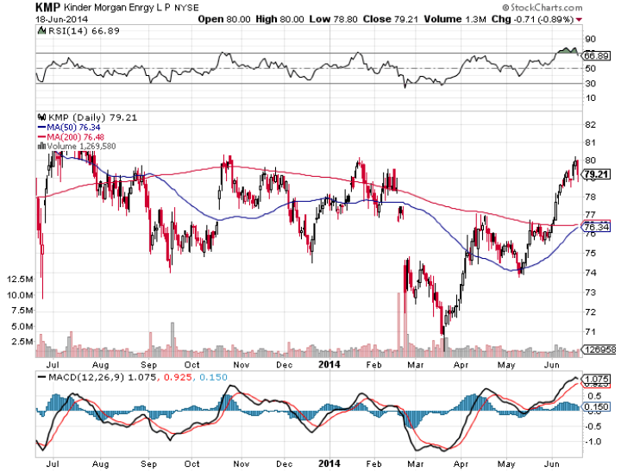 Click to enlarge
(Source: StockCharts.com)
Kinder Morgan, Inc.'s (NYSE:KMI) shares also increased in lockstep with the units of KMP. After KMI delivered first quarter results, Goldman Sachs reiterated its Buy rating for KMI with a target price of $44.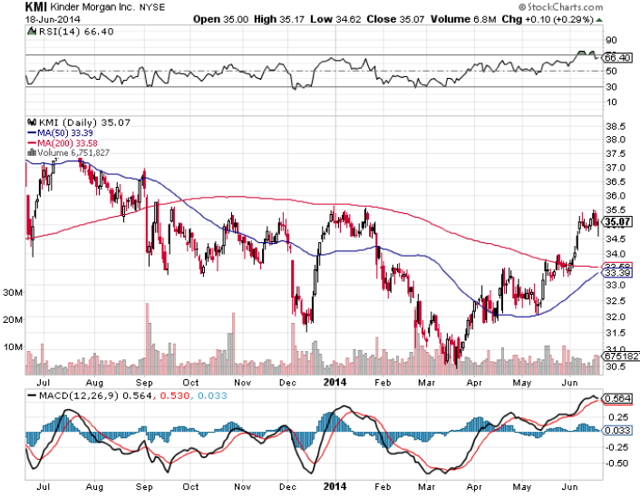 Click to enlarge
(Source: StockCharts.com)
Conclusion
Kinder Morgan Energy Partners' distribution record speaks for itself. The company has repeatedly shown that it can grow distributable cash flows, which are underpinning distributions, at a respectable rate.
With strong economics in the domestic natural gas business and an energy business that sits right at the center of the domestic natural gas production boom, the odds are simply stacked against a pessimistic outlook for KMP.
I would continue to recommend KMP for serious long-term investors who desire recurring income (and who hopefully reinvest distributions) and would strongly advise against trading of high-yield income structure of any sort. Strong Buy.
Disclosure: The author is long KMP. The author wrote this article themselves, and it expresses their own opinions. The author is not receiving compensation for it (other than from Seeking Alpha). The author has no business relationship with any company whose stock is mentioned in this article.