According to chief executive Elon Musk, Tesla Motors (NASDAQ:TSLA) plans to construct a manufacturing plant in Europe once it sells over 160,000 of its electric cars in the region.
In addition, the American electric car manufacturer plans to launch a research and development division in England within two years and expand its final assembly production in Tilburg, Netherlands, which re-installs batteries into Tesla cars imported into Europe from America.
"My aspirations for Europe are that we sell a comparable number of cars in Europe as the U.S.," Musk told Automotive News Europe at a London event to celebrate the first delivery of the Model S sedan into England.
Expansion in China
Moreover, Tesla expects to increase deliveries of the Model S auto by increasing sales in China and certain overseas markets by at least 55 percent.
Musk indicated that the company will need to open a battery "gigafactory" to overcome production constraints in order to reach the expansion goals of its affordably priced electric cars within three years.
At a conference in Beijing in April, Musk stated that the company expects to build a local manufacturing plant in China within three to four years. This would allow Tesla to sell its vehicles at less expensive prices by eliminating the 25 percent import tariff imposed by China.
Currently, the company builds the Tesla Model S near Fremont, California, in a manufacturing plant that housed New United Motor Manufacturing, Inc. (NUMMI), which was a joint venture between Toyota and General Motors.
Strong Sales in Europe; Additional Plans For Growth
Currently, Tesla manufactures only one automobile, its Model S five-door premium sedan.
Sales in Europe of the car reach 3,467 units within the first 120 days, as reported by JATO Dynamics market researchers. This compares favorably with U.S. sales of 2,050 units.
Tesla indicated that once international sales exceed 500,000, it makes economic sense to construct factories in China and Europe. Musk noted that sales of Tesla vehicles will most likely be evenly split between the United States, China and Europe.
England vs. Norway: Competing For Highest Model S Sales
At the celebration in London, Musk stated that he expects the sales in England to surpass Norway as the largest market for Tesla in Europe. In England, the Model S is priced from 49,900 pounds ($83,249, 61,770 Euros), and can be purchased at the sole U.K. dealership located in the Westfield shopping mall in London.
Launch Of Two New Models
In addition, Musk noted that Tesla expects to launch the Model X electric SUV in the United States during the second quarter of 2015, and sales in Europe to begin around the end of 2015.
Afterwards, Tesla expects to launch an affordable electric vehicle that will be approximately 20 percent smaller than the Model S. The price of this car will be about 25,000 pounds, or 31,000 euros. The launch is expected in approximately three years.
A True Growth Company
Tesla has shown exceptionally strong and steady growth.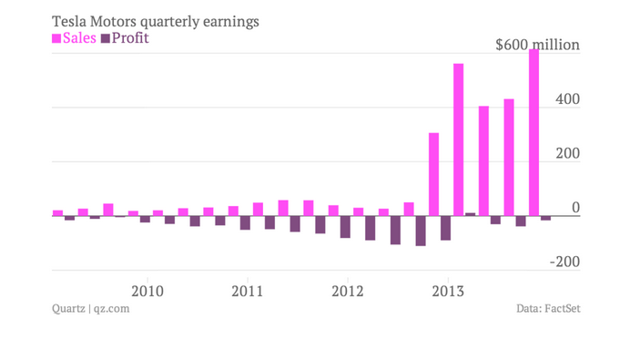 (Source: Quartz)
As illustrated above, sales have skyrocketed in the past two years, while narrowing net losses significantly.
The market for electric vehicles grows only larger as the EPA and individual companies, such as Ford (NYSE:F), roll out more stringent environmental standards.
In China, luxury brands continue to be increasingly popular, and Tesla's Model S certainly fits this category. In 2013, Tesla was a leading luxury brand in the U.S. as well.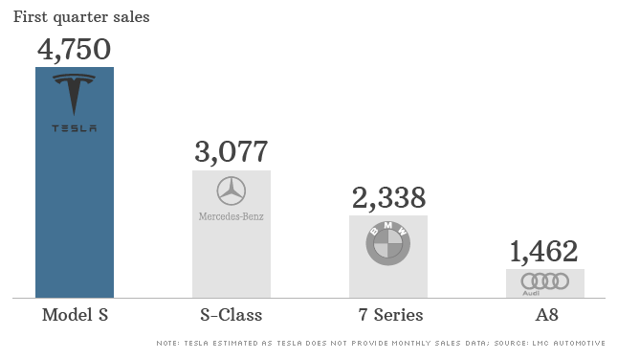 (Source: CNN Money)
We are increasingly positive on Tesla going forward in 2014 as its solid growth strategy and market influence begin to play out on a global scale.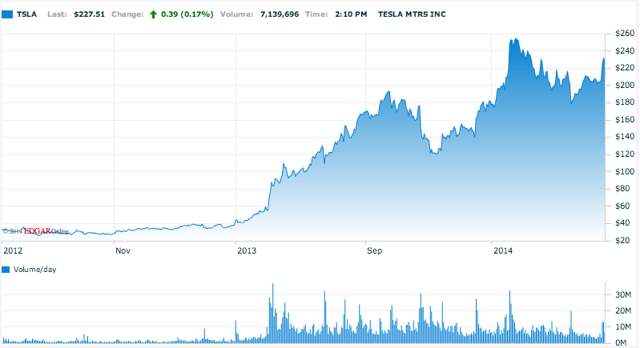 (Source: Nasdaq.com)
Disclosure: The author has no positions in any stocks mentioned, and no plans to initiate any positions within the next 72 hours. The author wrote this article themselves, and it expresses their own opinions. The author is not receiving compensation for it (other than from Seeking Alpha). The author has no business relationship with any company whose stock is mentioned in this article.