General Motors (NYSE:GM) continues to sit in the hot seat on safety issues as their list of ignition switch plagued vehicles grows.
GM has been dealing with problems not only with the faulty switches themselves but also with accusations that they hid the problem and continued to sell the cars without notifying buyers of the safety issue.
The constant negative stories have driven GM from its status as a successful comeback company to an irresponsible malefactor in the space of just a few months.
GM's Failure To Act
At issue was General Motors' lack of action in regard to a known problem with the ignition switch on a number of its vehicle models.
In February of 2014, the company was finally forced to issue a recall order for affected models. However, evidence indicate that the company was aware of the problem as early as 2004, but no remedy was posed to correct the issue nor was a warning issued to owners of the vehicles in question.
At one point, the simple fix of changing a key ring was proposed to avoid ignition switch problems. However, owners of the Chevrolet Cobalt and Saturn Ion vehicles, like many car owners, often carried a number of other keys on their key rings. The added weight on the rings contributed to the switch-off problems, leading to an estimated 13 deaths due to the switch malfunction.
A Growing Crisis
Further problems surfaced rapidly.
In June of 2014, General Motors announced the recall of another 3.4 million vehicles for ignition switch problems.
These problems are similar to the earlier faulty ignition but affects mid-size and full-size vehicles in which the switch can be jarred out of the running position, thus shutting down power to the steering, air bags and brakes. The most recent recall involves the Chevrolet Impala, Buick LaCrosse and Cadillac DeVille models, along with a few others manufactured between the years of 2000 and 2004.
Though earlier reports did not negatively affect GM vehicle sales, this growing list of affected vehicles is likely to make car buyers more skittish. The latest recall announcement hit the airwaves just days before the company's CEO went before the congressional panel investigating the issue.
GM Responds
The case against GM also includes the company's knowledge of the switch problem and their failure to correct the problem immediately.
A number of emails show the engineers were fully aware of the safety issue, but make a conscious decision not to change the design nor issue a recall for cars that were already purchased. A number of deaths are attributed to accidents that involved the faulty switch, leaving General Motors exposed to future product liability lawsuits.
The new CEO of GM, Mary Barra, took full responsibility for the company's past negligence in regard to the problem, even firing 15 employees who were involved in the cover-up.
GM Outlook: Competitors Could Fill The Gap
Given the increasing problems with GM cars, some experts feel that the company will be unable to sustain its current sales growth numbers.
Continuing reports in the media of GM's manufacturing issues are sure to send some car buyers elsewhere to purchase vehicles from companies with a better safety record and a more current responsible image.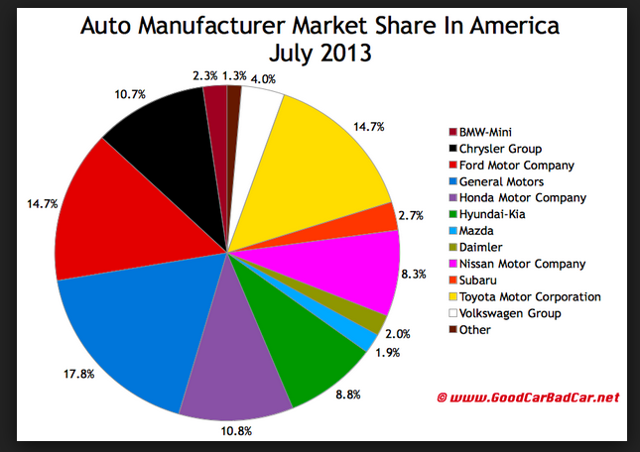 While GM still holds a large portion of the American auto manufacturing market share, it is likely competitors will take advantage of GM's current weakness to innovate and push forward with new models-doing what they can to attract GM's prior buyers.
While Toyota (NYSE:TM) is facing a recall of its own and has certainly had its share of problems; other strong contenders include Nissan (OTCPK:NSANY), which is seeing success with its new electric vehicle models and Ford (NYSE:F), which is posting increasing sales.
As Tesla (NASDAQ:TSLA) boosts its presence in Europe and Asia and plans to roll out low-cost models in the coming years, this continues to be a very strong auto pick in 2014 as well.
The U.S. National Highway Traffic Safety Administration's oversight of the recall process will continue to call attention to GM's actions.
For Current GM Investors: Take Profits Now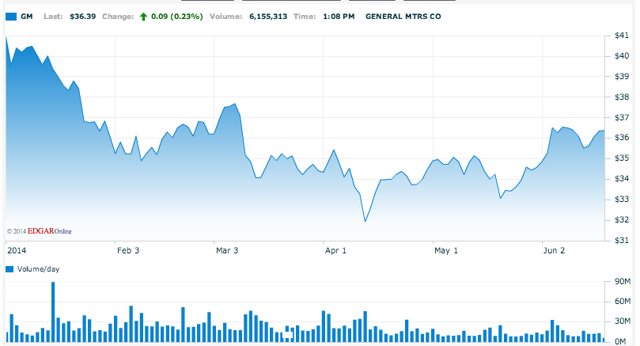 (Nasdaq.com)
We advise taking GM profits off the table at the current level.
The stock could likely continue to decline well after the congressional hearings have passed as GM tries to build the confidence of its customers once more and make up for lost time and market share.
Shareholders have been pushing for GM to pay a dividend; in January, the company announced plans for a .30 quarterly dividend - however, given the company's shaky business recently, it's unclear if this will actually attract income investors.
At present, we don't see this as a value pick either until GM appears to emerge from its current, dark status among consumers and regulators and indicates a clear path for growth.
Its recent investment in China could pay off in the long run; however, at present, it certainly doesn't offset critical domestic issues.
Disclosure: The author has no positions in any stocks mentioned, and no plans to initiate any positions within the next 72 hours. The author wrote this article themselves, and it expresses their own opinions. The author is not receiving compensation for it (other than from Seeking Alpha). The author has no business relationship with any company whose stock is mentioned in this article.
Editor's Note: This article discusses one or more securities that do not trade on a major U.S. exchange. Please be aware of the risks associated with these stocks.