Where there's a will, there's a way.
-- Old English proverb
The picture being painted by snooty establishment types, especially those of the right-wing persuasion, is that there is something wrong with those who are having a difficult time finding work. Either they aren't looking as hard as they should; they haven't done a good job selling themselves; they aren't flexible enough when it comes to compensation, location, title, etc.; or, they haven't put enough effort into improving the talents and skills they bring to the table.
But there is plenty of evidence to suggest that companies are less than enthusiastic about boosting headcounts. Perhaps the best examples are those various surveys that reveal no small number of corporate executives are expecting decent growth in revenues and profits but don't plan on acquiring the human resources necessary to satisfy that demand. In fact, a post at Real Time Economics, "Employers Aren't Trying Hard to Hire," highlights research suggesting that the will to employ is simply lacking.
Unemployed workers have a point when they complain that companies aren't really trying to fill open jobs, a new study suggests.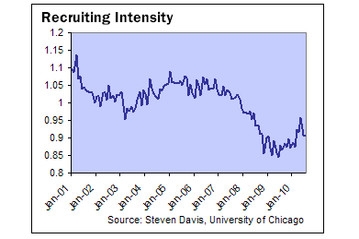 In recent months, policy makers have puzzled over the inadequate rate at which job searchers and job vacancies are coming together. By some estimates, if openings were turning into hires at the rate they typically do, the unemployment rate should be about three percentage points lower than the current 9.6%.

Explanations have tended to focus on workers. Extended unemployment benefits could make people less willing to take jobs that pay poorly or don't quite fit. Mortgage troubles and employed spouses could make it harder for people to move for work. People might not have the right qualifications for the jobs available.

A new paper, though, suggests employers themselves are at least part of the problem. The authors — Steven Davis of Chicago Booth School of Business, R. Jason Faberman of the Philadelphia Fed and John Haltiwanger of the University of Maryland — take a deep dive into Labor Department data and come up with an estimate of what they call "recruiting intensity," a measure of employers' vacancy-filling efforts including advertising, screening and wage offers.