Cisco (NASDAQ:CSCO) announced that it wants to acquire privately held Tail-f Systems, a Swedish firm that provides multi-vendor network service orchestration solutions for traditional and virtualized networks. Cisco agreed to acquire the firm for approximately $175 million in cash and retention-based incentives. The deal is expected to close by the end of the fourth quarter of fiscal 2014.
Tail-f itself is a service providing firm and has many telecom service providers as its customers, such as AT&T (NYSE:T) and Deutsche Telekom (OTCQX:DTEGY). For boosting profitability these telecom service providers use OSS (operations support systems), which helps them manage their networks. However, since OSS have been patched, amended and altered over the years, it has become difficult to use. Tail-f helps its customers to efficiently use OSS.
Why Cisco Wants to Acquire Tail-f
With IoT (Internet of Things) continuing to develop, service providers of video, voice and data are facing severe challenges in managing the excessive load on their networks, which is making the networks more complex and expensive to manage. Cisco helps its customers to simplify operations with SDN (software-defined networking) and NFV (network function virtualization), but neither of these two addresses the shortcomings of OSS, as mentioned above. Hilton Romanski, senior vice president and head of business development at Cisco said:
The acquisition of Tail-f accelerates Cisco's cloud virtualization strategy of delivering software that increases value to our customers' applications and services, while supporting Cisco's long-standing commitment to open standards, architectures and multi-vendor environments.
Tail-f addresses the shortcomings of OSS through a network service orchestration solution, which provides a software layer that can manage and control a wide range of networking devices via a single interface.
Cisco Facing Serious Challenges in its Core Business
Cisco continues to face challenges in its core business primarily due to pricing pressure in markets such as campus switching. Moreover, long-term concerns about the threats posed by white-label hardware are expected to keep its sales under pressure. Amid the growing incursion of the phenomenon known as "white box" within the IT equipment market, Cisco is losing serious market share to ODMs (original design manufacturers).
According to JPMorgan, switching equipment from white box makers rose 18.6% year-on-year in the first quarter of 2014, and made up 9.3% of total networking ports running at speeds of 10 gigabits per second, the mainstream choice for LAN network ports. Cisco's switch sales dropped 10% year-on-year in the first quarter, in both the fixed and modular category of switches.
The Potential of Tail-f to Boost Cisco's Revenues
Although Cisco is losing market share and revenue, we believe that the Tail-f acquisition would help the company recover some of its lost ground driven by Tail-f's multi-vendor capabilities.
Tail-f's products can be inter-operated with a number of Cisco competitors, including F5 Networks (NASDAQ:FFIV), Juniper (NYSE:JNPR), Alcatel-Lucent (ALU), Riverbed (NASDAQ:RVBD) and A10 (NYSE:ATEN), since Tail-f works with NETCONF protocol and YANG data modeling language, the leading industry approach for simplifying and automating networks.
Although Cisco is committed to support multi-vendor environments, the company itself is not a significant player in multi-vendor management. However, if it acquires Tail-f going forward, it would have greater control over the network via the firm's tools. Tail-f's tools have the potential to help service providers drive down the cost of running a network, which in turn would benefit Cisco in winning new customers as well as retaining existing customers.
Is Cisco a "Buy?"
Although some analysts believe that Cisco's earnings in the current fiscal year would increase by 11%, Wall Street in general expects that the company's earnings would grow by merely 5%. We also believe that it would be difficult for the company to grow earnings by more than 5% this fiscal. However, the next fiscal earnings could improve if the company acquires Tail-f.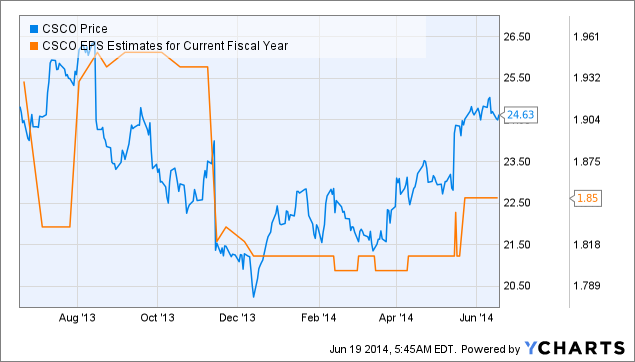 CSCO data by YCharts
Based on 15x forward EPS of $1.85, our medium-term target for Cisco is $27.75. Currently, the stock is trading around $24.60, and we believe that the stock is a "buy" with 12-13% upside.
Conclusion
The Tail-f acquisition is expected to position Cisco better for helping telecom service providers manage the explosion of people, devices and sensors being interconnected across the IoT, Cisco's ultimate focus. We firmly believe that Tail-f's innovative solutions and talented team will boost Cisco's sales in the long run.
Business relationship disclosure: The article has been written by a BB Research stock analyst. BB Research is not receiving compensation for it (other than from Seeking Alpha). BB Research has no business relationship with any company whose stock is mentioned in this article.
Disclosure: The author has no positions in any stocks mentioned, and no plans to initiate any positions within the next 72 hours. The author wrote this article themselves, and it expresses their own opinions. The author is not receiving compensation for it (other than from Seeking Alpha). The author has no business relationship with any company whose stock is mentioned in this article.