Before the recent release of the Amazon (NASDAQ:AMZN) Fire 3D phone, I wrote an article detailing my predictions for how the new phone would affect Amazon and Apple (NASDAQ:AAPL). I am going to update my predictions now that Amazon has announced the phone will be for sale as of July 25th and the specifications have been released.
The phone has two main selling points, but the drawbacks I will discuss later will show it will have little effect on iPhone sales. Much of my speculations on Amazon's phone from my last article hold true, and this article will simply fill in the missing information about the phone.
The two selling points are the 3D screen capability and the integration with other Amazon products (1 year free Prime memberships are included with purchase). As you can see in the presentation that Bezos gave today, the 3D screen allows the user to see images dynamically by tilting the screen in any direction. It is similar to the iOS devices' backgrounds dynamically changing to give an image more depth. My first thought as a consumer is that this is useless technology with zero practical importance. Most consumers simply want a phone that has good battery life, according to a SurveyMonkey poll at the 2014 Mobile World Congress.
Additionally, a look into the history of 3D device sales is grim. 3D TVs have been a complete failure. Vizio, the company that sells the most TVs in America, recently stopped including 3D technology in its new lineup of TVs. ESPN recently stopped broadcasting in 3D because of the low number of viewers watching it. While the headaches that watching 3D TV can cause and the expensive glasses won't be a part of the problem for the Amazon phone, a lack of 3D TV sales shows how gimmicky the technology is, although it was touted to revolutionize the TV industry last year. One positive is Nintendo's (OTCPK:NTDOY) 3DS sales. The device had the highest sales in 2013 of gaming consoles, and in May of this year, it outsold Microsoft's (NASDAQ:MSFT) Xbox One.
The other selling point for the Fire phone is the integration with Amazon's other services. Amazon debuted new technology it calls "Firefly," which allows consumers to buy products that they see in the real world on their phones. The technology uses the 4 stereovision cameras on the phone to identify 100 million different objects that help consumers find media and other products they can buy on Amazon, or other information on objects such as their Wikipedia page. This technology may be a boon for companies making health applications, as MyFitnessPal is using it to automatically enter notional information into its dietary app. Clearly, this will lead to more sales of Amazon's movies, TV shows and music, as well as other products sold by Amazon. As I previously mentioned, Amazon is giving away a free one-year subscription to Amazon Prime with the purchase of this device. This will likely lead to more subscriptions even after the free year is over because the phone will constantly be directing users to Amazon products, so it will become necessary for most users to re-up their subscription. As I mentioned in my previous article, Amazon Prime members spend much more at Amazon. I suspect that Amazon phone users will demonstrate similar spending habits.
The negatives of the new smartphone announcement are the reasons why the phone will probably not affect iPhone sales. The biggest negative is that the $199 subsidized version will only be available on AT&T (NYSE:T). This immediately limits its appeal to people that use Verizon (NYSE:VZ), T-Mobile (NASDAQ:TMUS), and Sprint (NYSE:S). AT&T has 27% market share in America, so the other 73% are out of luck, if they were interested in a Fire smartphone. It is also difficult to switch if you are on a family plan with other members who still have time left on their 2 year contract. According to Parks and Associates, about 50% of U.S. mobile phone service customers have not switched carriers in the past 10 years.

The other negative is the price of the handset. At $199 with a two year contract, the phone costs the same price as the iPhone 5s. The main selling point of the Fire tablets is their cheaper prices in relation to the iPad. With the cheaper prices, Amazon has only captured about 2% of the tablet market. With the Fire phone being the same price as the iPhone, I'm predicting that it will steal even less sales from the iPhone. Amazon has shifted from competing on price with Apple with their tablets to a differentiation strategy with their phone. The smartphone market is more established than the tablet market was when Amazon released their tablet, so I believe that this will not be successful. Amazon's tablet was released 1 year after the iPad was released, while this phone is being released 7 years after the original iPhone went on sale.
Further, the Fire's specs are less impressive than that of other Android phones. These specs are big a reason why Samsung (OTC:SSNLF) has been able to take market share away from Apple. The Samsung Galaxy S5 has a bigger screen (5.1 vs. 4.7), clearer screen (431 ppi vs. 315 ppi), better camera (4K recording vs. 1080p), and a faster processor (2.5 GHz vs. 2.2 GHz) than the Fire phone. Clearly, Samsung is still Apple's number one competitor. Even HTC (OTC:HTCKF), which has been struggling to gain market share, has a phone with better specs. The fact that HTC has less than a 4% global smartphone market share shows how competitive the landscape already is. The Amazon Fire phone will not make the market any more competitive for Apple than it is now. Apple has a 76% brand loyalty retention rate, so clearly most iPhone users will not jump ship to Amazon.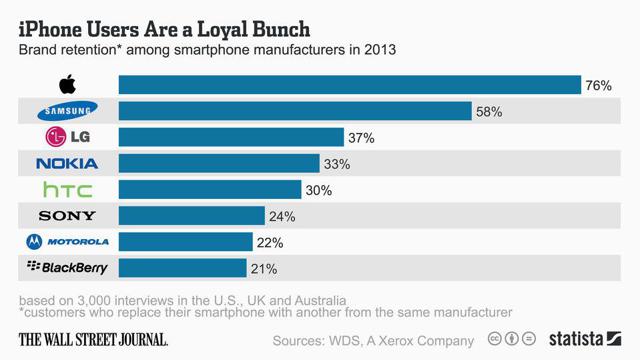 Amazon also has substantially fewer apps than Apple's App Store. It has 240,000 apps, while Apple's App Store hit 1.2 million apps in June. Apple has 475,00 apps native to the iPad, so this gives you a better comparison to the Amazon tablets, since the Fire phone was just released. While the number of apps available to the Amazon phone will likely increase, the new Swift programming language that Apple recently introduced will make it easier for Apple developers to create apps, thus likely keeping the gap between the two ecosystems relatively large.
As I stated previously in my other article, I believe both Apple and Amazon have solid long-term fundamentals. Amazon trades at a high multiple, though, so I am personally wary of the stock. I believe that the release of the new Fire phone will be good for Amazon, and that it won't hurt Apple.
There really aren't many risks to this thesis now that we know that the Fire phone doesn't have the technology to hurt Apple substantially. Amazon's stock likely went up too much today because of the release of the new phone. It will generate more profits for Amazon, but I believe the recent increase in the stock overvalues these profits. The stock also rose today along with the overall market because of Janet Yellen's dovish remarks, so it is entirely possible that the Street isn't overly optimistic about the Fire phone's sales.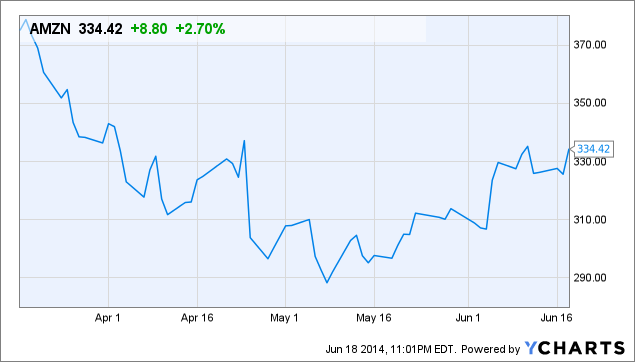 AMZN data by YCharts
Disclosure: The author has no positions in any stocks mentioned, and no plans to initiate any positions within the next 72 hours. The author wrote this article themselves, and it expresses their own opinions. The author is not receiving compensation for it (other than from Seeking Alpha). The author has no business relationship with any company whose stock is mentioned in this article.
Editor's Note: This article discusses one or more securities that do not trade on a major U.S. exchange. Please be aware of the risks associated with these stocks.