By Sumit Roy
Natural gas inventories rose by 113 bcf last week, above expectations.
Natural gas was last trading down by 1 percent to $4.61/mmbtu after the Energy Information Administration reported that operators injected 113 billion cubic feet into storage last week, above the 109 to 110 bcf most analysts were expecting.
The latest injection was above last year's build of 91 bcf and above the five-year average build of 85 bcf.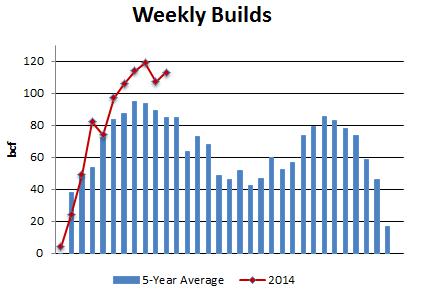 In turn, inventories now stand at 1,719 bcf, which is 719 bcf below the year-ago level and 841 bcf below the five-year average (calculated using a slightly different methodology than the EIA).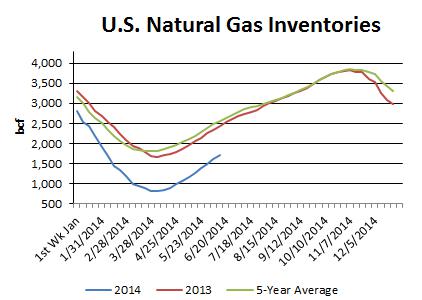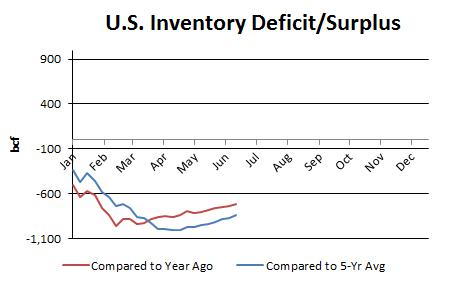 The weather last week was close to seasonal norms.
According to the Edison Electric Institute, utilities generated 78,258 GWh in the week ending June 14, down 3.3 percent from a year ago.
Looking forward, the NOAA's 6- to 10-day outlook calls for mixed weather across the country.
NOAA 6- TO 10-DAY OUTLOOK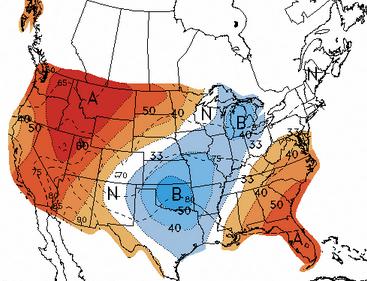 Meanwhile, Baker Hughes reported that the number of rigs drilling for natural gas in the U.S. fell by 10 to 310 last week.
Natural Gas Rig Count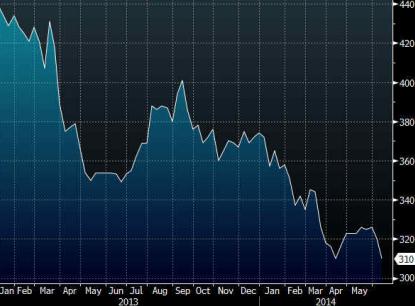 Natural Gas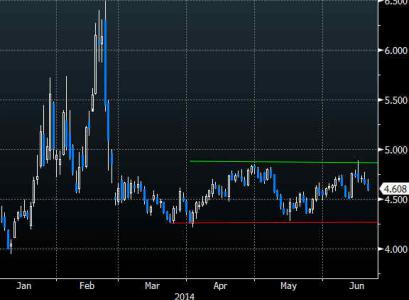 Bottom Line: The latest inventory data from the EIA were neutral, as the inventory deficit against the five-year average fell from 869 to 841 bcf, and the deficit against last year fell from 741 to 719 bcf.
With 21 weeks remaining in the injection season, weekly builds must average 101 in order for inventories to equal last year's 3,834 bcf peak in November. That is unlikely in our view, given that we only see one or two more triple-digit injections in the coming weeks. As we move into July and August, hot summer temperatures will likely reduce the pace of inventory builds significantly.
Indeed, last year, weekly builds averaged only 66 bcf in the 21-week period between now and the start of winter. We expect this year they may average somewhere between 72 and 87 bcf per week under the assumption of 1 to 3 bcf/d of additional supply. If that's the case, inventories may peak somewhere between 3,200 and 3,550 in November.